PROSPAL GRATEFUL FOR OPPORTUNITY TO JOIN AMERKS
Amerks new assistant coach using Prospects Challenge to begin the relationship-building process
Sep 15, 2023
By Warren Kosel
The hockey world is certainly a small one. Even with the vast number of junior and professional leagues across Europe and North America, there's always a common denominator connecting two parties unaware of the other's existence.
Take Rochester Americans head coach Seth Appert and new assistant coach Vinny Prospal, for example. Neither knew of one another up until recently, but it was the love of the game and a passion for coaching combined with a mutual friend that brought them together.
Prospal was nearing the end of his third season as head coach of HC Ceske Budejovice of the Czech Extraliga, a season that was admittedly a "disaster" for a multitude of reasons, and he knew it was time for a fresh start and a new change of scenery.
"Quite frankly, after I finished coaching in Czech, my third year there was a disaster," said Prospal, who was hired to fill the vacancy left by the departure of Michael Peca to the New York Rangers. "There was COVID and the win-loss ratio was awful, but I finished the season on the barstool because halfway through the year I had to go for knee surgery. I needed time to get in a better mental mindset and physical shape to be able to go on the ice with the guys."
Fast forward two years later and Prospal was back stateside very much missing hockey and still seeking new coaching opportunities elsewhere. Relying on his contacts from his playing days, Prospal began to travel to different locations and consulting with different coaches, ultimately landing at Ferris State University in Big Rapids, Michigan.
One of Prospal's former junior players in Tampa played at Ferris State, the same program that Appert played goaltender for, and met with head men's hockey coach Bob Daniels, the man responsible for ultimately giving Appert his very first coaching opportunity.
"I went to Ferris State where one of my former junior players plays, Apps played at Ferris State, coach Bob Daniels mentioned me that I was out there in the middle of the winter in Big Rapids. I guess maybe he liked that I left Tampa in the middle of the winter to go to Big Rapids," joked Prospal."
The rest, as they say, is history.
One of the first things Prospal did after accepting the offer to join Appert's staff was to watch the games from the Amerks' playoff run to the Eastern Conference Finals this past spring.
The second is to become more familiarized with the returning players currently participating in the Prospects Challenge this weekend in Buffalo and begin the relationship-building process with the organization's top prospects.
Among those include first-round pick and fellow Czech nativve Jiri Kulich, who's coming off one of the most dominant performances by an 18-year-old in the American Hockey League last season. Kulich led the Amerks with a team-high 24 goals, the second-most ever by an 18-year-old in league history, and added seven more during Rochester's run to the Eastern Conference Finals, earning him a selection to the AHL's inaugural Top Prospects Team.
He also won a silver medal with Czechia at the 2023 World Junior Championship, scoring the overtime game-winner against Isak Rosen and Sweden to advance to the gold medal game.
His early impressions of Kulich?
"He doesn't look like a 19-year-old, I'll tell you that, because of the size, but he's an up-and-coming player. The first thing that stands out is his ability and his shot. There's obviously something special about him, and to be drafted in the first round, you need to be special."
This isn't the first time Prospal and Kulich's paths have crossed, however. Kulich played against Prospal in the Czech league and Prospal was admittedly impressed by Kulich's skillset then.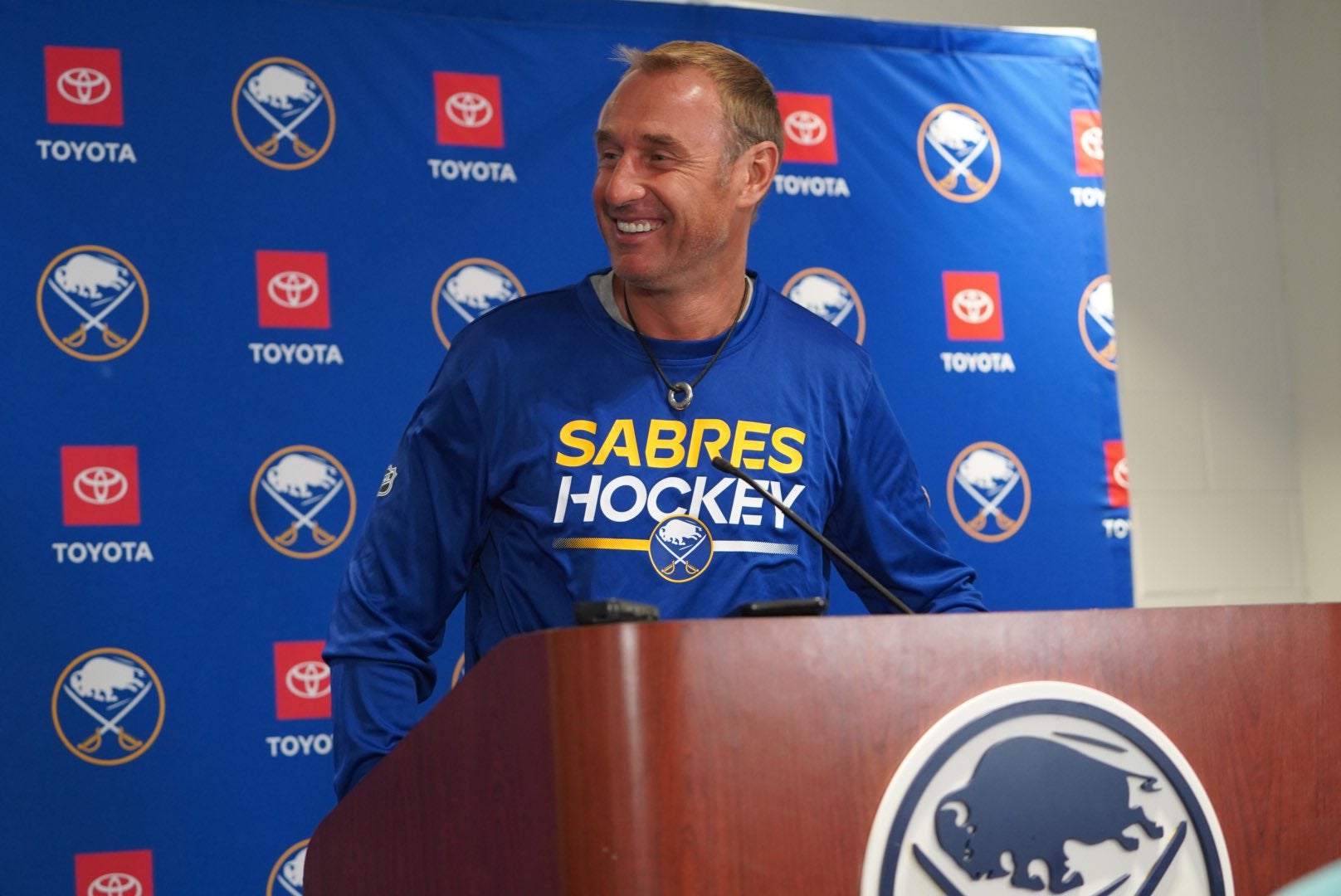 "I coached against him and one of my former colleagues from the Czech national team very much liked him. He's been playing men's hockey at a really young age."
Prospal was so impressed by Kulich, who was training in Prospal's hometown of Ceske Budejovice, he took it upon himself to invite the youngster over for lunch to discuss hockey.
And as fate would have it, they're reunited in Buffalo and will have an opportunity to strengthen their relationship, both on and off the ice, this season together in Rochester.
"His shot is a gift," said Prospal of Kulich.
Prospal joins the Amerks coaching staff following three seasons (2018-2021) as head coach of, with whom he began his playing career and had two subsequent stints with in 2004-05 and again in 2012-13. He led the team to back-to-back league championships at the second-tier level (Czech Republic Hockey League, Chance Liga) in 2018-19 and 2019-20, going 63-18-5 during the regular season, and was named the League's Coach of the Year following the 2020-21 campaign.
Prospal's professional coaching experience also includes a two-year stint as an assistant coach of the Czech national team from 2016-2018.
A native of Ceske Budejovice, Czech Republic, Prospal amassed 765 points on 255 goals and 510 assists over a 20-year playing career highlighted by 1,108 NHL games with Columbus, New York Rangers, Tampa Bay, Anaheim, Florida, Ottawa and Philadelphia. He also added 35 points (10+25) in 65 career playoff appearances.
A third-round (71st overall) selection of Philadelphia Flyers in 1993, Prospal was a five-time 20-goal scorer and reached the 50-point on nine occasions, including six straight seasons with 50 or more points from 2001-02 to 2007-08.
He posted his best season during the 2005-06 campaign when he set career-highs in goals (25), assists (55) and points (80) while appearing in 81 games for the Lightning. He finished second on the team in scoring that year and ranked fifth in goals.
Prospal, who scored 34 game-winning goals over his illustrious career, played his final NHL season in 2012-13 when he led the Blue Jackets in scoring with 30 points in the lockout-shortened campaign. He announced his retirement on Jan. 28, 2014, ranking fourth in points scored, third in assists and sixth in games played among all Czech Republic born players in NHL history. He spent the remainder of the 2013-14 season as a scout with the New York Rangers.
Prospal's professional playing career began with four seasons in the American Hockey League, including three with the Hershey Bears. He totaled 131 points (42+89) in 192 career games for the Bears before recording a career-best 95 points on 32 goals and 63 assists in 63 games with the Philadelphia Phantoms during the 1996-97 campaign, his final in the AHL. He finished the season tied for third in the league in scoring while earning First Team AHL All-Star honors and representing the Phantoms at the 1997 AHL All-Star Classic.
Internationally, in addition to his NHL accomplishments, Prospal helped the Czech Republic win the gold medal twice at the World Championship (2000, 2005), which included scoring the game-winning goal in the gold medal game in 2005. He was also a part of the Olympic bronze medal team (2006) in Torino, Italy. He represented his country on two occasions in the World Junior Championships (1993-94, 1994-95), once in the World Cup of Hockey (2004) and was a three-time participant in the World Championship (2000, 2004, 2005). He was named to his country's 1998 Olympic team that won the Gold Medal in Nagano, but was unable to participate due to injury.
As a coach, he was behind the bench for the Czech Republic at the 2016 World Cup of Hockey.
Back to All