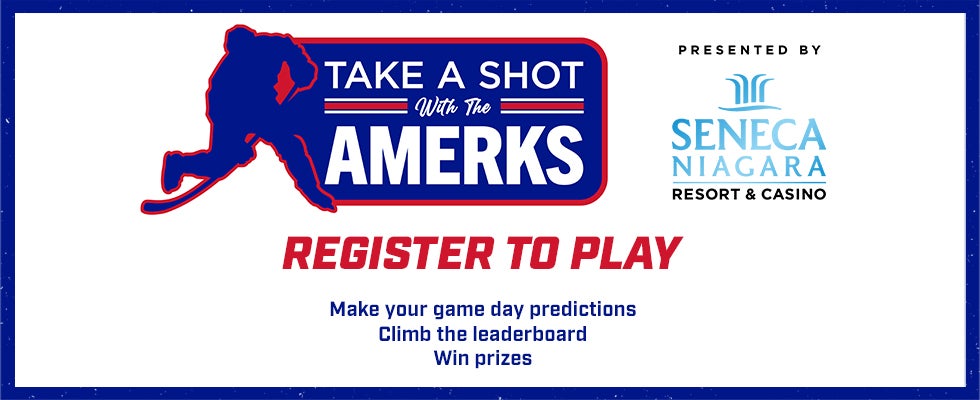 Take a Shot Presented By Seneca Resort & Casino
How to Play:
1. Tune in every Tuesday to all of our socials or sign up to be an Amerks insider and receive news, offers and promotions via email.
Sign up to receive news, offers & promotions from the Amerks via email
2. Make your picks
Make your predictions every week.
3. Climb the leaderboard
Get points for every correct prediction you make. FInish at the top of the leaderboar to win prizes!
Take a Shot Winners:
Overall Leaderboard:
| Place | Chips | First Name | Last Name |
| --- | --- | --- | --- |
| 1 | 60 | Brian | Carl |
| 2 | 59 | Steve | Szymura |
| 3 | 58 | Mark | Black |
| 4 | 57 | Greg | Gattelaro |
| 5 | 57 | Scott | Wise |
| 6 | 56 | Clayton | Brigham |
| 7 | 55 | Matt | Ungleich |
| 8 | 54 | Jason | Mitchell |
| 9 | 54 | Ray | Olivate |
| 10 | 51 | Randy | Bowden |
Weekly Winners:
| Week | First Name | Last Name |
| --- | --- | --- |
| Week 1 | Pat | Ayles |
| Week 2 | Mark | Black |
| Week 3 | Stephen | Szymura |
| Week 4 | Courtney | Kincaid |
| Week 5 | Kyle | Lombardo |
| Week 6 | Carol | Bartosh |
| Week 7 | N/A | N/A |
| Week 8 | Randy | Bowden |
| Week 9 | Matt | Ungelich |
| Week 10 | Brenden | Pray |
| Week 11 | John | Johnson |
| Week 12 | Clayton | Brigham |
| Week 13 | Steve | Seyboth |
| Week 14 | Thomas | Young |
| Week 15 | Bob | Somerville |