JOIN THE AMERKS FAMILY
Be a part of all the action in 2022-23 by becoming an Amerks Season Ticket Member today! Season Ticket Memberships for the 2022-23 season are on sale now and start as low as $15 per game.
Get on board today and take advantage of an interest-free monthly payment plan, access to Members only benefits and events, FREE AHLTV for the 2022-23 season to watch all the Amerks games, and much more!
PLUS - Members that sign up today can get up to 10 FREE GAMES for the 2021-22 season AND be entered in to win a FREE Amerks Jersey with up to 8 chances to win!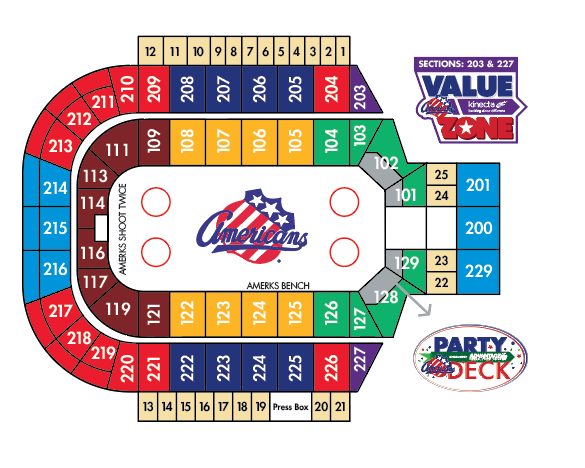 2022-23 Season Ticket Member Benefits

Benefits

Full Season (36 Games)

FREE 2021-22 Rochester American Games
10 vouchers/seat
Entered to win 2021-22 Rochester Americans Authentic Jersey Raffle (8 chances to win)
✔️
Free AHLTV Home & Away Access for the 2022-23 Season
✔️
Access to Discounted 2021-22 Calder Cup Playoff Tickets
✔️
2022-23 Season Ticket Member Credential
✔️
2022-23 Season Ticket Member Seat Discount & access to Additional Amerks Games Discount
✔️
Ticket Exchange Program
✔️
Team Store Discount
20%
Early Entrance on Gamedays
✔️
Riverside VIP Room Access
✔️
Inclusion on Season Ticket Member Wall
✔️
2022-23 Amerks/Sabres Official Team Yearbook
✔️
Ticketmaster Account Manager Access
✔️
BCA Events Hotline - Presale Access
✔️
Dedicated Account Representative
✔️
Interest-Free Monthly Payment Plan
✔️
Discounted Parking
✔️
Season Ticket Member Skate at Blue Cross Arena
✔️
FREE Buffalo Sabres Regular Season Game in 2022-23 (Based on Availability)
✔️
2022-23 Pre-Season Chalk Talk
✔️
FREE 2022-23 Rochester Knighthawks Game
✔️
25% Off Amerks & Knighthawks Suites
✔️
Buffalo Bills & Sabres 2022-23 Discount For Select Games

(Based on Availability)

✔️
Buffalo Sabres 20% Team Store Discount
✔️
Want More Information?
Call us at 1-585-454-5335 or email us at [email protected] to speak with a representative or follow the link below to let us know when a representative can reach out to you with more information.