TEVES THRIVING WITH CONFIDENCE AND COMFORT WITHIN AMERKS CULTURE
Nov 23, 2021
Despite all the craziness that came with the 2020-21 American Hockey League season, it was Rochester Americans head coach Seth Appert's first year in the league and he had a lot to take in. A roster full of professional tryouts, occasional trips to assist the Buffalo Sabres coaching staff and running fast-paced practices on a daily basis.
However, the then first-year coach never lost sight of what he wanted after his first unusual year in the league. It was almost like 2020-21 gave the Amerks a clean slate to make their roster from scratch.
This year, we saw signings of players that have been here for a couple of years and players that fought their ways from professional tryouts to full-time roster spots prior to the season's start. As the season has now progressed, we've seen top prospects coming to form and we've seen players that used to be on the other side of the ice that Appert was adamant about having on his side this time around.
One of those players being young defenseman Josh Teves.
The last two seasons, Teves has been with the Utica Comets. With Utica being a team that the Amerks saw over a dozen times last year, Appert got familiar with Teves' game. Once offseason hit, Teves was one of the players that Appert was adamant about going after.
WATCH: JOSH TEVES AFTER PRACTICE ON NOV. 12
"First of all, I'll start with last year. I liked him last year when coaching against him and when we talked about players we wanted to bring in, that was a guy that I was really excited about because I really liked coaching against him," stated Appert when asked what he likes about Teves' play.
In his first full season with the Comets last season, Teves recorded four points (1+3) in 23 games. Teves' 34 shots were fourth-most among all Comets defensemen, he had at least one shot in all but three games, and coincidentally, his first professional goal was scored against Rochester on Feb. 26, 2021.
After signing his one-year AHL contract with Rochester in early August Teves, said he had good conversations with Appert leading up to the 2021-22 season.
"We had nice conversations going into the year and I just felt the confidence that he had in me as well. I think it kind of went both ways."
You can tell that Appert has confidence in the 26-year-old defenseman. He likes that he's mobile and he feels good with him in his lineup.
"I like defensemen that can skate and are mobile. He's a really good mobile defenseman. I like his ability to break the puck out in transition and I like that's he got a real bite to his competitiveness for a mid-sized D-man."
Appert then went on to add, "I think there's a lot about him that equals winning, and I feel good with him in the lineup."
That's been the thing with Teves over his last two seasons in the pros – he's been trying to find his confidence and play to his own game while staying within a team's system.
TEVES SCORES HIS SECOND OF THE SEASON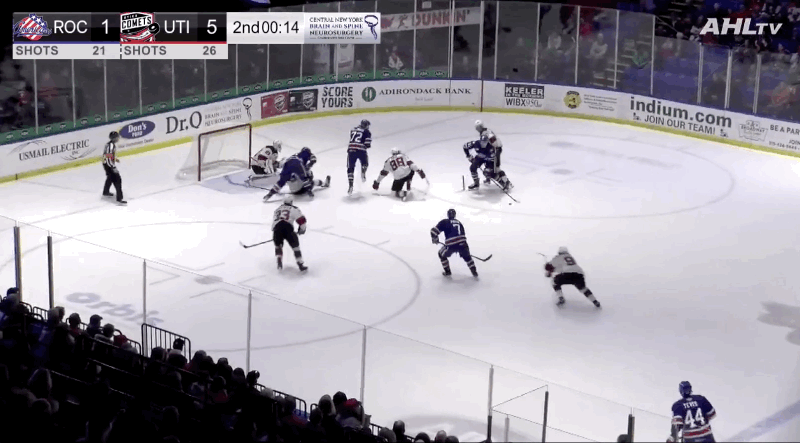 "This is the first time in the pros that I've felt confidence" said Teves. "Being able to play freely, to be able to play my game, obviously within the system, but do the things that bring me success and will lead to team success. I think it's really nice to feel like you can play your game and do the things that you've been working on that bring that success out."
Before the 2019-20 season was cut short, Teves finished with a plus-minus on-ice rating of plus-nine, which was second-best among all Utica first-year skaters while he appeared in 29 contests with the club. Additionally, Teves added two assists that season, helping him accumulate six points (1+5) over his two-year career in Utica.
Although a defenseman, that's still not a lot of points for Teves to rack up in 52 games over two years. Already in the 2021-22 campaign, the Amerks defenseman has racked up a goal and an assist in eight games with Appert trying to get him into the lineup almost every single night.
"For us, we want our defensemen to have really tight gaps and we want them to be aggressive in their ability to close plays and end plays, but also in their ability to start plays and then jump into the play," commented Appert when asked what Teves has taken away from his coaching style. "He's ending plays better; he's starting plays better. I think he can still continue to grow in both of those areas, especially with how quick he transitions us to offense, but I think he's making good strides."
A huge part of Teves' newfound confidence and ice time is in correlation with how the Amerks coaching staff has made this a positive mental environment for him to begin to mentally flourish.
WATCH: SETH APPERT AFTER PRACTICE ON NOV. 12
"The mental part of it is the biggest part of it. If you're worried about making mistakes or worried about everything being under a microscope, you can really second-guess yourself," said Teves. "I think this is something that I've dealt with the last couple of years."
The mental aspect of the game is huge in the AHL. In reality, these players are fighting every single day to either stay in this league or make it to the next level.
The ability to break the puck out in transition needs to be exceptional. The precision, on point. There needs to be a competitive grit to your game. There needs to be speed. There needs to be mobility. You need to know how to start plays and you need to know how to end them.
If not, then who knows what the future holds. All they know is that every game counts and every shift matters.
However, Teves has a new approach to the game this season because of how comfortable the coaching staff makes him feel about his approach and play. Teves is no longer afraid to make mistakes, he wants to go outside of his comfort zone to make more plays and to be more aggressive because that's the style of play that the coaching staff appreciates and encourages.
"Having that confidence to make plays and feel like if you make one mistake because you're trying to do the right thing, they're not going to be breathing down your neck. They want to support you and they want you in those positions and they want you making those plays. So, I think the mental side of it is everything."
All in all, Teves thoroughly enjoys the new environment he finds himself in this season. It's allowing him to push himself into the player he wants to be.
"Being in an environment where, like I said, you can make mistakes and not feel like it's the end of the world allows you to really push the envelope and try new things and be really aggressive. Not sit back and be worried to make plays or to have aggressive stances."
"It allows you to really push the pace and push yourself."
Back to All