SCHULDT OVERCOMING ADVERSITY THROUGH POSITIVITY
Jan 11, 2022
By Suzie Cool
Turning a positive into well, another positive. That seems to be the common outlook for this season when a player, staff member or coach discovers that they've been placed in COVID-19 protocols.
For Rochester Americans defenseman Jimmy Schuldt, unfortunately, that's how he's had to learn to take on the 2021-22 campaign.
"I've been watching way too much hockey this year of my own team," Schuldt joked when asked if he's finally done with the back-and-forth for this season."
Schuldt then got a little serious and continued by saying, "It's just been frustrating, I think. I've never really faced this situation before in my career. I've been really lucky to stay healthy through college and my first few years of pro hockey."
Schuldt has appeared in 14 of the Amerks 29 games this season, missing a large majority because of a combination of a lower body injury and returning from COVID-19 protocols for the second time this season right after the holiday break. As Schuldt has never faced a season like this before in his collegiate or professional career, you can see how it would be a little frustrating.
Especially when his second time around with COVID, Schuldt felt better than ever and was able to stay in shape.
WATCH: JIMMY SCHULDT AFTER THE JAN. 5 GAME
"I had it at camp this year as soon as I got to Buffalo, so that was four months ago. I didn't have to test for 90 days and then two weeks after that I tested positive."
Schuldt then added, "I just figured it was a false positive until they kept coming back positive. I'm not a doctor and I wish I could've discovered something that would've just said it's just an immune response in my body and that I was just kicking out positive tests, but I felt great and was able to stay in shape."
On top of staying in tip-top shape in anticipation of his return, Schuldt found the importance of making sure his leg was strong enough to finally put the injury behind him. And as Schuldt joked about watching his team entirely too much rather than playing, he felt being a student of his own team helped him prepare for the rest of the season.
"I took the last week or so to really make sure that my leg was strong and to put the injury behind me. I think it's just given me time to kind of watch the game and try to learn a little bit more and just prepare for the rest of the season."
The physical work that Schuldt put in during his extended absence didn't go unnoticed either. Amerks head coach Seth Appert credits Schuldt for keeping himself in the best physical shape despite the adversity he's faced this season.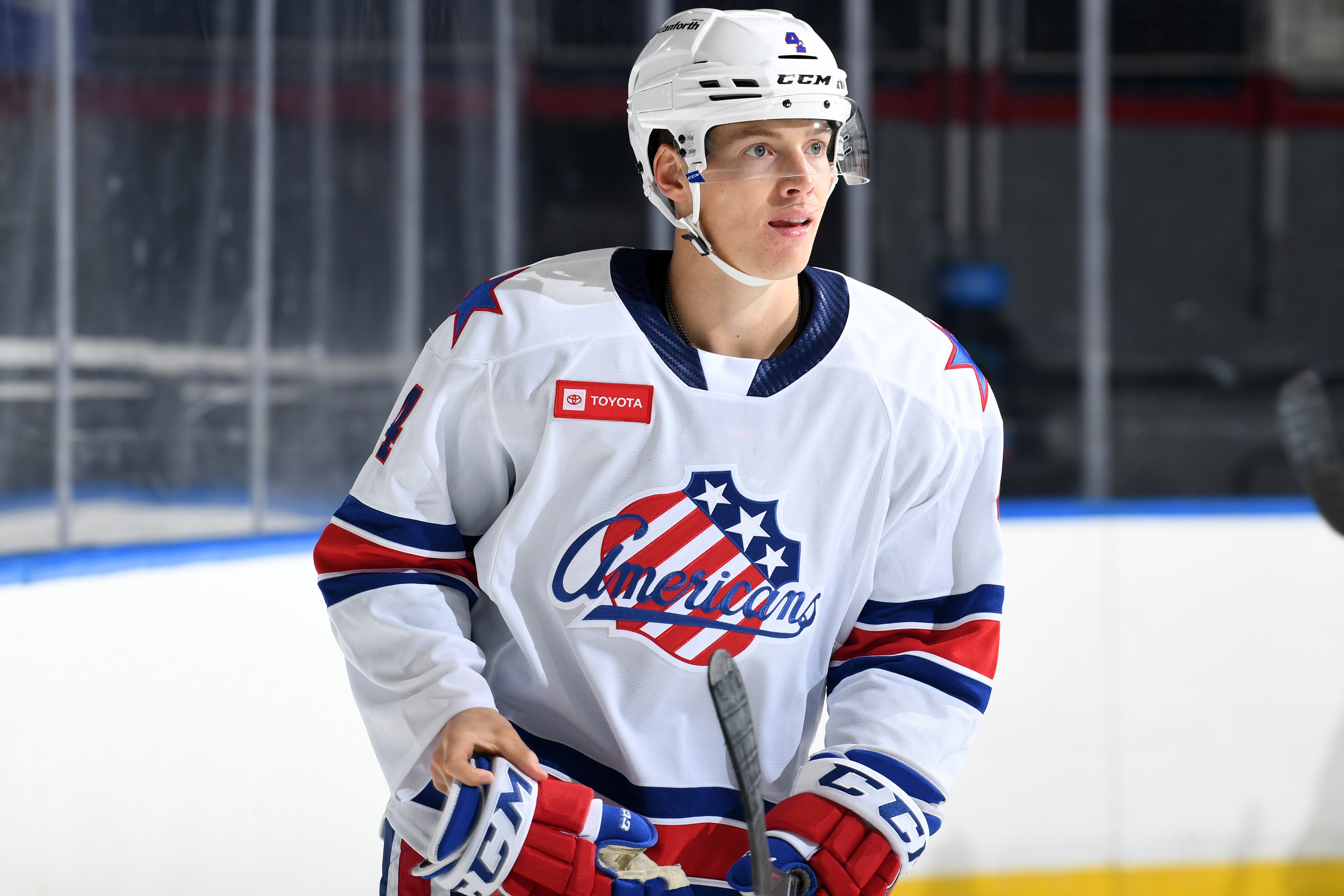 "It's a credit to Jimmy and the kind of condition he always keeps himself in but then how hard he worked on his own while stuck in a hotel room."
Appert then finished by saying, "Every time we FaceTimed him, he was dripping in sweat and pushing himself through some crazy workout that he does. I mean he's a real, real committed athlete. His physical conditioning is at an elite level even for this league and the NHL."
As much as Schuldt was ready to get back to the game physically, he was just as mentally prepared as well. Keeping himself in a positive mindset and only able to control what he could control was the biggest thing for Schuldt in his time out.
"The biggest thing for me is focusing on controlling what I can control, there's no point at getting mad at nothing. There's nothing I can do about it, there's nothing our trainers can do about it."
Schuldt then went on to add, "I guess for me it's just knowing there's a lot more season left, trying to stay positive and kind of going from there."
WATCH: SETH APPERT AFTER THE JAN. 5 GAME
As Schuldt returned from COVID-19 protocols for last Wednesday's game against the Syracuse Crunch, it had been 17 days since he had played in a game. Schuldt didn't even get to practice with the team the day prior to the game because he tested out of protocols too late.
"It's weird to not touch a puck for a week and then it's right into morning skate and a game."
However, Schuldt didn't care that he was thrown right into the lineup that night against the Crunch despite a 2-1 loss for the Amerks. Schuldt was simply just happy to be back playing the game that he loves.
"I haven't been that excited for a hockey game in a really long time, especially a regular season game. So, it kind of gave me a little extra spark of passion."
Schuldt has went on to appear in every game since his return. Although Schuldt has not registered a point since Oct. 30 with a goal against the Laval Rocket, he's been an integral part of Rochester's roster this season. Not to forget, having an assistant captain back in action is always nice for a young defensive core that's faced a lot of roster fluctuation as of late.
Back to All