QUINN NAVIGATING THROUGH THE PRESSURES OF THE PLAYOFFS
May 16, 2022
By Suzie Cool
During the final week of the 2021-22 regular season, Rochester Americans forward Jack Quinn was named the league's winner of the Dudley (Red) Garret Memorial Award as the AHL's outstanding rookie of the year.
In 44 games with Rochester, Quinn registered 25 goals and 34 assists to rank fifth in scoring among all AHL rookies while averaging 1.36 points per game. Quinn earned AHL Rookie of the Month honors in October, and compiled 18 multi-point games, including a four-goal performance on Jan. 15 against the Belleville Senators.
However, since the starts of the 2022 Calder Cup Playoffs, Quinn's offensive output has been somewhat halted.
"Everything is ramped up, so there's less time and space and I probably don't get as many looks as usual," stated Quinn when asked how he has been handling the pressure that teams are applying in the postseason. "I'm just trying to play hard, you know, just compete as best as I can. I think whenever guys do that, we have success."
Additionally, this is Quinn's first taste of professional postseason hockey. While he knows that the games and pressure are a little more intense, he's just trying to feel it out as it goes.
"You obviously are assuming it's going to be ramped up and it's going to be more intense. You don't really know what it's going to be like until you go through it. This is my first time going through it and I'm just feeling it out as I go."
Quinn didn't go more than two consecutive games without a point during the regular season, but it took him until Game 2 of Rochester's second-round series with Utica to find the scoresheet with an assist on the eventual overtime game-winner, so you could say there's always a little frustration if he's not continually producing points at the pace he was accustomed to.
"I think as an offensive player, we all want to produce and score so frustration is definitely there when it's not happening."
Quinn then added, "There were times in the regular season, too, you know, not just playoffs. There's stretches where it's not going in and it's been one of those stretches, but I'm just trying to keep competing the best I can to help the team."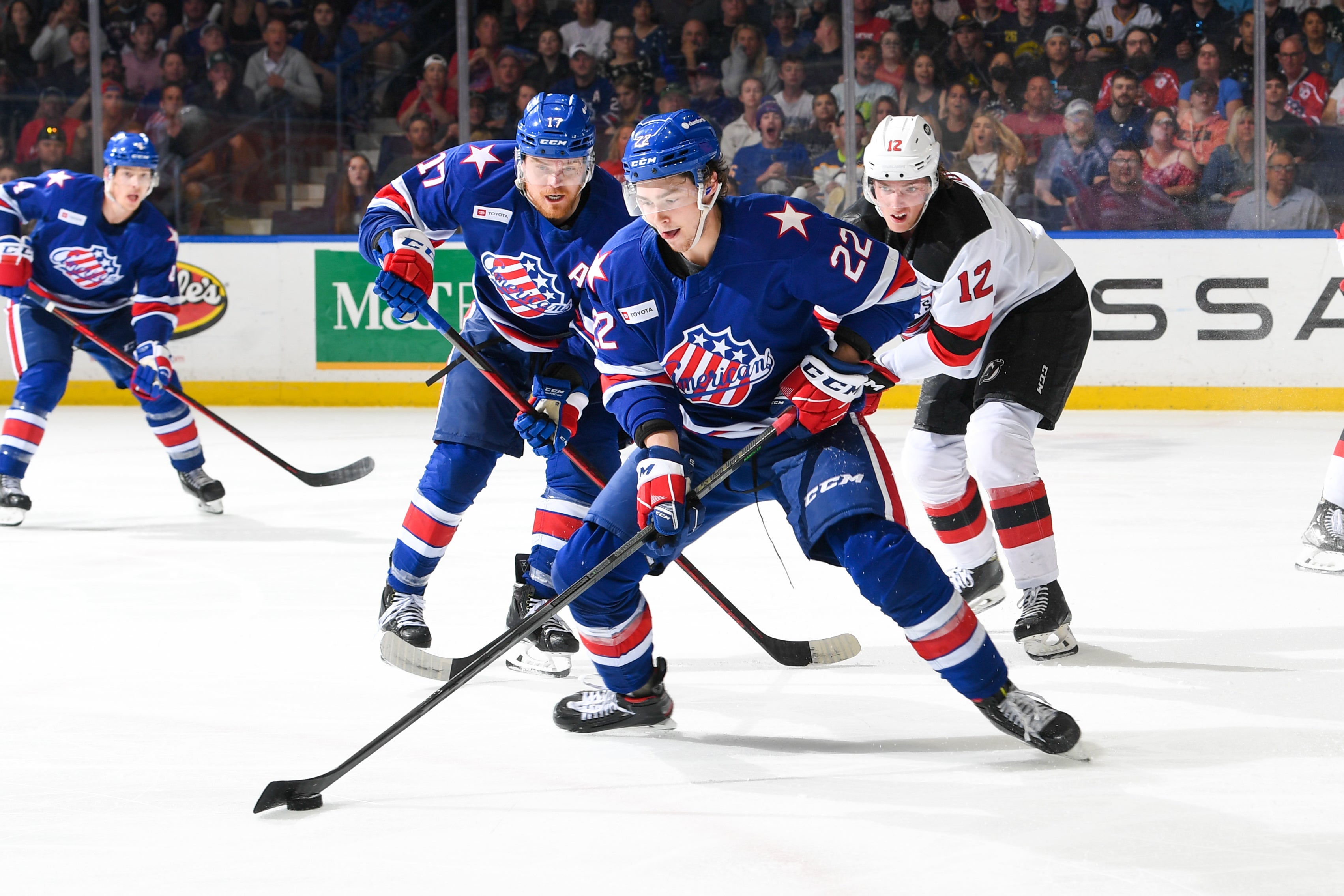 Through five playoff games, Quinn has recorded one assist 10 shots on goal. While the rookie forward acknowledges that he's not going to score every game, however, it's important to just trust the process.
"I'm not going to score every game, especially in the playoffs. It's tough out there. Teams play good defense, they play hard, they just continue to compete."
Quinn finished with, "Just trust in the process a little bit."
Quinn and the Amerks have a chance to close out the Comets and advance to the third round for the first time since 2004 when the best-of-five series resumes on Tuesday, May 17 with Game 4 at The Blue Cross Arena. The 7:05 p.m. matchup will be carried live on The Sports Leader 95.7 FM/950 AM The Fan Rochester as well as AHLTV.
Back to All