KOZAK A PHYSICAL PRESENCE IN PROSPECTS CHALLENGE FINALE
Sep 19, 2023
By Katelyn Kardaman @katelynkardaman Sabres.com
Tyson Kozak made his presence known from the start of the 2023 Prospects Challenge after taking out the 6-foot-2, 194-pound David Reinbacher with a hard hit during the Sabres' first game against the Montreal Canadiens on Friday.
Kozak remained a consistent physical presence in the final two contests of the round-robin tournament, including Monday's 3-0 loss to the Pittsburgh Penguins at LECOM Harborcenter.
A seventh-round pick in 2021, the forward signed his three-year, entry-level contract with the Sabres last summer after putting together a strong season with Portland of the Western Hockey League during the 2021-22 season.
Tyson Kozak's turn 😤#LetsGoBuffalo pic.twitter.com/AAEO8pAujf

— Buffalo Sabres (@BuffaloSabres) September 16, 2023
Since then, Kozak has emerged as a solid two-way player who can be used in all situations. In his rookie season with the Rochester Americans, he tallied 10 points (5+5) in 55 games and added two goals and three assists in 14 contests during the Calder Cup Playoffs.
"He had a really good year in the American Hockey League," Amerks coach Seth Appert said. "He got better and better as the season went on. He played huge, valuable minutes for us on a playoff run. One of our most trusted defensive players and penalty killers and physical presences."
"And now, the shoulder's a little higher because he's earned that. He knows what he did, and now he just wants to build upon it."
On Monday, the Souris, Manitoba native once again played valuable minutes as he appeared on the penalty kill and power play while also making an appearance on Buffalo's top line alongside Zach Benson.
Appert has emphasized his trust in Kozak and the center's ability to play with anyone. Kozak proved this against the Penguins, as the Sabres had to manage with just 10 forwards after losing Matt Savoie to injury early in the first period.
"Every line he goes on, their line plays good."
While Kozak is known for his physical play and ability to win tough puck battles, he made sure to take time this offseason to focus more on his offensive game and overall confidence.
"I think for me, it was just obviously working on faceoffs, stuff like that. Trying to put more pucks to the net in the summer," Kozak said. "Building up that confidence was the main thing for me, just adding more confidence to my game."
According to Appert, Kozak's hard work showed during the Prospect's Challenge and was a reason he helped lead the team as an alternate captain during the team's three-game slate.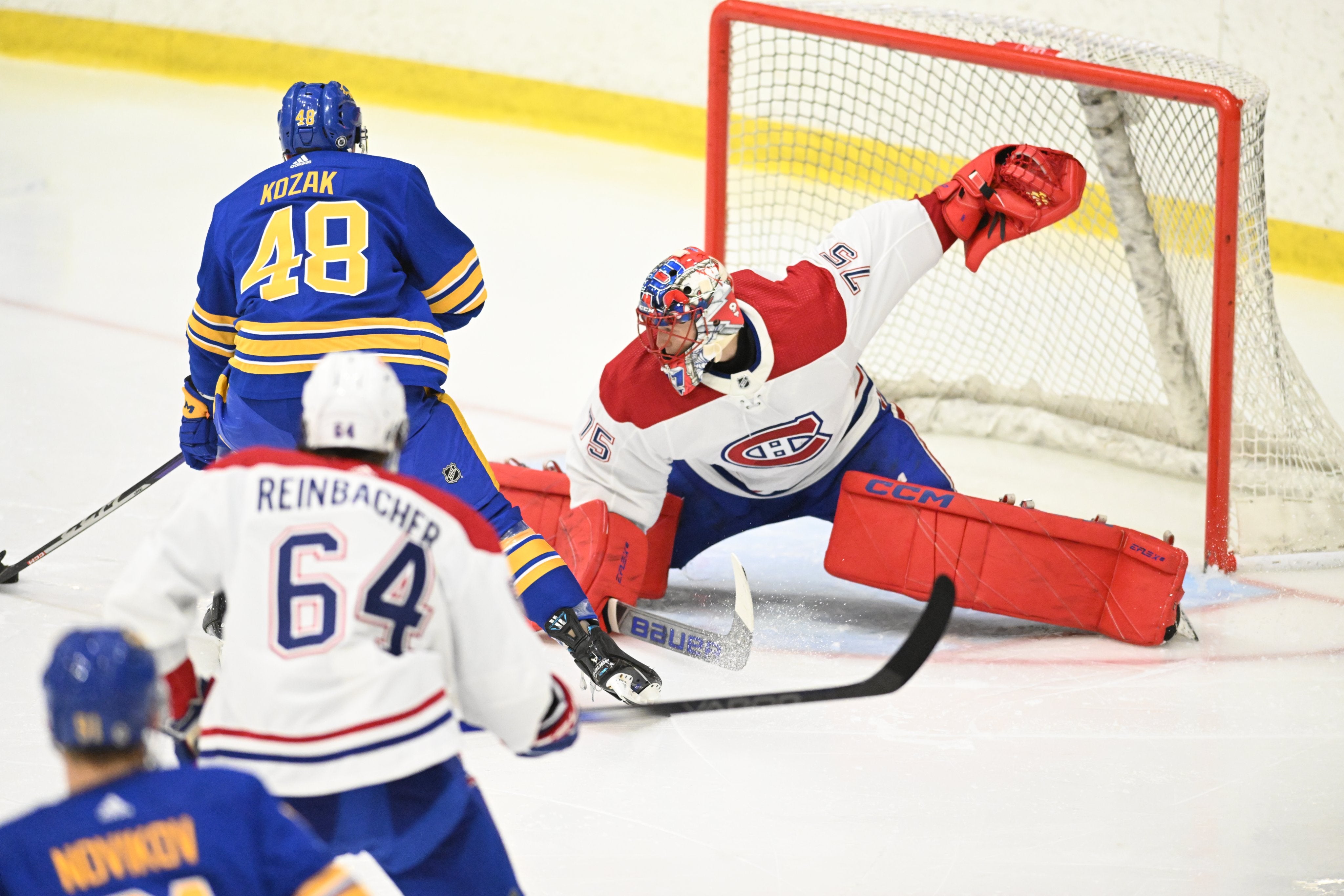 As Kozak continues to add to his game, it has become clear that he has the physicality and work ethic to make it to the NHL.
"He just looks more confident, more sure, more assertive," Appert said. "He's not a loud person. He lets his actions speak more than his words, but I hear him on the ice more right now."
Here are more notes from Monday's game against the Penguins.
1. Less than a minute into the game, Savoie took a hard hit in front of the Sabres' net and went down on the ice in pain. He did not return for the remainder of the night.
"I don't have a medical update yet other than it's upper–body and he's going to get re-evaluated here in the next day – tonight, tomorrow," Appert said following the game. "Probably expected to miss a little bit of time at camp, at main camp. That's where it's at right now."
The Sabres open up training camp Thursday at KeyBank Center, where Savoie was expected to compete for a roster spot.
2. Buffalo was without Jiri Kulich, Aleksandr Kisakov, Isak Rosen, and Viktor Neuchev, who were all scratches.
Appert shared that Kisakov and Neuchev were dealing with "little nagging injuries," and that the staff felt it was best for them to sit out with training camp approaching this week.
For Kulich and Rosen, Appert felt they had earned a well-deserved rest.
Isak Rosen and Jiri Kulich with that oh so gorgeous power play connection 😍 pic.twitter.com/fOLZJgnkzw

— Rochester Americans (@AmerksHockey) September 16, 2023
"With Kulich and Rosen, obviously they did what they did last year, full year of pro hockey, great playoff run, and then they also did what they did the first two games," Appert said. "Not only how good they played, but how they did it – how competitive they were and played the right way, they didn't try to just play on skill. They played on habits and work ethic and competitiveness."
Rosen finished the tournament with four points (2+2) in two games while Kulich scored a goal in each of his two games. The duo will now get ready for training camp after their standout performances.
3. Nikita Novikov led the group with five points (0+5) in three contests during the Prospects Challenge. His competitiveness and work ethic were apparent throughout the course of the weekend.
Appert and assistant coach Nathan Paetsch did their best to communicate with the Russian defenseman despite a language barrier and were very impressed when they saw him applying the skills discussed in his game.
"You could see him applying some of the things throughout this little tournament that we were talking about, which is a great sign," Appert said. "And then he's got really good length. He's got defensive length, he's got offensive length. He had shifts in the third period where he was circling around in the offensive zone. Those are not easy things to do at his age for a defenseman. So, I thought he showed really well."
Back to All