Joining the Amerks Is Homecoming for Blujus
Jan 20, 2021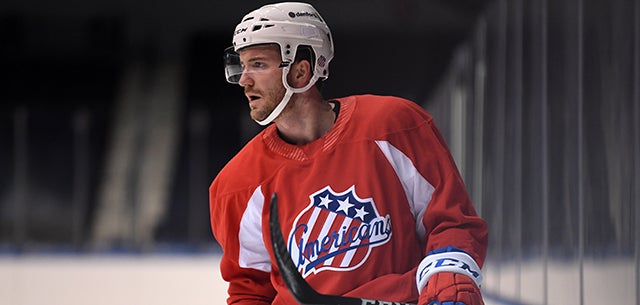 By Ryan J. Harr
Defenseman Dylan Blujus knows a thing or two about playing at The Blue Cross Arena. He spent the first six years of his professional career playing in the building as an opponent during his time with Syracuse Crunch, and most recently, the Utica Comets, two of Rochester's top divisional – and regional – adversaries.
But now, he finds himself on the other side of the players' hallway AFTER SIGNING A ONE-YEAR AMERICAN HOCKEY LEAGUE CONTRACT WITH THE ROCHESTER AMERICANS earlier this week, thus ending a long off-season marred with angst, wonder and uncertainty about what the future held.
With only four defensemen on the team's active roster to begin training camp, Rochester was in need of a steady, reliable addition to its backend. Within days, the Amerks offered Blujus a contract, and by Wednesday, the 6-foot 3-inch, 203-pound defenseman joined his new teammates for his first practice with his hometown AHL club.
Just days into his tenure as an Amerk, he's already impressed by what he's seen so far from his new teammates and excited for what the team dynamic will be comprised of heading into the Amerks' 65th anniversary season in the American Hockey League.
WATCH: DYLAN BLUJUS AFTER HIS FIRST PRACTICE WITH THE AMERKS
As one of the older players, he will undoubtedly be viewed as a leader, especially on a team with so many incoming rookies this season.
"I think we will be a fast team that has a lot of skill up front. We have a good mix of guys who recently turned professional and have spent some years in the league already. I have been on a lot of teams already in my career and now I just want to lead by example and help show them what it means to be a pro actually is like."
Making things even a little sweeter is the fact that Blujus, born and raised in the Buffalo suburb of Amherst, now gets to play even more closer to home.
"I knew a lot of players over the years who have played here before and I have always been sort of jealous of them as they live close to home and being able to play for the hometown team," said Blujus following his first practice with Rochester on Wednesday.
The 26-year-old blueliner split the first six years of his professional career in Syracuse and Utica, recording 82 points (20+62) in 274 contests since the 2014-15 season. During his rookie season with the Crunch, he notched professional-high 22 points on four goals and 18 assists while also being named as the team's Most Improved Player.
WATCH: SETH APPERT FOLLOWING WEDNESDAY'S PRACTICE
Blujus is equally excited for the opportunity that lies ahead and the chance to be part of the organization he grew up idolizing.
"Growing up a Buffalo Sabres fan in the early 2000's, which were the glory days, and now to sign here, I could not be any happier. I'm really looking forward to the opportunity and now I just have to take full advantage of it."
After spending the past six seasons down the I-90 thruway with both Syracuse and Utica, the other added benefit of getting to remain in New York state is that his family is still close by.
"Taking the hour-long drive to report to training camp was really easy, so the move was really easy, but eventually not being able to play in front of friends and family will not be. I come from a family of five. We are all super close and have not moved away from home. They are my biggest support group and my rock."
The Blue Cross Arena will always hold a special place for Blujus as it is not only his hometown AHL barn, but the last place where his late father, Stanley, got to see his son play.
"Playing against Rochester was always special, but the last game my father got to watch me play prior to his passing was here in this building. It makes it that much special for my family and I."
Back to All