GENESEE BREW HOUSE UNVEILS AMERKS AMBER ALE IN CELEBRATION OF AMERKS 65TH SEASON IN ROCHESTER
Apr 19, 2021
The Genesee Brew House, a longtime supporter and partner of the Rochester Americans, has unveiled a new Amerks Amber Ale in celebration of the Amerks' 65th season in the American Hockey League.
The Genesee Brew House will debut its new beer collaboration on Friday, April 23 when the Amerks host the Utica Comets at The Blue Cross Arena.
The special-release brew will be available for purchase on draft and in to-go growlers and crowlers exclusively at the Genesee Brew House.
"Amerks Amber Ale puts a dry-hopped twist on our classic, creating an exceptionally clean, well balanced beer," said Genesee Brew House Brewmaster, Dean Jones. "We're really excited to release this collaboration and commemorate 65 years of professional hockey in Rochester. Nothing goes better with an Amerks game than an ice-cold Genny."
A super smooth amber ale with subtle malty notes that are accented by biscuit and toasted caramel flavors, Amerks Amber Ale was created and crafted by Jones using his 20-barrel pilot system.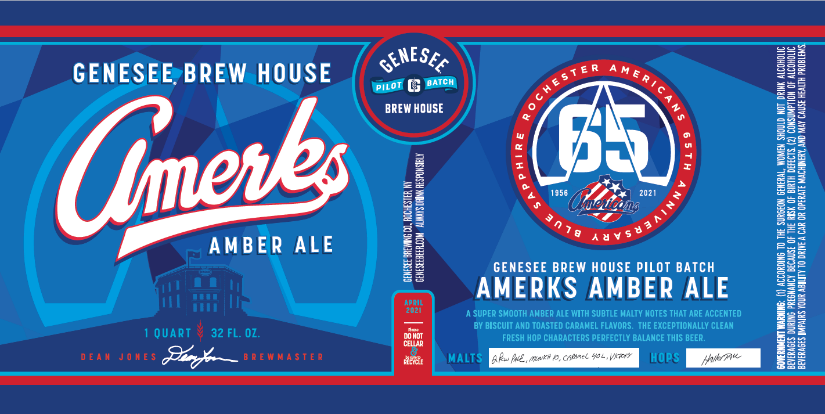 "The Amerks and Genny beer are two of the most iconic and time-honored institutions here in the city of Rochester and we're excited for the chance to bring those together with the launch of the new Amerks Amber Ale in honor of our 65th season," said Amerks Vice President of Business Operations, Rob Minter.
In addition to the new beer, the Genesee Brew House is offering a new promotion to celebrate the Amerks' historic 65th season in Rochester. Now through the end of the month, anyone who purchases a 30-pack or two 12-packs of any Genesee beer and brings the receipt to the Brew House will receive a limited-edition Amerks 65th Anniversary t-shirt, while supplies last.
About The Genesee Brewery
Established in 1878, the Genesee Brewery – New York state's oldest brewery – makes the classic Genesee line of beers, The Original Cream Ale, The Original Honey Brown Lager and Seagram's Escapes. The Genesee Brewery also manufactures beer and other alcoholic and non-alcoholic beverages under contracts on behalf of other companies. For more information, visit www.geneseebeer.com or follow us on social media @GeneseeBrewery.
Back to All