TWO FORMER AMERKS JOIN SABRES AS DEVELOPMENT COACHES
Aug 17, 2021
By Jourdon LaBarber for Sabres.com
Adam Mair believes his career would have taken place in a classroom had he not carved out 11 NHL seasons, including seven with the Buffalo Sabres. Teaching, he says, runs in the family: Both his father and sister are educators.
"If I didn't play hockey, I would have probably gone down that road, too," Mair said.
It's no coincidence that Mair found himself drawn to the player development field once his career ended, spending two seasons as a development coach with Canisius College and five more in the same role with the Sabres. After spending last season as an assistant coach with the Rochester Americans, he's returned to the department as Buffalo's director of player development.
The team has hired Sabres alumni Tim Kennedy and Nathan Paetsch as development coaches under Mair, adding to a staff that also includes development coach Dan Girardi, skating development coach Mike Ansell, and goaltending development coach Seamus Kotyk.
"The mission is just to provide constant support to our prospects," Mair said. "To build trusting and strong relationships so that our prospects can become the best people and the best players that they're capable of being and then at the end of the day, working tirelessly to help them become future Buffalo Sabres."
Mair gained an appreciation for the development grind during his two seasons at Canisius, where he helped the program earn its first trip to the NCAA Tournament in 2013. His tenure there introduced him to video systems used to break down film, taught him how to build one-on-one relationships with players, and involved him in practice development.
Those skills all came into play over the ensuing five seasons in Buffalo. Development coaches are conduits between NHL clubs and their prospects, traveling across the globe to build one-on-one relationships in addition to tracking their on-ice progress.
"The mission is just to provide constant support to our prospects," he said. "To build trusting and strong relationships so that our prospects can become the best people and the best players that they're capable of being and then at the end of the day, working tirelessly to help them become future Buffalo Sabres."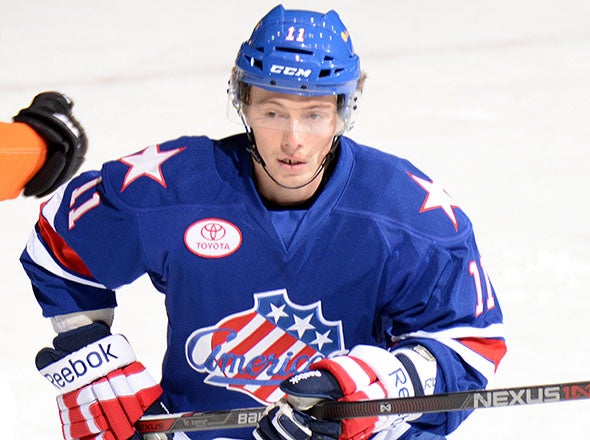 In Kennedy and Paetsch, the Sabres add two former players who carved out NHL careers despite being late-round draft picks. Kennedy, a sixth-round pick and Buffalo native, played 162 games for four teams. He most recently served as director for the Academy of Hockey, where he organized and led on-ice development sessions.
Paetsch, a seventh-round pick who was a member of the Sabres' Presidents' Trophy winning team in 2006-07, announced his retirement from playing last December, ending an illustrious 17-year playing career with nearly 900 games in the National Hockey League, American Hockey League and the Deutsche Eishockey Liga in Germany.
He spent his last three seasons in a mentorship role with the Rochester Americans, seeing limited playing time while effectively serving as an extended member of the coaching staff.
A native of LeRoy, Sask., the 37-year-old Paetsch appeared in 258 career games over parts of seven seasons in the red, white and blue, recording 100 points on 23 goals and 77 assists. His seven seasons in Rochester trail only Darryl Sly for the most by a defenseman in the 65-year history of the franchise and he's one of only 20 defensemen all-time with at least 250 games as an Amerk. He also added four points (2+2) in 26 playoff appearances for Rochester, leading the Amerks to the postseason in each of his first two years with the team.
It was off the ice, however, where Paetsch's contributions were the most impactful. In his seven seasons with the team, he was unanimously named the winner of the organization's McCulloch Trophy for his commitment to the Rochester community on five different occasions, the most by any player. He also remains the only Amerk in franchise history to receive the award, coinciding with being named Rochester's AHL Man of the Year for his community service, in three straight years from 2018-2020.
Paetsch is also a four-time recipient of his team's AHL Man of the Year award as well as a three-time nominee for the league's Fred T. Hunt Award, presented annually to the player who best exemplifies the qualities of sportsmanship, determination and dedication to hockey.
Paetsch joined the Amerks as a rookie for the 2003-04 season following five years of junior hockey with the Moose Jaw Warriors. The following year, he and the Amerks enjoyed a record-setting season for the most points and longest home win streak while winning the Macgregor Kilpatrick Trophy as regular season champions thanks to an AHL-best 51-19-4-6 record. Paetsch would be the only Amerk to appear in all 80 games that season.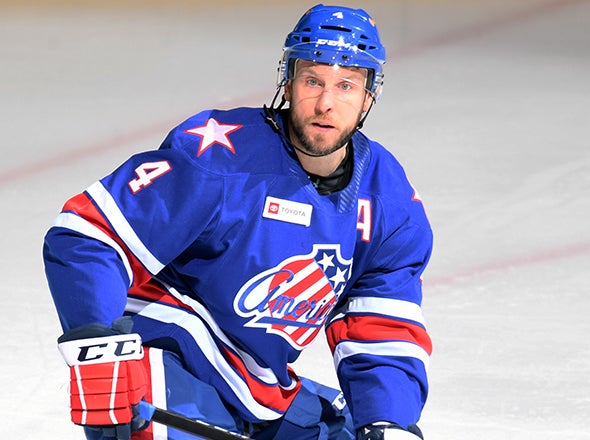 His best season as an Amerk came during the 2005-06 campaign when he posted career-highs in goals (11), assists (39) and points (50) to lead all Rochester defensemen and finish ninth in scoring among all AHL blueliners. For his efforts, he would be named Amerks MVP, becoming just the third defenseman in team history to earn the honors.
That year would also see Paetsch make his NHL debut for the Buffalo Sabres, paving way for a full-time spot in the NHL with the Sabres and later the Columbus Blue Jackets over the next four seasons.
Paetsch played an integral role during Buffalo's record-setting season in 2006-07, his first at the NHL level, recording a career-high 24 points (2+22) in 63 games. He helped the Sabres set franchise records for the most consecutive wins and road wins to begin a season while also leading Buffalo to the 50-win mark for just the second time in franchise history. The Sabres also tied the franchise mark for the most points in a season on their way to capturing their first President's Trophy as regular season champions and advancing to the Eastern Conference Finals of the 2007 Stanley Cup Playoffs.
Paetsch would play parts of the next three seasons with the Sabres and Blue Jackets, totaling 42 points (7+35) over 167 career NHL games.
Following a brief return to Rochester in 2010-11 and a season abroad in Germany, Paetsch spent five seasons with the Grand Rapids Griffins, where he led the team to five straight playoff appearances and two Calder Cup championships while also serving as team captain during the 2016-17 campaign.
He rejoined the Amerks for his third stint in Rochester prior to the 2017-18 season, playing out the final 43 games of his career with 14 points (2+2) over his final three seasons.
In his AHL career, the 6-foot-1, 195-pound blueliner amassed 259 points (52+207) over 651 career AHL games with Rochester, Grand Rapids and Syracuse, while also adding 34 points (5+29) in 104 playoff contests. During the 2016-17 season with Grand Rapids, he became just the 18th player in AHL history to play in 100 or more Calder Cup Playoff games.
He departed the organization ranked 25th in scoring among all-time defensemen in franchise history, joining the likes of Amerks Hall of Famers Jim Wiemer and Randy Cunneyworth to begin and end their playing careers in Rochester.
In Kennedy, Paetsch, and Girardi (an undrafted defenseman who played over 1,000 NHL games, including the playoffs), the Sabres believe they have added development coaches who can speak firsthand to the habits required to become an NHL player.
Kennedy, meanwhile, served two different stints with the Amerks, starting with a brief 14-game stay in 2010-11 before returning in 2016-17. In all, Kennedy recorded 36 points (4+32) in 61 career games with the Amerks.
He also played over 160 games at the NHL level with Buffalo, Florida, San Jose and Phoenix, totaling 39 points on 15 goals and 24 assists.
"Having people that have gone through that I think is invaluable there, being able to relate their experiences, their playing experiences, their life experiences," Mair said. "It is really good for our prospects."
Back to All