SABRES ASSIGN SAVOIE TO ROCHESTER
Forward had 95 points in 62 games with Winnipeg in WHL
May 21, 2023
The Buffalo Sabres have assigned forward Matt Savoie to the Rochester Americans, the team announced Sunday.
Rochester opens the best-of-seven Eastern Conference Finals against Hershey on Tuesday.
Savoie, 19, tallied 95 points (38+57) in 62 games this season for the WHL's Winnipeg ICE. He added 29 points (11+18) in 19 playoff games to fuel Winnipeg's run to the league championship series, which ended with a loss in Game 5 on Friday.
"I just describe him as a Sabre and the kind of things we talk about being a fit for the type of players we like to have," Sabres director of player development Adam Mair said in March.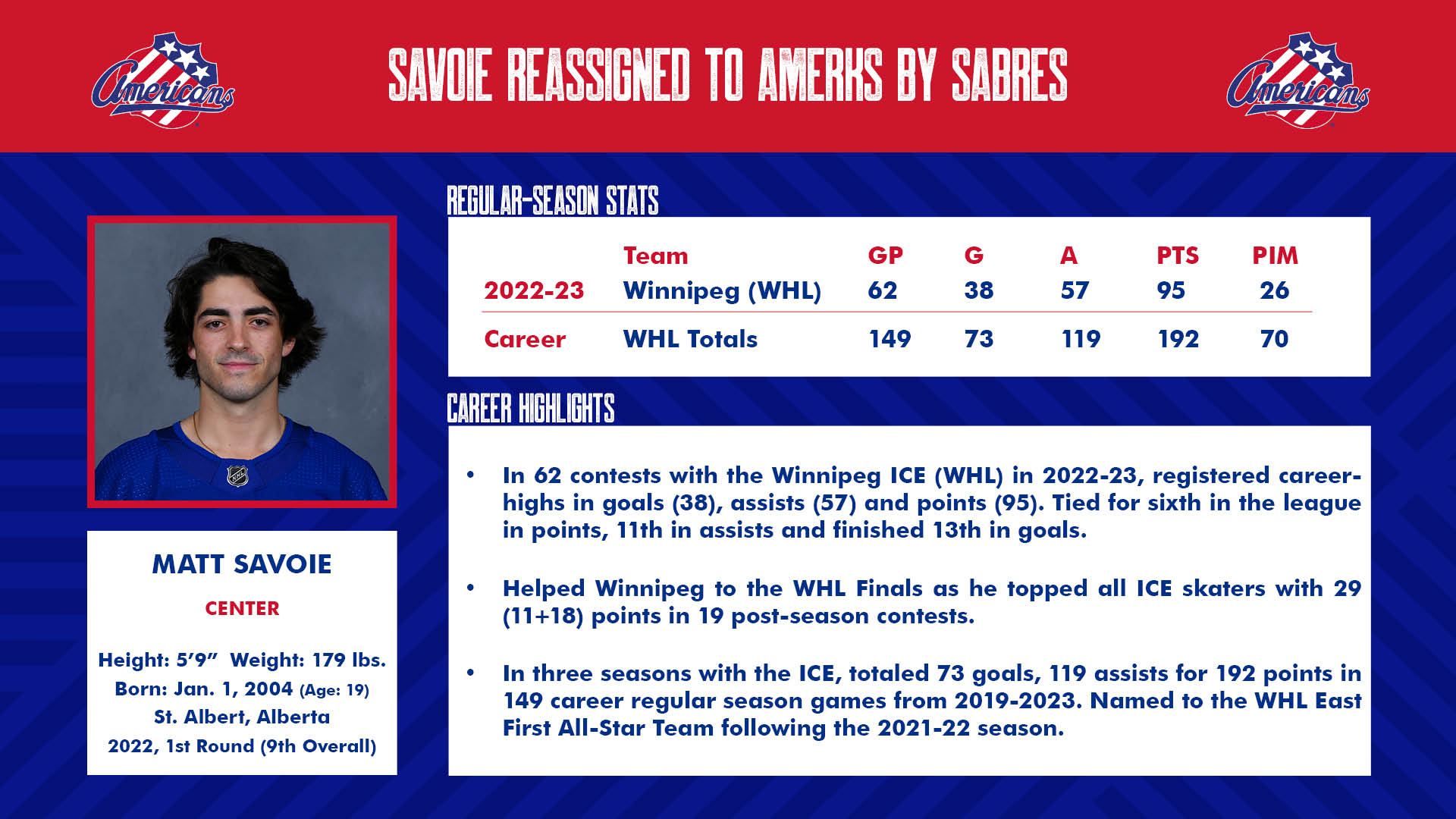 "He's tenacious on pucks. He's competitive, he plays fast, he's dedicated to his craft. He loves hockey. He asks questions. He's aware of himself. That's really exciting when I talk to him and watch him play."
Savoie, at ninth overall, was the first of three forwards selected by the Sabres during the first round of the NHL Draft last summer. Noah Ostlund (16th overall) joined the Amerks earlier this month after concluding his pro season in Sweden and participated in off-ice activities.
Jiri Kulich, the third of the bunch at 28th overall, had 46 points (24+22) in 62 regular-season games with Rochester and has scored goals in six consecutive playoff games.
The Amerks advanced to the Eastern Conference Finals for the first time since 2004 by sweeping the best-of-five North Division Finals against Toronto. They overcame a 2-0 series deficit to win the prior round against Syracuse in five games.
Back to All