RUOTSALAINEN EXCELING THROUGH INCREASED PRESSURE OF CALDER CUP PLAYOFFS
May 9, 2022
By Suzie Cool
Through two games in the 2022 Calder Cup Playoffs, Rochester Americans forward Arttu Ruotsalainen has come up big on more than one occasion.
During the play-in round against the Belleville Senators, Ruotsalainen started the series on a line with fellow forwards Peyton Krebs and Brett Murray. Amerks head coach Seth Appert's idea behind this line came from how well they gelled together in practice last week prior to Game 1 against the Senators.
"I figured it'd be a good match from a shared responsibility standpoint, both on coverage and on face-offs, but also a good mesh. Murray and Rooster have really good chemistry together. They've been very good together throughout the last two years when they've played together. Krebs is really competitive, but probably more of a pass-first player by nature and Rooster scores."
WATCH: ARTTU RUOTSALAINEN AFTER GAME 2 IN BELLEVILLE
After just one assist was produced from the line through regulation last Wednesday, Appert then made the switch to have forward Mark Jankowski center the line with Ruotsalainen and Murray. In overtime is where we all began to see Ruotsalainen come into playoff form.
Ruotsalainen ended up tallying the game-winner to give the Amerks a 4-3 victory over the Senators in Game 1 of the best-of-three series.
One goal down and another game to go in order for the Amerks to officially clinch the play-in round against Belleville. This line, once again, proved to be a massive point generator, combining for six points on four goals and two assists, including Murray on the game-winner.
CAN'T STOP ROOSTER! pic.twitter.com/56DtX73XFX

— x-Rochester Americans (@AmerksHockey) May 7, 2022
Four of those points coming from a two-goal and two-assist night from Ruotsalainen.
"That Jankowski, Murray, Ruotsalainen line was outstanding," stated Appert when asked about Ruotsalainen's playoff output after the series sweep on Friday night. "I switched to that line in overtime of Game 1. So that was the tweak I made and then they scored the game-winner, so I certainly stayed with them."
Ruotsalainen added that this line was just feeling it after the overtime win in Game 1.
"I'm always with good players like Janko and Murray. I think there's like good chemistry and I just think we enjoy to play and we had a lot of production pretty much every game with huge scoring chances. We're just feeling right now and that's a good thing."
Additionally, Ruotsalainen and Murray have been playing with each other a lot and know one another very well, making this line work well amidst a playoff push.
"I've been playing a lot with Murray and I know him very well. He's used to getting in front of the net and getting in battles and Janko is a good passer and he reads the game very well. I just got to do my thing out there and it's been working."
Through two playoff games so far, Ruotsalainen has produced three goals, including one power-play marker and one game-winning tally, along with two assists. After a week down in the 2022 Calder Cup Playoffs, Ruotsalainen leads all American Hockey League skaters with his five playoff points.
RUOTSALAINEN NETS OT GAME-WINNER IN GAME 1 AGAINST BELLEVILLE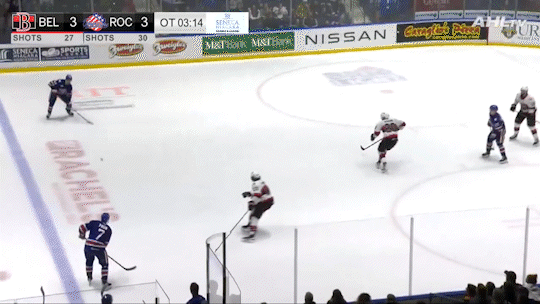 For Ruotsalainen, the pressure of playoffs helps him elevate his game to an even higher level.
"In a bigger game I enjoy playing even more," stated Ruotsalainen when asked how emotions have played a role in his game in the playoffs so far. "It's just when you go on to the ice, you just feel like you enjoy playing and just try to enjoy every moment you are out there. I think if you're not taking it too seriously, for me, I can just play my best game I got and I'm just feeling great right now."
Back to All