ROUSEK FUELS BIG NIGHT FOR LINEMATES IN 7-4 WIN OVER DEVILS
Sep 18, 2022
Seth Appert and his coaching staff had designs on combining Lukas Rousek, Jiri Kulich, and Isak Rosen as linemates before the Prospects Challenge began.
Rousek's playmaking, they calculated, would blend well with the scoring prowess of Kulich and Rosen. Rousek would also serve as a veteran anchor for the two first-round picks entering their first seasons in North America, with Rousek having spent last season with the Amerks.
Those plans changed when an injury sidelined Kulich for the opening game of the tournament, but the vision came to fruition against the New Jersey Devils on Saturday. Rousek tallied a pair of assists while Rosen and Kulich both scored goals in a 7-4 win for the Sabres prospects at LECOM Harborcenter.
"They were really good," Appert said.
Matt Savoie also scored his first goal of the tournament for the Sabres, as did Ethan Ritchie, Filip Cederqvist, Aleksandr Kisakov, and Spencer Sova. Oskari Laaksonen and Linus Weissbach were each credited with two assists.
Let's get into takeaways from the game, beginning with the productive night from the Kulich line.
1. Kulich was originally ruled out for the tournament after he came to camp with a nagging lower-body injury. Further evaluations by the Buffalo medical staff deemed him fit to play, and he skated twice before making his tournament debut against the Devils.
Kulich was credited with two assists before scoring an empty-net goal late in the third period.
"I thought Kulich [had] a very strong first game," Appert said. "Probably couldn't have been happier with his first performance."
2. A major factor in placing Rousek on the wing alongside Kulich was to give the latter a veteran countrymate to lean on as he begins his transition to North American hockey. Both players are from Czechia, with Rousek having made the jump to the Amerks last season.
Rousek said he told Kulich to play the same as he would at home. His thoughts on Kulich's game?
"Not bad," he said.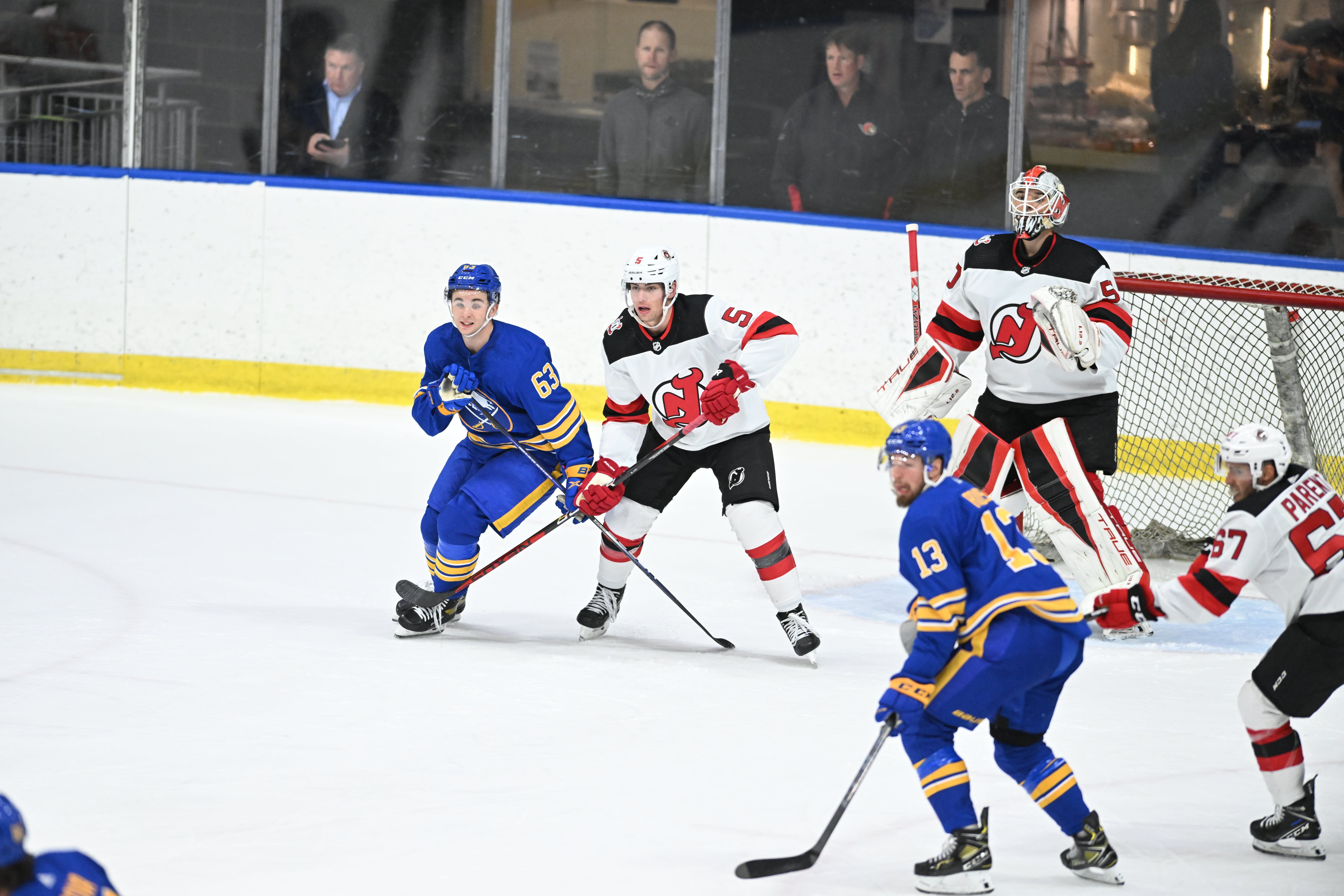 3. Rousek was injured for much of his rookie season in Rochester but got healthy in time for the playoff run, where he was major contributor on offense. He tied for seventh on the team with six points in 10 postseason games, including four assists.
His playmaking was on display against the Devils. Rousek made the feed from behind the goal line to set up Ritchie's one-time goal, which erased a 1-0 deficit during the first period. He drove hard to the net to create the rebound that led to Rosen's goal in the third.
"He and I talked this morning," Appert said. "I thought he was just pretty good in Game 1, but it's the first game. It's a little chaotic. I thought he was elite tonight. He was on the puck, he was hard, he won puck battles, he created offense. He penalty killed well, something he didn't do much last year.
"Now, we're not surprised. We expect him to be a high-end American League player this year and to start to inch towards trying to be a guy that can get called up to the National Hockey League."
4. Savoie found ways to make an impact despite not finding the score sheet against Montreal on Friday by creating pressure on the forecheck and being effective on the penalty kill. But given his abundance of close calls near the opposing net, a goal of his own felt like only a matter of time.
He finally connected during the third period against the Devils, a timely goal after the Devils had scored twice in quick succession to pull within one. Savoie was the recipient of a crossing pass from Sova, which he deposited at the back door.
5. Cederqvist planted in front of the New Jersey net to earn his power-play goal during the first period, corralling a rebound and sliding it past goaltender Nico Daws.
Cederqvist is the largest forward on the Buffalo roster at 6-foot-3, 208 pounds. The play fell in line with how Rochester Americans coach Mike Weber described Cederqvist on Friday.
"In the American League and especially the National Hockey League, you got to get to the blue paint, you got to get to the net front," Weber said. "What I've seen out of him the last couple days is he's a guy that's extremely willing to get there. He's got the frame to handle the beating, the pressure. And he's got nice hands in tight there to finish."
6. Cederqvist, 22, was a fifth-round pick by the Sabres in 2019. He's had a long journey to this point, having played three pro seasons in Sweden before being rewarded with an entry-level deal this summer.
"Our development staff raved about him," Appert said. "Our development staff … really pushed that we should sign this young man. Here's a kid that's a late bloomer, wasn't really on the Swedish national team's radar when he was younger, and is just going like [upward] at just a slow and steady march.
"His work ethic is high, his attitude's great, so those are great kids to work with because you want to be around guys like that. So, you know that's a credit to him. I think he's gonna be a good fit for us."
7. Kisakov flashed his skill on his first goal of the tournament, beating his defender down the left-wing side after securing a turnover in the neutral zone and beating Daws with a shot across the body.
8. The Sabres conclude the Prospects Challenge against the Ottawa Senators on Monday afternoon. Tickets are available for $10.
The game will be streamed live on Sabres.com, @BuffaloSabres on Twitter, and on the team's Facebook.
Back to All