PETERKA'S OFFENSIVE PRODUCTION CARRYING OVER INTO POSTSEASON
May 17, 2022
By Suzie Cool
We saw Rochester Americans rookie forward JJ Peterka turn it up a notch in the second half of the 2021-22 regular season.
After scoring just four times through the first three months of the season, Peterka notched 48 points on 24 goals and 24 assists in 47 games at the turn of the calendar year. Peterka then closed out the campaign with 16 points in the month of April, which included four multi-goal efforts and beginning and ending the month with a hat trick.
Peterka was also the first Amerk this season, and the first AHL rookie, to reach the 60-point mark.
However, when playoffs hit, Peterka didn't score a goal in the play-in round against the Belleville Senators. The rookie forward was limited to just two assists and six shots through the two games against Belleville.
It seems once the North Division Semifinals began against the Utica Comets, though, everything began to fall into place for Peterka.
In Game 1, Peterka produced a goal despite the Amerks 6-3 loss. In Game 2, the rookie notched his third hat trick since April 1 and first by an Amerk in the playoffs since forward Jason Pominville did so in 2004. Peterka then went on to rack up another two assists in Sunday's fourth 4-3 overtime win for Rochester in the postseason.
Peterka is now tied for first among rookie scoring, alongside fellow rookie Amerk Peyton Krebs, with his eight playoff points.
What's made the difference? Just the playoffs.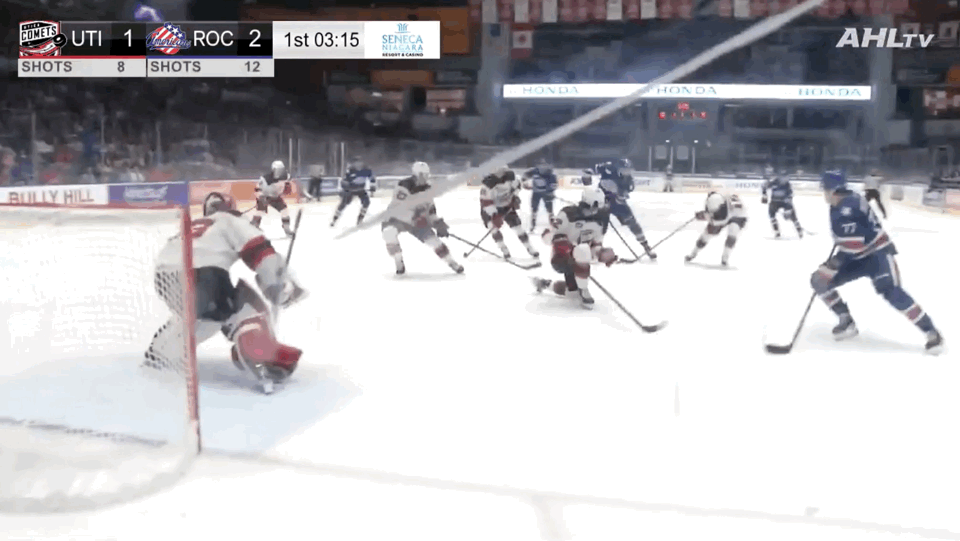 "Just the playoff hockey," stated Peterka when asked what's allowed him to take his game to another level. "It's like every play matters so much and you get, like, the extra maybe 10 percent out of you."
In Amerks head coach Seth Appert's eyes, Peterka has ramped up his defensive skillset tremendously over this playoff run.
"How hard he's playing defensively," said the Amerks head coach when asked about what he's seeing from Peterka right now. "When you have his talent level and his explosiveness, and this isn't just new, it's been the whole second half, now he's using those legs."
All season we watched Peterka use his speed to propel him to the tops in the league amongst rookies with his 68 points in 70 games. While his 28 goals led all first-year players, Peterka also ranked first among rookies with his 223 shots on goal, going just two games all season without recording at least one shot on goal.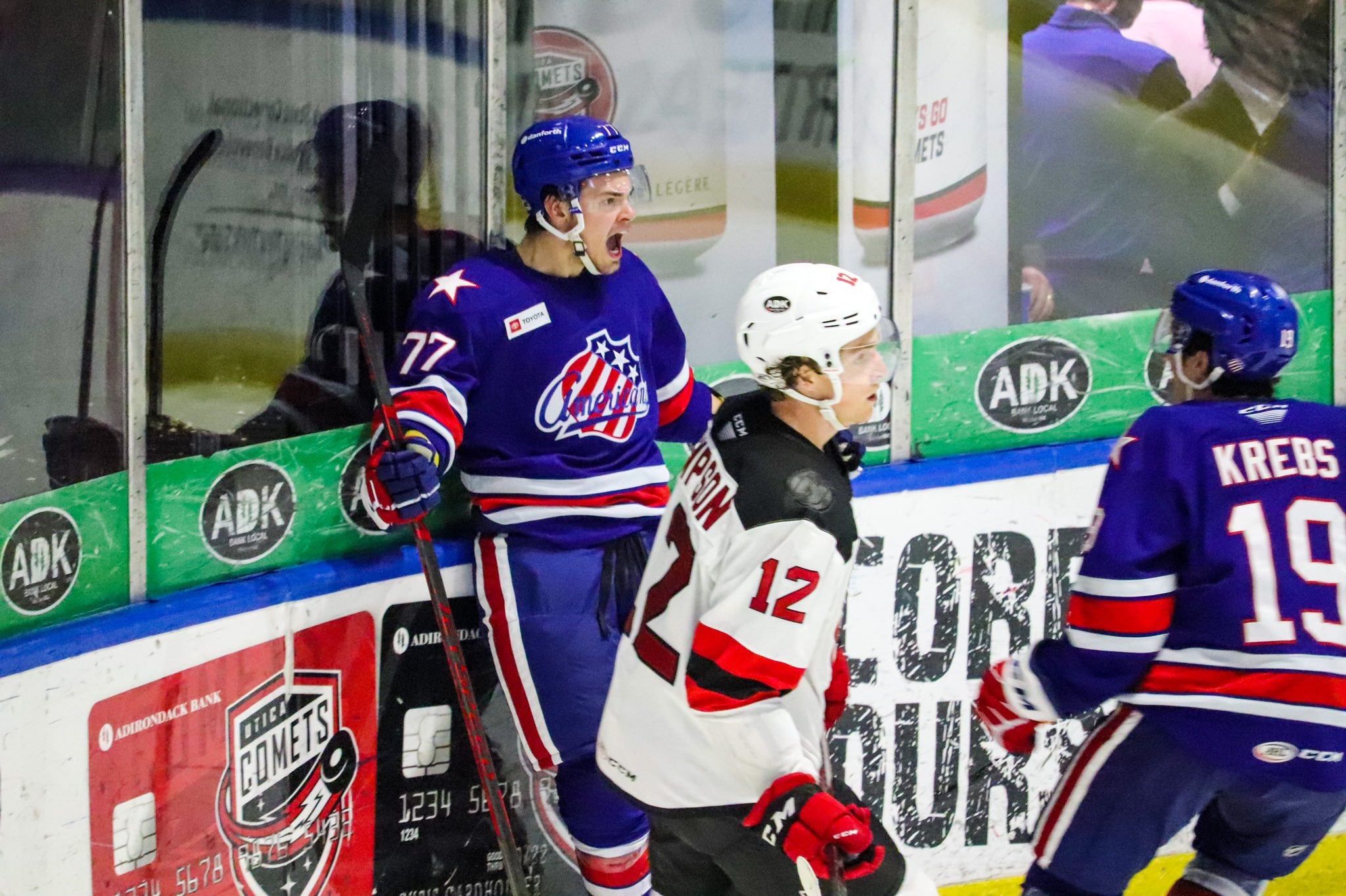 Appert and staff know just how much Peterka's speed can help generate offense, however, the focus in the playoffs and for the future is to use his speed for checking as well.
"Those legs, they're his money-maker, but they can't just be money-makers on offense. If you want to be an elite player here, and in the NHL, and help your team win, then you need to use them for checking as well."
Appert then went on to add, "He's been so bought into that in the second half, but especially in the playoffs, and therefore he has the puck a lot. So, when he has the puck a lot, then good things happen."
With his eight points on four goals and four assists in five games in the postseason, Peterka seems to finally be adjusted to the physicality and intensity that the playoffs bring. The atmosphere that this current series against the Comets has created brings all the more motivation to bring a Calder Cup back home to the Flower City.
"It just motivates me to win a Calder Cup here."
Back to All