MERSCH: "I EARNED EVERYTHING I WAS GIVEN AND IT MAKES YOU APPRECIATE WHAT YOU HAVE"
Jun 29, 2022
By Suzie Cool
"My career could've been over. I didn't really have any other options," stated Rochester Americans captain Michael Mersch on locker cleanout day back on May 26.
Mersch had been asked several questions pertaining to how he even made his way to the Flower City.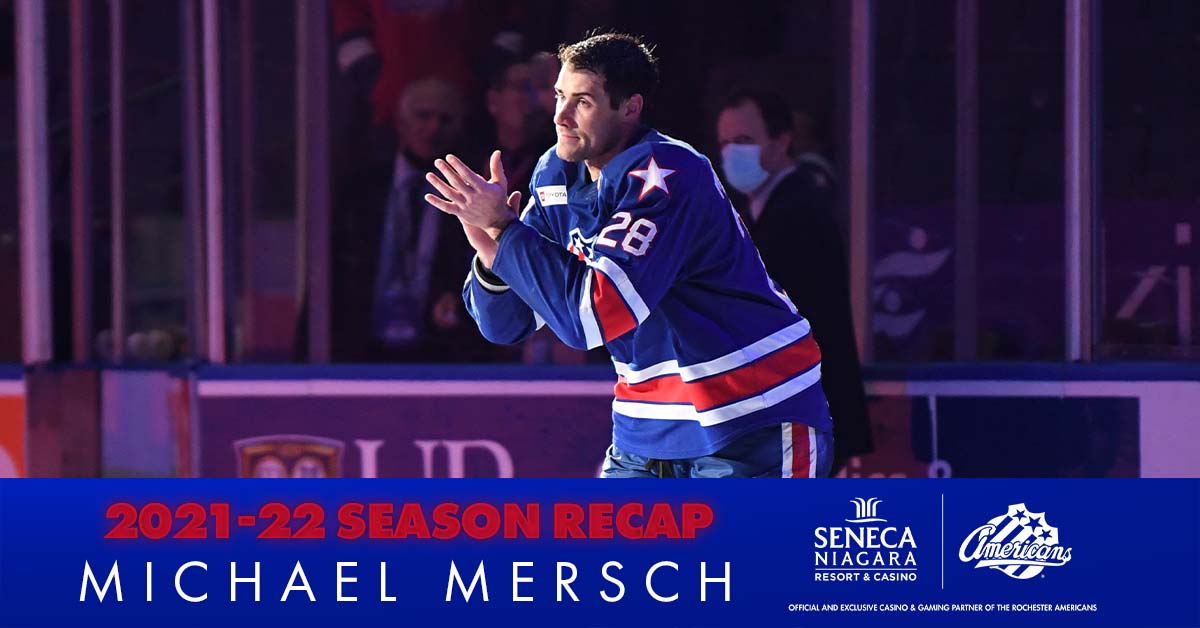 So, if you don't know, Mersch was signed to a professional tryout with the Amerks on Feb. 5, 2021. That was literally opening night of the condensed 2020-21 campaign when only 28 teams opted to play and most scheduled out 32 games in the hopes that they'd get a majority in.
For a former Calder Cup champion, you'd think Mersch would've found a team long before the season got underway but when he said, "I didn't really have any other options," Mersch wasn't being dramatic. There were limited teams in action, a shortened season and some organizations doubling up on American Hockey League affiliates, making playing time that much harder to come across.
Mersch's story is one that, flat out, needs to be told. One that went from being somewhat unnoticed because of a pandemic to playing alongside top prospects, postseason runs and once empty arenas turning into sold-out crowds.
And it all started with a tryout opportunity that gave Mersch his long-awaited second chance.
"I was very thankful to play. I was very thankful that the (Buffalo) organization and (Amerks head coach Seth Appert) Apps took a chance to sign me," said the Amerks captain when asked about how grateful he was when looking back on signing that original PTO. "When someone sticks their neck out for you, you'll do anything you can to play for them and work hard for them. I'll always appreciate that and value that."
WATCH: MICHAEL MERSCH YEAR IN REVIEW
Originally a fourth-round pick (110th overall) of the Los Angeles Kings in 2011, Mersch was a veteran of 377 AHL games prior to his arrival in Rochester. He also appeared in 44 career playoff contests, including 18 in 2014-15 when he led the Manchester Monarchs to the Calder Cup as a rookie.
Through seven professional seasons prior to coming to Rochester, Mersch had put up a quality stat line of 245 points on 122 goals and 123 assists in the regular season. Not to overlook Mersch's 16 tallies and 19 helpers in postseason action, or the three different organizations that he played for between the Ontario Reign, Texas Stars and Monarchs.
A career year for our Captain 🙌 pic.twitter.com/8Z4qfoxPVr

— Rochester Americans (@AmerksHockey) June 29, 2022
After all of that, Mersch sat through a pandemic waiting on a call from any team to begin a new chapter. However, those calls were far and few between, giving Mersch a new perspective on just how valuable his time in this league is.
"It's definitely given me a new perspective on playing because you get to a point where you almost feel entitled to things in your career. That's not the case because the next thing you know, COVID hits and you don't have a contract and then you're sitting there, and everything is taken away from you."
The veteran forward then added, "To me now, it's almost like a second opportunity. It always gives you motivation and keeps you hungry."
That second chance Mersch speaks of hasn't been taken for granted in the slightest.
In his first season in Rochester in 2020-21, Mersch appeared in 28 games, tallying 19 points on eight goals and 11 assists. Mersch then went on to sign a two-year AHL contract with the Amerks on Aug. 4, 2021 and was dubbed the team's captain during training camp in Rochester.
"I had some good captains around me and a good leadership group, and I was really just trying to be myself," said Mersch when talking about how he went into his first season captaining a team. "So, like I've always said, the coaching staff and everybody in management really sends the right message. Just being able to live that and pass that along to the younger guys on the team was pretty easy because that message was always clear."
WATCH: MICHAEL MERSCH YEAR-END INTERVIEW
Looking at the 2021-22 season, Mersch went on to have his best year in the AHL. On top of captaining the Amerks to the North Division Finals of the 2022 Calder Cup Playoffs, the veteran forward finished with 54 points on 26 goals and 28 assists, all of which were, or matched, career totals in the league and pushed him over the 20-goal mark for the fifth time in his pro career.
His offensive production didn't come without motivation, though. After a prolific career and being left with close to nothing after the pandemic, Mersch earned everything he's been given in Rochester over the last two years.
"I had a chance to come in and I earned everything I was given, which was great and I wouldn't want it any other way and it really makes you appreciate what you have when you're playing pro hockey."
Mersch then went on to finish with, "To not take things for granted, not overthink things because at the end of the day being able to play is an incredible honor in itself."
Good thing we have the captain coming back for round three as we look head to the 2022-23 season.
Back to All