KOZAK MAKING UP FOR LOST TIME AT PROSPECTS CHALLENGE
Sep 16, 2022
By Suzie Cool
Last night kicked off the 2022 Buffalo Sabres Prospect Challenge and forward Tyson Kozak didn't look like he was a seventh-round selection following his multi-goal performance that powered the Sabres to a 4-3 win over the Montreal Canadiens in the tournament opener at LECOM Harborcenter.
"We had a very small sample last year at this because he got hurt," stated Rochester Americans head coach Seth Appert when asked about his thoughts on Kozak's performance following last night's game. "But we all felt, management and coaches, in that small sample that, that kid's a hockey player. He just has a presence about him. He has a compete about him."
Kozak's goals on Thursday night were shaped the outcome of the game, with the young forward placing himself in front of Montreal's crease to deflect a shot into the net in the second period for the go-ahead goal. Shortly when the final frame ensued, Kozak would force a turnover with Buffalo shorthanded and skated the length of the ice before backhanding a shot past the Canadiens netminder for the eventual game-winner on the night.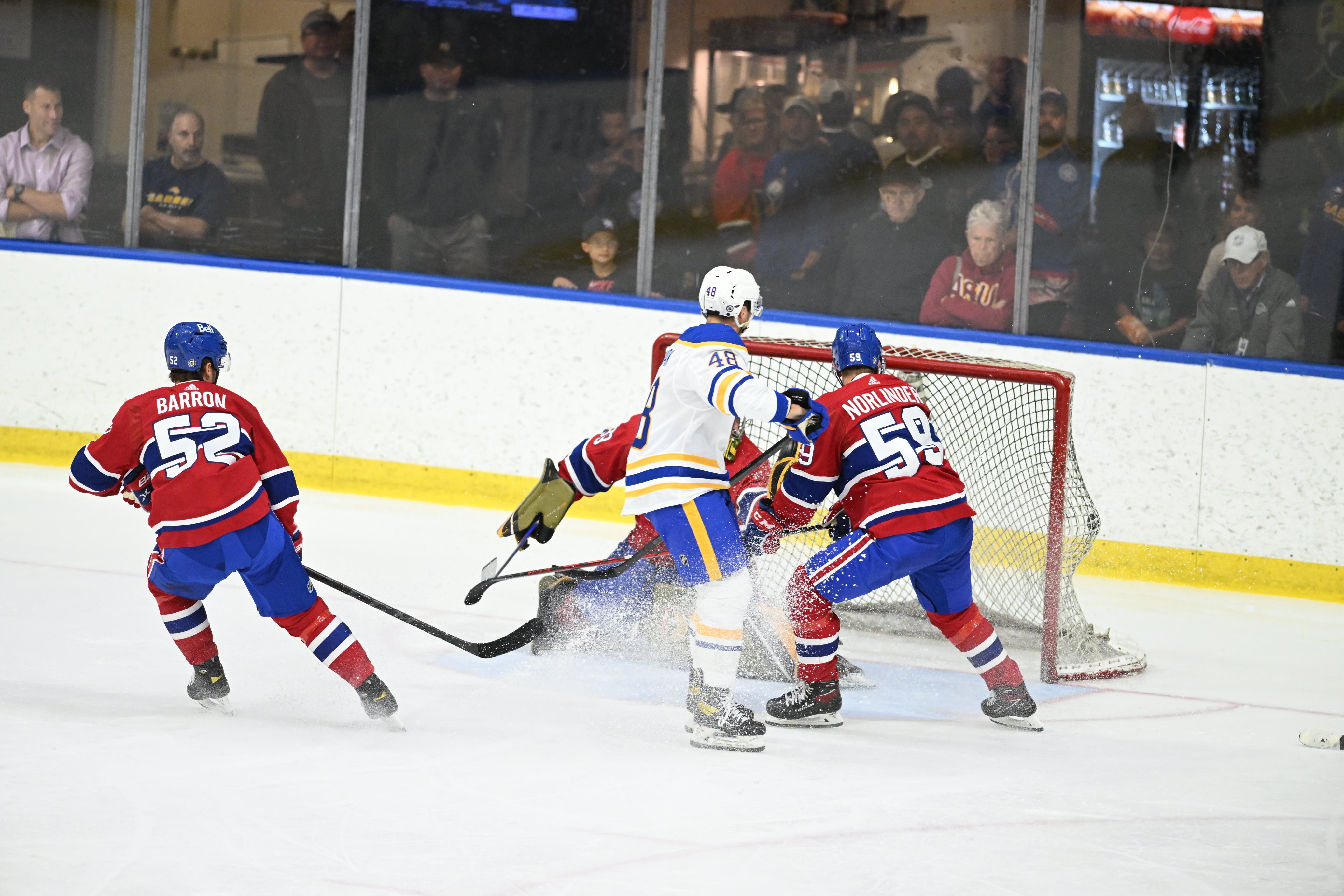 "It's the goal at the end there," commented Appert when asked to further elaborate on the substance that Kozak brings to his game. "It's a great goal and it looks so pretty and the poise and all those things, but at the end of the day, it's also a fearless goal. He plays in hard areas because he took it to the back post. A lot of players, especially young players, are going to settle for the snapshot on the short side and they're not going to take that puck to the back post because it's big boy hockey and sometimes when you take pucks to the back post you get lit up and I had no doubt that he was going to take that thing to the back post."
Again, with that kind of performance, and after seeing just a small sample size from Kozak at year's last Prospects Challenge due to an injury in the first game, it's hard to believe the young forward was selected in the seventh round (193rd overall) by the Sabres in the 2021 NHL Draft. Recently, Kozak signed his three-year, entry-level contract with Buffalo on August 19, 2022.
"It was a surreal moment for me and my family," said Kozak on signing his entry-level deal in August. "It was definitely very exciting and then, I think, we were in talks after the end of the WHL season, and then coming into development camp. I just wanted to do my best each and every day and just go one day at a time and then, thankfully, they offered a contract."
After being drafted last summer, Kozak went on to complete his third full season with the Portland Winterhawks (WHL), tallying 69 points on 32 goals and 37 assists. Kozak spent much of the 2021-22 campaign playing the role as a top-line center while appearing in 66 games and transforming his game to being more of an "offensive-minded" forward rather than defensive.
More than likely, Kozak will be with the Amerks for the 2022-23 season and Appert will most certainly utilize him in every potential situation on the ice if given the opportunity looking ahead to this year.
"He wins puck battles. He can win face-offs. I want him on the penalty kill. I want him on the power-play. I want him out there at the end of the game trying to…I'd probably want him out there trying to score it."
Appert then finished with, "He's just a very useful hockey player."
Back to All