JANKOWSKI LEFT IMPACTFUL MARK ON AMERKS IN 2021-22
Jun 23, 2022
By Suzie Cool
After spending the first five seasons of his pro career in the Calgary Flames organization, forward Mark Jankowski began to make some moves after the COVID-19 pandemic hit. Jankowski would spend the condensed 2021-22 season with the Pittsburgh Penguins, registering 11 points on four goals and seven assists in 45 games.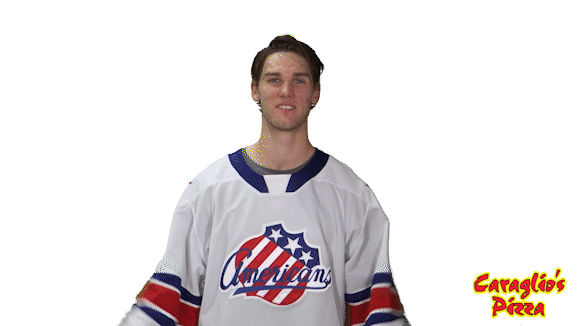 Then, Jankowski was right back to where he started during COVID. Looking for another home going into the 2021-22 campaign, and it was imminent Jankowski selected the right one that was going to let him showcase his skillset wherever he was needed.
"It was kind of a weird offseason for me," stated Jankowski when asked about how he came to the decision of becoming a part of the Buffalo Sabres organization. "I was just kind of waiting and trying to see where I was going to go and just talking to different teams. When it came down to it, and after I went through training camp with the Devils, I was talking to some different teams, talking with my agent about different options and the one came up with Buffalo and Rochester."
In the first five years of his pro career, Jankowski spent ample time splitting duties between Calgary and its American Hockey League affiliate, the Stockton Heat. In 208 games with Calgary, Jankowski went on to tally 36 goals and 28 assists with his best season coming in his second full season with the NHL Flames in 2018-19.
MARK JANKOWSKI, EVERYBODY 🚨 pic.twitter.com/SZnUCuVAqf

— Rochester Americans (@AmerksHockey) May 25, 2022
With Stockton, Jankowski spent just one full season with the Heat in 2016-17 when he led all AHL rookies with his 27 goals and ranked second with his 56 points in his first full year with Stockton. For his efforts, Jankowski was named a 2017 AHL All-Star before earning a selection to that year's AHL All-Rookie Team.
Between three combined seasons in Stockton, Jankowski combined for 70 points (34+36) in 78 games and hadn't played in an AHL game since the 2017-18 season. That is until this year when Jankowski was offered the opportunity to come and compete for head coach Seth Appert and the Rochester Americans.
"I had a good talk with 'Apps' over there and it seemed like the right fit and then just, you know, I talked with my agent and everything and how the opportunity would be there if I earned it if I played well enough," continued Jankowski when talking about the opportunity in Buffalo and Rochester. "I just went through all the options and, you know, coming into Rochester, talking to the coaching staff and how much a belief they had in me and the confidence they gave me right from day one, I think it was it was an easy yes."
Opportunity is exactly what Jankowski earned, and on Oct. 15, Jankowski signed a one-year AHL contract for the 2021-22 season.
Now, this meant that Jankowski was signed to a deal two days before the Amerks first slated game of the year against the Utica Comets on Oct. 17, meaning we didn't see Jankowski in action with Rochester until the Home Opener on Oct. 22 against the Syracuse Crunch.
By no surprise, Amerks fans weren't disappointed.
In Jankowski's first six games of the season, he combined for seven points on three goals and four assists. Immediately making an impact on a young Rochester roster, and less than a month later, Jankowski propelled himself right back to the National Hockey League, signing a one-year deal with the Sabres on Nov. 28.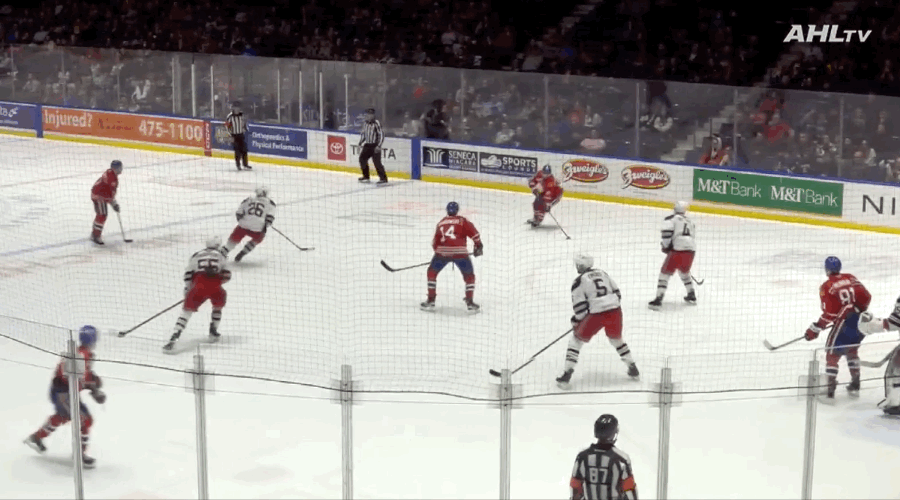 Those first 13 games in Rochester proved to be extremely valuable for Jankowski and the time he'd end up spending in Buffalo over the course of the 2021-22 campaign.
"It was good coming into Rochester right away and playing valuable, important minutes and gaining the trust of the coaching staff right away. I got to play a lot in that beginning of the season there and then earned my way up to Buffalo and then just continued to try and improve my game, trying to complete my all-around game and just do everything I can to set myself up throughout the season this year."
Jankowski went on to star in 19 games with Buffalo this past season, putting up another five points to add to his NHL total and now appearing in 272 games in the best league in the world. The veteran forward would then be reassigned to Rochester mid-March to help the Amerks continue their push to the postseason.
WATCH: MARK JANKOWSKI YEAR-END INTERVIEW
Finishing off the year appearing in 32 regular season games with the Amerks, Jankowski had his second-best season in the AHL with his 27 points. Additionally, this was the most playoff action Jankowski has ever seen in a season. Jankowski appeared in all 10 postseason games for Rochester, tallying seven points with six of them coming from goals while primarily centering a line in-between forwards Brett Murray and Arttu Ruotsalainen.
However, no matter the playoff wins or the call-up to the show, Jankowski said that nothing beat the camaraderie that this Rochester team had. It's something that Jankowski and others never know if they'll be a part of something so strong again and something you can't replicate, ultimately making Jankowski's decision to be a part of this group at the beginning of the year that much sweeter.
"Being in pro hockey for the amount of time that I have, you don't really see teams like this too often that are so close," began Jankowski when asked what he was going to reflect on when looking back at his first year as a key piece to the Sabres organization. "Those bus trips can get annoying, but some of my best memories this year were on the bus just with the guys and stuff. So, I mean, that's probably the biggest thing. Obviously, I think we had a really good year. We had that awesome playoff push at the end where the last month, month and a half, every game was a playoff game for us."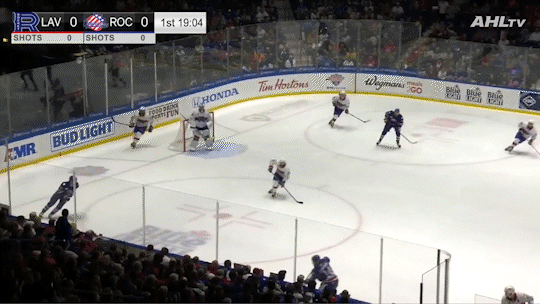 Jankowski then finished with, "I think the biggest takeaway is just the group that we had. It was a really special, special group."
Back to All