JACK QUINN'S TOP THREE MOMENTS OF THE 2021-22 SEASON
Jun 27, 2022
By Suzie Cool
Everyone was expecting to see the emergence of Rochester Americans rookie forward Jack Quinn this past season, and he didn't disappoint. From his long-awaited National Hockey League debut, to tearing up the American Hockey League in just 45 games, Quinn proved the trajectory of his career despite the adversity he faced along the way.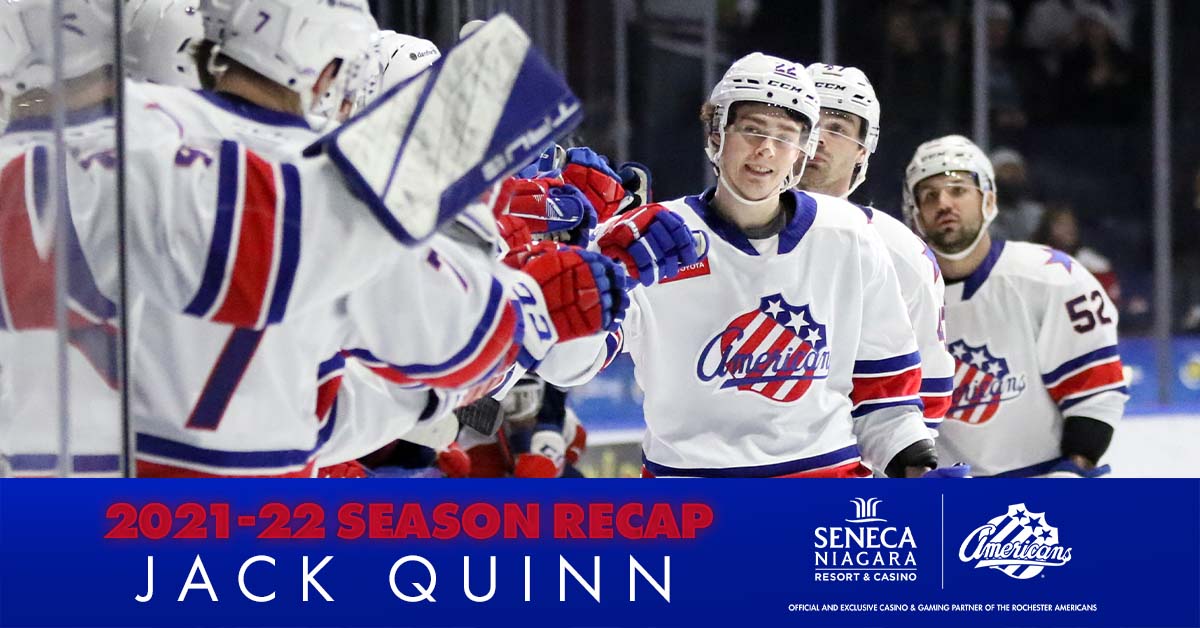 Here's a closer ook back at Quinn's top three moments from the Amerks 2021-22 campaign.
WATCH: JACK QUINN YEAR-END INTERVIEW
AHL'S MOST OUTSTANDING ROOKIE
On April 29, the American Hockey League named Quinn the winner of the Dudley (Red) Garrett Memorial Award as the league's outstanding rookie for the 2021-22 season, becoming the first Amerk to earn Rookie of the Year honors since goaltender Mika Noronen in 1999-2000. Quinn was also one of two Amerks named to this year's AHL All-Rookie Team, joining JJ Peterka.
After his 2020-21 season was cut short by injury, Quinn emerged as one of the top young prospects in the AHL in 2021-22. In 45 games with Rochester, Quinn went on to register 26 goals and 35 assists, ranking first in the league among active players averaging 1.36 points per game while not going more than two consecutive games without a point all season.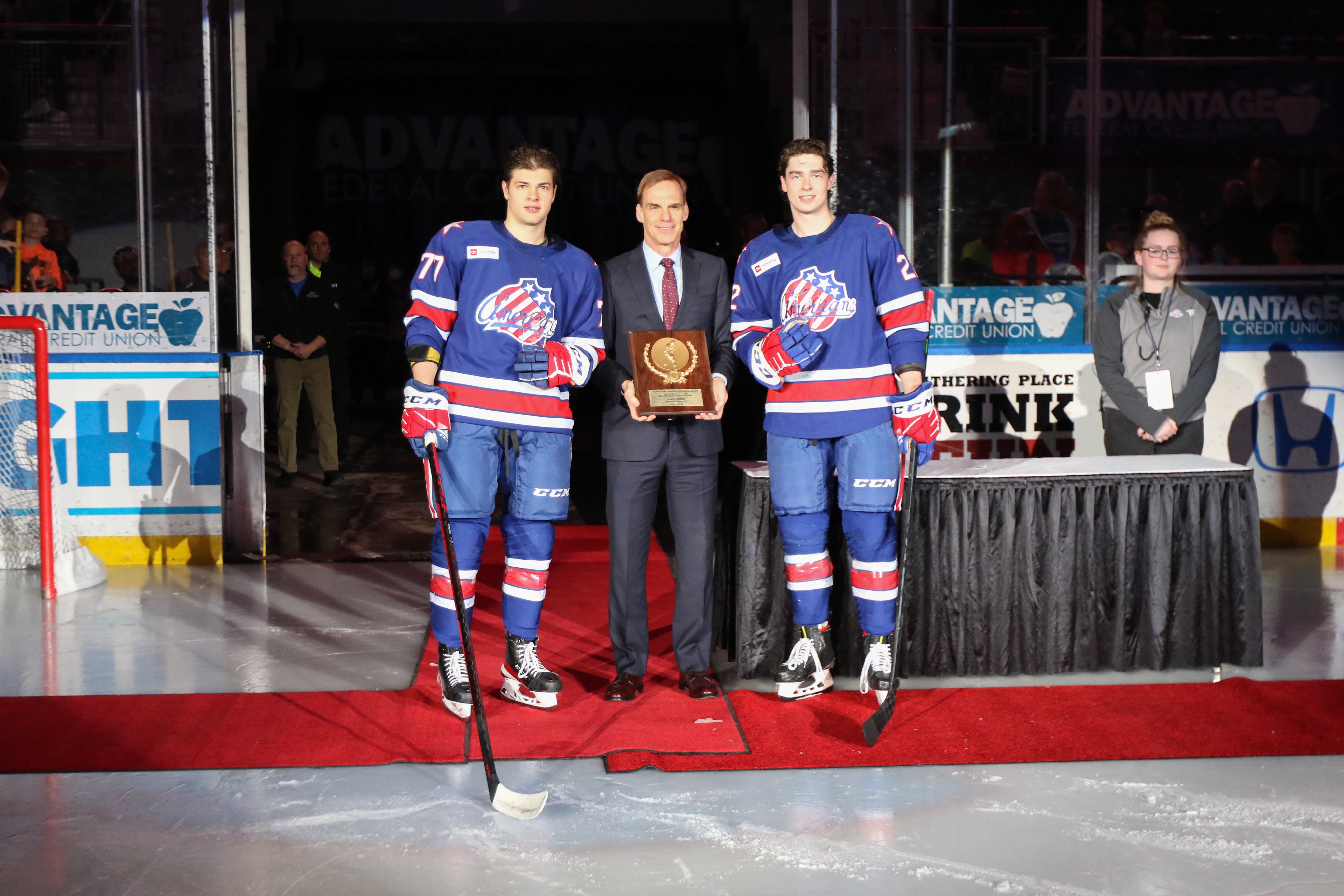 Selected eighth overall in the 2020 NHL Draft, Quinn scored 10 power-play goals, a shorthanded marker and six game-winners during the regular season for Rochester. Additionally, Quinn was held scoreless just 14 times and recorded a team-leading 19 multi-point performances this year.
So, you could say it comes as no surprise Quinn was dubbed the most outstanding rookie when putting up the stat line he did in such a small sample size.
TAKING HIS GAME TO THE TOP
On Jan. 11 against the Tampa Bay Lightning, Quinn became the 101st AHL player this past season to make his NHL debut.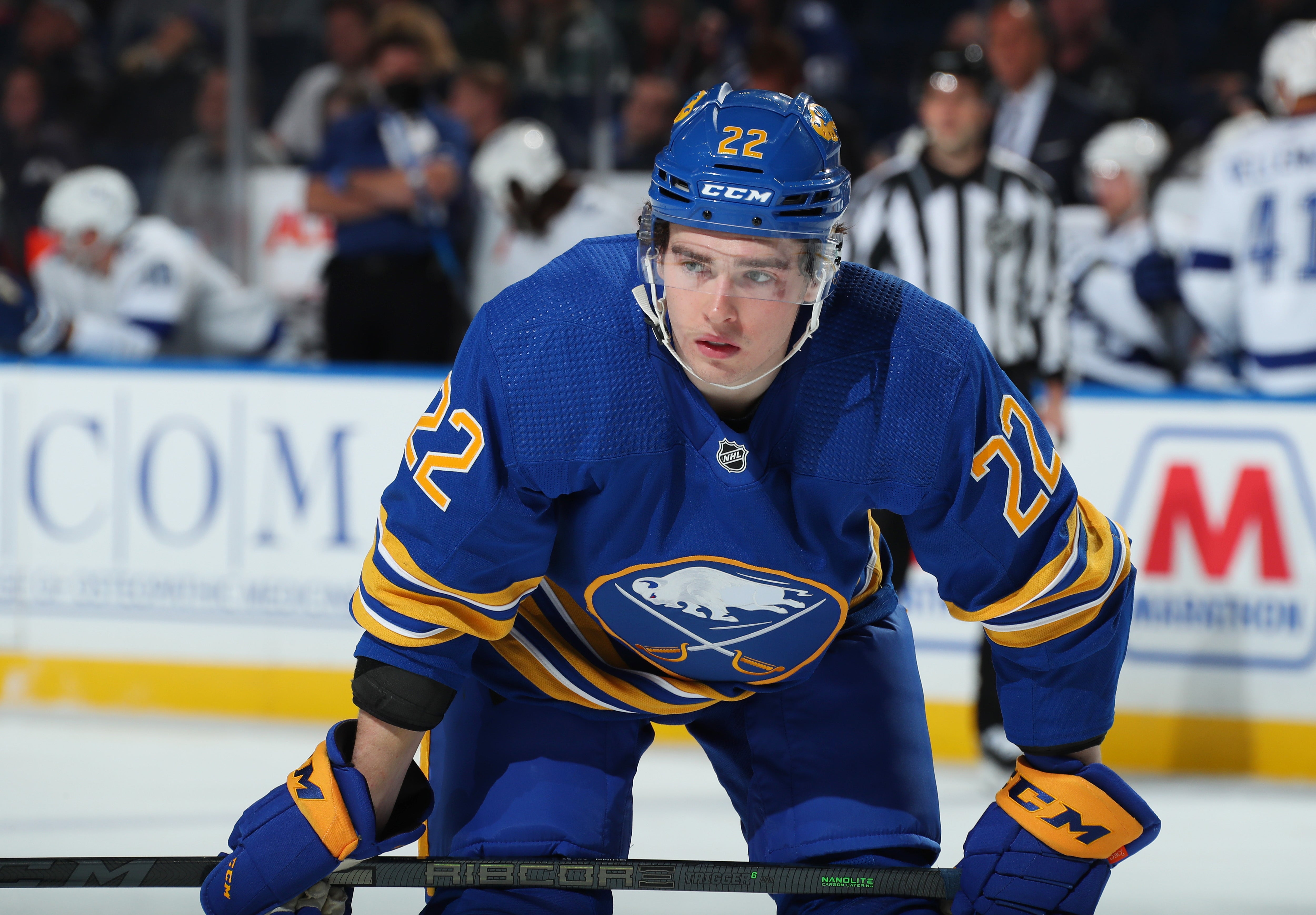 Quinn finished his first night in the bigs with a team-highs in three shots and six shot attempts while earning 16:30 of total ice time. The rookie then returned to the Sabres a day after scoring his 18th goal of the season for Rochester and was rewarded with his first two NHL points, including a goal against Vezina Trophy winner and Stanley Cup champion Braden Holtby in the Sabres' 5-4 loss to the Dallas Stars on Jan 20.
FOUR-GOAL NIGHT
Quinn became the first AHL player this past season and just the 17th player in Amerks franchise history to score four goals in a single game in the 6-5 overtime loss to the Belleville Senators on Jan. 15. More impressively, Quinn scored all four goals consecutively, including the game-tying tally with 3.3 seconds remaining in regulation.
The rookie forward was the first Amerk to have a four-goal game since Rochester native Derek Whitmore single-handedly outscored Hamilton on Nov. 25, 2011 (5-2 W).
Back to All