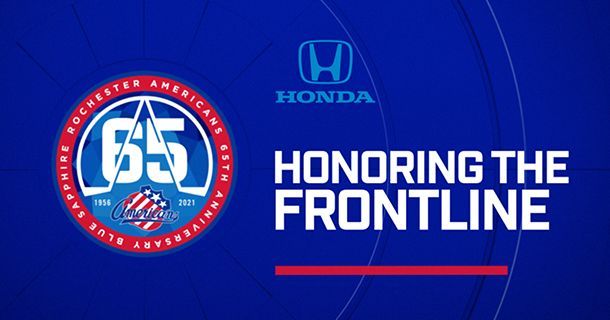 HONORING THE FRONTLINE PRESENTED BY HONDA | MAJOR RICH GARRETT
Mar 1, 2021
This season, we're recognizing the local healthcare workers and first responders on the frontlines against the COVID-19 pandemic as part of a new season-long segment called Honoring the Frontline presented by Honda.
This week we honor Major Rich Garrett of AMR.
After graduating from Niagara University in 2006, Rich Garrett followed in both his parents' footsteps and worked alongside his Dad as an EMS. Starting out as a dispatcher, Garrett transitioned to an EMT on the road and graduated from MCC in 2010 as a Paramedic. That was just the beginning. In 2011, Garrett became a critical care paramedic, and within two years, earned a promotion to Captain and relocated to Corning, New York to work as their Chief Paramedic. After 18 months, he moved back to Rochester and became the Operations and Communications Supervisor at AMR. Garrett was since promoted to Major and continues to hold these titles today.
As a lifelong Amerks fan and Season Ticket Member, Garrett was elated to merge his love for his job and his love for the game. In 2018, Garrett helped ignite a partnership between AMR and the Blue Cross Arena. Due to his knowledge of the Arena and the team, he was tasked with managing the partnership. Over the past 3 years, Garret has worked closely with staff at the arena and with the Amerks medical staff, ensuring medical coverage for the team and patrons and organizing CPR and Stop the Bleed Trainings for staff and fans.
While the Amerks memories are endless, Garrett reminisces on his years as a fan and his love for this team. He fondly remembers the Frozen Frontier and watching the Amerks come from behind for an eventual shootout win. Garrett says, " I love watching the passion that the players have for the team and the city and I love seeing the passion that the fans have for this team."
The Rochester Americans and Upstate Honda Dealers want to thank Major Rich Garrett and all others First Responders and Frontline Workers for their service.
Back to All