GAME PREVIEW: RED-HOT AMERKS BATTLE BEARS IN GAME 2 TONIGHT
May 25, 2023
TONIGHT'S GAME OVERVIEW
The Rochester Americans (7-2) look to take a 2-0 series lead tonight when they meet the Hershey Bears (6-2) in Game 2 of the Eastern Conference Finals at GIANT Center. Opening puck-drop in the best-of-seven series is set for 7:00 p.m. and will be carried live on The Sports Leader 95.7 FM/950 AM The Fan Rochester as well as AHL TV. The game will also be televised live on MSG Network.
SERIES NOTES
Rochester scored 14 seconds into Game 1 on Tuesday and never looked back on its way to a 5-1 win over the Bears in the series-opener. The Amerks, who are in the Conference finals for the first time since 2004, have won seven straight after dropping the first two games of the playoffs.
Dating back to the Amerks' last visit to GIANT Center on March 18, the club shows a 15-4-3-1 mark, which includes a 7-2 record in the playoffs.
Over their current seven-game win streak, the Amerks have outscored the opposition 41-21, including 12-3 in the first period over that span.
A victory tonight would extend the Amerks' win streak to eight games, the club's longest in the postseason since 1996 when they won nine straight before ultimately defeating Portland in the Calder Cup Finals four games to three. The Amerks were 11-1 through the first three rounds of the playoffs, including back-to-back sweeps over Adirondack and Cornwall before knocking off Syracuse in five games.
Tuesday's win in Game 1 improved the Amerks to 6-2 all-time in the opening game of a playoff series against Hershey dating back to Game 1 of the 1965 Calder Cup Finals. Rochester would go on to win its first of six Calder Cups.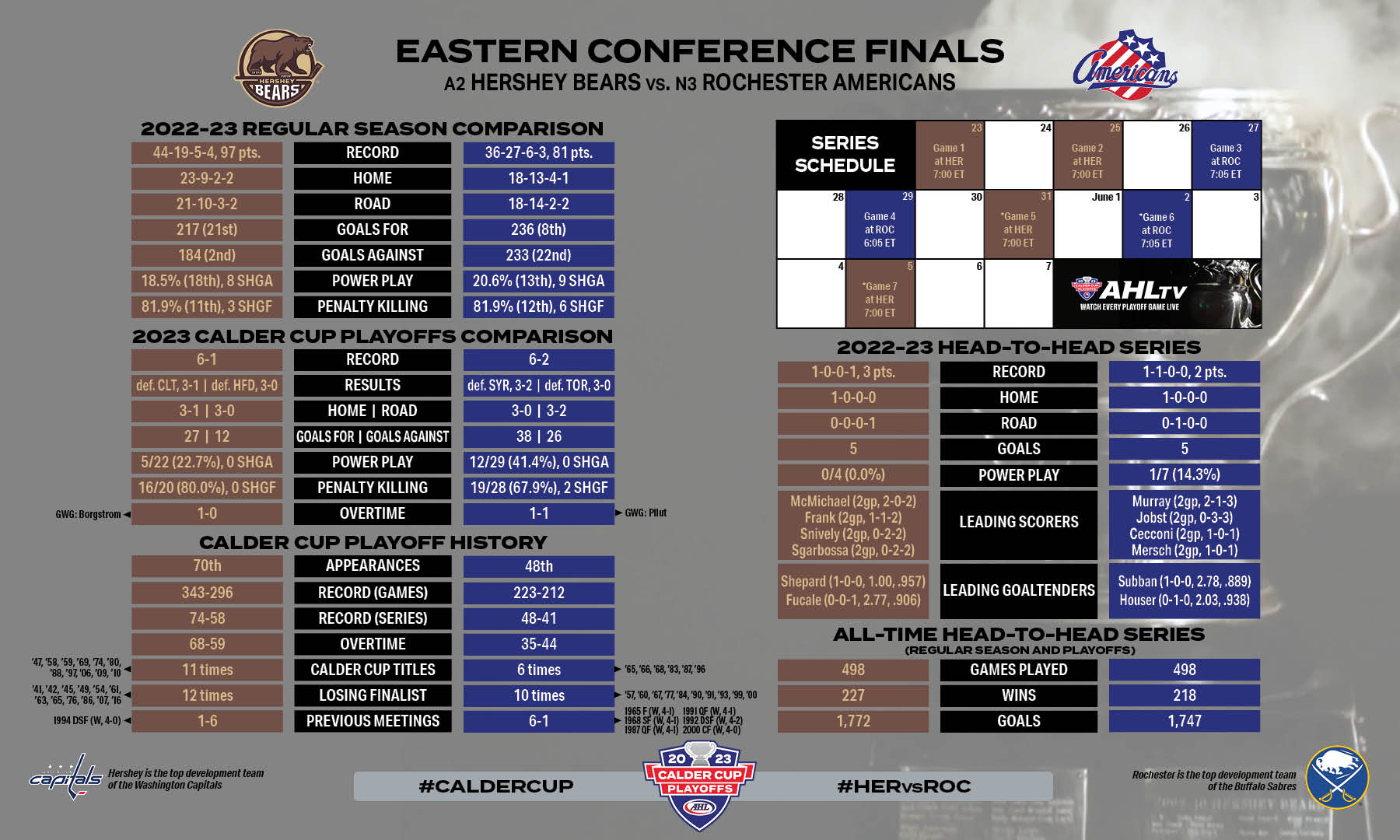 PLAYOFF LEADERS
With a point in each of his first seven AHL playoff games, Jiri Kulich currently leads all first-year AHL players with six goals and is third in rookie postseason scoring with 10 points. Kulich, whose 24 goals in the regular season were the second-most by an 18-year-old in league history, also paces all players with four power-play goals and two game-winning goals.
Malcolm Subban, who's earned the start in all eight postseason contests, is second amongst all goaltenders in wins (7) and saves (273). Subban's seven-game win streak ties his longest from the regular season. He's also one of four golatenders in the postseason to play moren than 500 minutes.
Mason Jobst currently leads all Rochester skaters and ranks sixth in the AHL with 12 points (3+9). Jobst, who along with Kulich has points in seven straight games, is also tied for fourth with a team-high nine assists.
Lawrence Pilut, who scored the series-clinching goal versus Syracuse, is tied for third in scoring amongst all AHL blueliners with eight points (3+5) in nine playoff contests. Pilut entered Tuesday's series-opener with points in six straight games, the longest active point streak by a defenseman.
Fellow blueliner Ethan Prow is currently riding an AHL-best six-game assist streak dating back to Game 4 of the North Division Semifinals against the Crunch. Coming into tonight, Prow, who reached the 40-point mark for the second straight year and third time in his last four AHL seasons, is tied for fifth amongst all defensemen with eight points (1+7) in nine games.
HEAD-TO-HEAD SERIES SNAPSHOT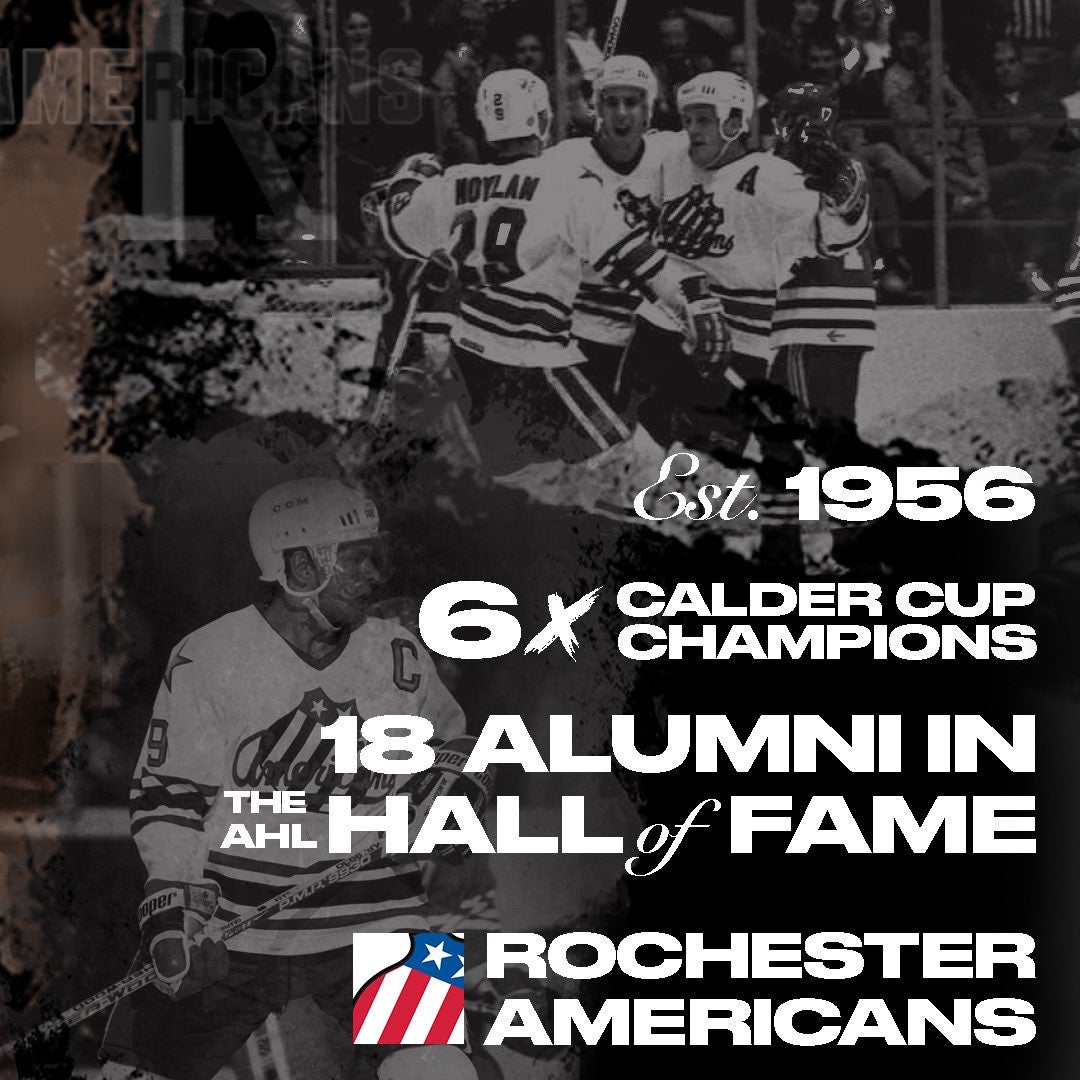 Tonight's Game 2 is the just the fourth meeting overall this season between the league's two oldest teams, who previously met twice over a six-day span back in March with the home team emerging victorious each time. The Bears, however, claimed three out of a possible four points after falling in overtime in their only visit of the season to Rochester on March 24.
Tonight marks the 500th all-time meeting (including playoffs and regular season) between the league's two cornerstone franchises. The Amerks are 194-217-53 lifetime against Hershey during the regular season.
In 35 postseason contests between the two teams, Rochester shows a 25-10 record and boast a 6-1 mark in seven all-time playoff series. Prior to Tuesday's series-opener, the longtime rivals have not met in the playoffs since the Amerks finished off the Bears in a four-game sweep during the 2000 Conference Finals.
Rochester is 6-1 all-time in Game 2 matchups against the Bears and have won three straight dating back to 1965. The Amerks show a 10-6 mark in Hershey, which includes a pair of overtime defeats, compared to a 15-4 record at home all-time against the Bears.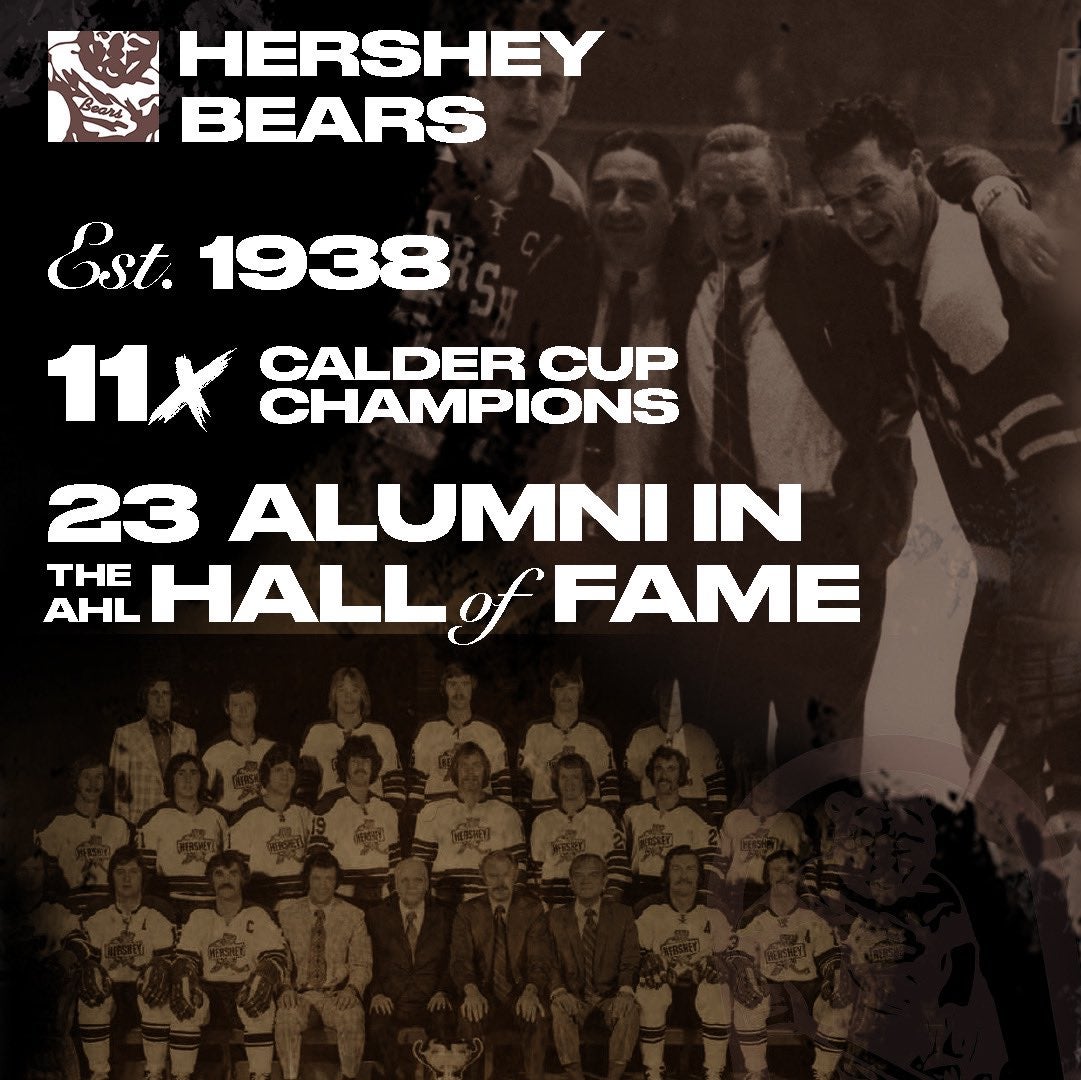 This is just the second time Hershey has hosted Rochester to begin a series, with the only other coming during the 1994 Division Finals, the Bears' lone series win against the Amerks.
The Bears (11) and Amerks (six) have combined for 17 Calder Cup championships in their respective histories. Hershey's 11 Calder Cups are the most by any team in league history. The Bears, who are making their 70th playoff appearance, have won three AHL titles in the modern era, including back-to-back championships in 2009 and 2010.
Hershey shows a 3-2 mark on home ice during the 2023 Calder Cup Playoffs while Rochester is 3-0.
In his first season as Hershey's head coach Todd Nelson spent the 2000-01 season with the Amerks as a defenseman, recording 26 points (6+20) in 74 games before adding two assists in four playoff appearances. A three-time Calder Cup winner, Nelson owns the distinction of being just the third person in AHL history to win a Calder Cup as a player (1994, Portland), assistant coach (2008, Chicago) and head coach (2017, Grand Rapids).
SHARING THE WEALTH
The Amerks finished the regular season with three different 20-goal scorers for the second straight year.
Jiri Kulich (24) and Brett Murray (23) each cracked the mark, both doing so back on March 26 versus Cleveland, while Linus Weissbach also reached his first 20-goal campaign in last Friday's 7-4 loss to Belleville.
With Kulich, Murray and Weissbach all successfully reaching the 20-goal mark this season, the Amerks have now had at least one player from all but two seasons (excluding the COVID-19 shortened 2019-20 and 2020-21 seasons) in the 67-year history of the franchise score 20 or more goals dating back to Bronco Horvath's team-leading 37 tallies during the Amerks' inaugural 1956-57 campaign.
The last time Rochester had at least five different 20-goal scorers in the same season was during the 2018-19 campaign when the team had six.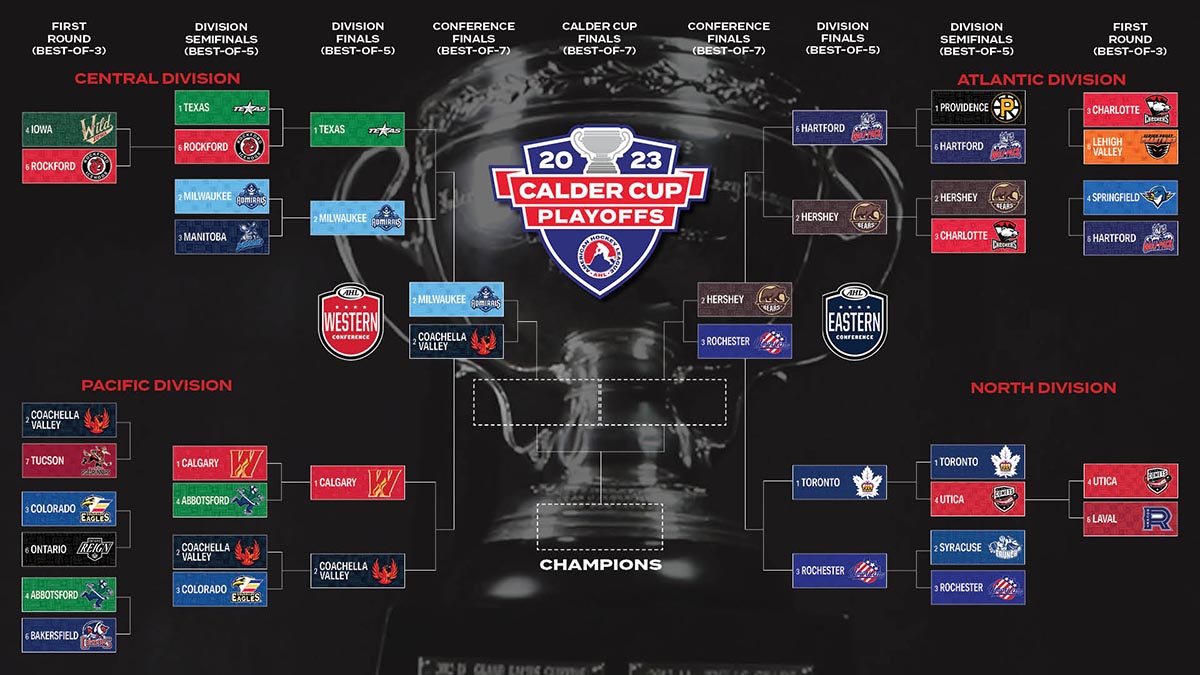 EARNING THEIR STARS AND STRIPES
With 19 points (7+12) over his last 26 games, Linus Weissbach finished nine points back of the team-lead with 47 points (20+27) in 69 games. By scoring his 19th goal and 41st point of the season on April 5 against Syracuse, he established career-highs in both categories, surpassing the marks he set during his rookie campaign in 2021-22.
Brett Murray, who was just one point away from his first 50-point campaign, captured career-highs in all offensive categories from last season, including goals (23), assists (26) and points (49). The fourth-year pro end the season with 23 points (9+14) in his last 28 games and recorded at least one shot in all but five games during that span dating back to Nov. 23.
With 12 points (5+7) over the last 27 games, Sean Malone reached the 30-point mark in back-to-back campaigns for the first time in his career. In 53 contests in his fifth season with the Amerks, Malone finished with 14 goals and 17 assists.
Amerks captain Michael Mersch showed 35 points (16+19) over the last 47 games dating back to Dec. 17. More impressively, with 45 points in 61 games, he reached the 40-point mark for the sixth time in his nine-year pro career. The former Calder Cup winner is also a five-time 20-goal scorer, reaching the mark four times in his first five seasons and again last season when he scored a career-high 26 goals.
In 66 games, defenseman Jeremy Davies established a career-high with 11 goals, reaching the mark for the first time in his pro career while also becoming the first Amerks defenseman this season to do so. Over the last 28 games, Davies collected five goals and seven assists for 12 points.
Rookie Isak Rosen posted 22 points (11+11) in 37 games since Jan. 21. In the 7-1 victory over Springfield, Rosen, the Sabres' first-round selection (14th overall) in the 2021 NHL Draft, notched his first-career three-point game as well as his first-ever two-goal outing. Overall, four of his 14 goals on the season came while on the power-play. Rosen was one of only two rookies this season to reach the 30-point mark.
Mitch Eliot tied his previous career-high in goals (3) at Providence on Feb. 26, reaching the mark in 24 fewer games than the 2021-22 campaign.
MAKING UP FOR LOST TIME
After an injury limited him to just 19 regular-season games during his rookie campaign, forward Lukas Rousek took his first full season by storm.
A 2023 AHL All-Star selection, Rousek led the Amerks in assists (40) and points (56) in 70 games while his 16 goals were tied for fifth-most.
Rousek, a sixth-round selection of the Buffalo Sabres in 2019, made his NHL debut on March 27 against Montreal, scoring a goal and adding an assist while logging 9:03 of time in the 4-3 shootout loss.
He scored his first NHL goal on his first shot on his first shift, the first Sabres player to do so since Ethan Prow.
He's the 27th player in Sabres franchise history to score a goal in their NHL debut with Buffalo and the 186th overall to record the first goal of their career as a member of the Sabres.
Rousek also added an assist later in the game, and by doing so, became the first Sabres skater to record a goal an assist in their NHL debut with Buffalo since former Amerk Maxim Afinogenov on Nov. 10, 1999 vs. Boston.
Rousek, who rejoined Amerks last Saturday following his third recall of the season to Buffalo, finished with 45 points (12+33) over his final 55 games, including 17 points (5+12) in his last 17 appearances.
KEEPING IT KULICH
Ever since returning from an impressive showing at the 2023 IIHF World Junior Championship in January, Jiri Kulich not only emerged as one of the team's most consistent point-getters for the second half of the season, but as arguably the top prospect in the Buffalo Sabres pipeline.
The third of Buffalo's three first-round picks in last year's NHL Draft, Kulich led the Amerks and finished tied for sixth amongst all AHL rookies with 24 goals while his 46 points are tied for 11th-most.
With Kulich becoming the first player this season to score 20 goals, it marked the first time the Amerks had a rookie 20-goal scorer in back-to-back seasons (Jiri Kulich in 2022-23, Jack Quinn and JJ Peterka in 2021-22) since Drew Stafford in 2006-07 and Clarke MacArthur in 2005-06.
Kulich, the youngest regular player in the AHL this season, was only the fourth player in league history to score more than 20 goals during his 18-year-old season (turning 19 after Jan. 1) and first since Robert Dome of Syracuse recorded 21 in 1997-98. Kulich also became just the second Amerks player in franchise history to reach the mark as an 18-year-old since Jozef Cierny scored 27 during his only season in Rochester in 1992-93.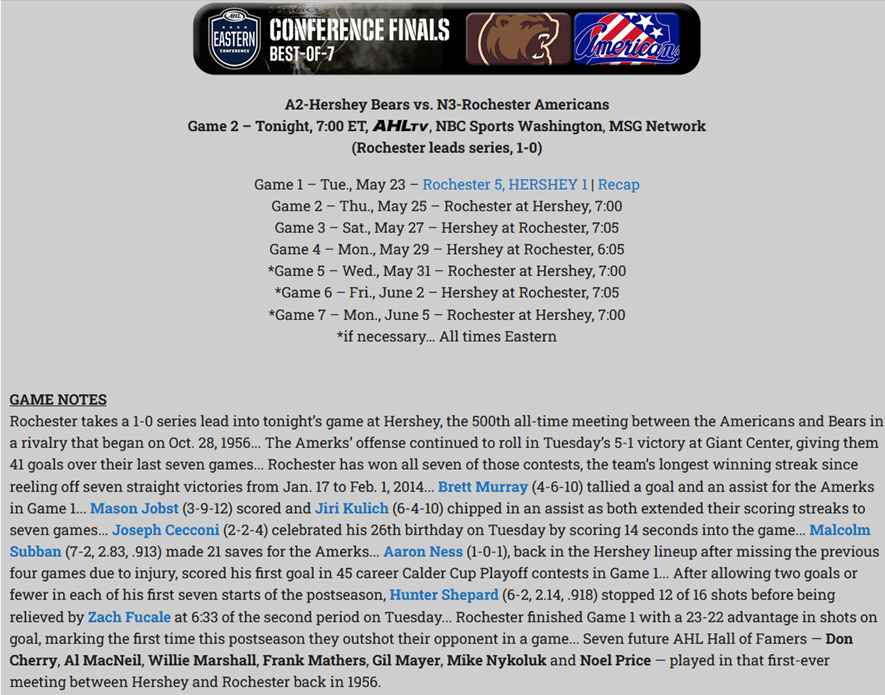 BEARS PLAYOFF PICTURE
With a 44-19-5-4 record in the regular season, the Bears secured their spot in the Calder Cup Playoffs for the 70th time in franchise history. The 11-time Calder Cup champions have qualified for the postseason 14 times in 16 tries since becoming the top affiliate of the Washington Capitals in 2005.
Hershey hosts Rochester fueled by Aliaksei Protas, Sam Anas and Joe Snively, all of whom have posted at least seven points in eight games this spring. Protas is one of three Bears with three goals while Snively and Anas top all Hershey skaters with seven and five assists, respectively.
After sharing the goaltending duties during the regular season with Zach Facale, Hunter Shepard (6-1-0) has been the mainstay in the crease for Hershey in the postseason. He ranks fifth among all AHL netminders with a 2.14 goals-against average and eighth with a .918 save percentage.
After suffering a 2-1 setback to the Charlotte Checkers in Game 3 of the Atlantic Division Semifinals, Hershey has responded by winning four of its last five to reach the Conference Finals.
Hershey Bears vs Rochester Americans: Head To Head Stats
Summary
Description

Result

Head to Head Record 2023 Calder Cup Playoffs
Hershey 0-1-0-0
Rochester 1-0-0-0
Head to Head Record 2022-23 Regular Season
Hershey 1-0-0-1
Rochester 1-1-0-0
Last 5 Years record between teams
Hershey 0-1-0-0
Rochester 1-0-0-0
Hershey vs. Rochester Last 5 Years record at Hershey
Hershey 0-1-0-0
Rochester 1-0-0-0
Hershey vs. Rochester Last 5 Years record at Rochester
Hershey 0-0-0-0
Rochester 0-0-0-0
Previous Meetings This Season
Rochester 5 @ Hershey 1 (May 23 2023) Final
How the two teams match up
| | | |
| --- | --- | --- |
| | Rochester | Hershey |
| Team Record | 7-2-0-0 -- 14 points | 6-2-0-0 -- 12 points |
| Division Ranking | 1st North | 1st Atlantic |
| Conference Ranking | 1st Eastern | 2nd Eastern |
| League Ranking | 2nd | 3rd |
| Past 10 Games | 7-1-0-1 | 6-2-0-0 |
| Streak | 7-0-0-0 | 0-1-0-0 |
| Last Game | 5-1 W @ Hershey (May 23 2023) Final | 5-1 L vs Rochester (May 23 2023) Final |
| Home Record | 3-0-0-0 | 3-2-0-0 |
| Away Record | 4-2-0-0 | 3-0-0-0 |
| GF | 43 | 28 |
| GA | 27 | 17 |
| PP (Overall) | (12/30) 40.0% | (5/24) 20.8% |
| PP (Home) | (7/12) 58.3% | (3/18) 16.7% |
| PP (Away) | (5/18) 27.8% | (2/6) 33.3% |
| PK (Overall) | (9/30) 70.0% | (4/21) 81.0% |
| PK (Home) | (2/6) 66.7% | (3/11) 72.7% |
| PK (Away) | (7/24) 70.8% | (1/10) 90.0% |
| PP vs. Opp. | (0/1) 0% | (0/2) 0% |
| PK vs. Opp. | (0/2) 100% | (0/1) 100% |
| Leading Rookie | Kulich (6-4-10) | Lapierre (2-2-4) |
| Most PIM | Cecconi - 20 | McIlrath - 10 |
| Team PIM/GM | 10.8/Game | 7.2/Game |
| Leading Scorers | Jobst (3-9-12) | Snively (1-7-8) |
| | Mersch (5-6-11) | Protas (3-4-7) |
| | Kulich (6-4-10) | Anas (2-5-7) |
| | Murray (4-6-10) | Pilon (2-4-6) |
| | Rousek (3-7-10) | McMichael (3-1-4) |
| Last 5 Games | 5-1 W @ Hershey (May 23 2023) Final | 5-1 L vs Rochester (May 23 2023) Final |
| | 8-4 W vs Toronto (May 17 2023) Final | 3-1 W @ Hartford (May 17 2023) Final |
| | 7-4 W @ Toronto (May 13 2023) Final | 4-2 W vs Hartford (May 13 2023) Final |
| | 4-3 W @ Toronto (May 11 2023) Final | 3-2 W vs Hartford (May 11 2023) Final OT |
| | 5-4 W @ Syracuse (May 6 2023) Final OT | 6-2 W vs Charlotte (May 4 2023) Final |
| Leading After 1st | 7-0-0-0 | 2-0-0-0 |
| Leading After 2nd | 7-0-0-0 | 3-0-0-0 |
| Tied After 1st | 0-0-1-0 | 1-1-0-0 |
| Tied After 2nd | 0-0-1-0 | 2-0-0-0 |
| Trailing After 1st | 0-1-0-0 | 3-1-0-0 |
| Trailing After 2nd | 0-1-0-0 | 1-2-0-0 |
| Out Shooting Opponents | 1-0-0-0 | 4-1-0-0 |
| Out Shot by Opponents | 6-1-1-0 | 2-1-0-0 |
| 1-Goal Games | 2-0-1-0 | 1-1-0-0 |
| 2-Goal Games | 0-0-0-0 | 2-0-0-0 |
| 3-Goal Games | 2-1-0-0 | 1-0-0-0 |

Hershey Bears
| # | Player | GP | G | A | PTS | PIM | +/- |
| --- | --- | --- | --- | --- | --- | --- | --- |
| 20 | Aaron Ness | 1 | 1 | 0 | 1 | 0 | -1 |
| 26 | Logan Day | 1 | 0 | 1 | 1 | 0 | -1 |
| 21 | Joe Snively | 1 | 0 | 1 | 1 | 0 | 0 |
| 7 | Sam Anas | 1 | 0 | 0 | 0 | 0 | -1 |
| 25 | Henrik Borgstrom | 1 | 0 | 0 | 0 | 0 | -2 |
| 4 | Gabriel Carlsson | 1 | 0 | 0 | 0 | 0 | -2 |
| 28 | Ethen Frank | 1 | 0 | 0 | 0 | 0 | 0 |
| 35 | Zach Fucale | 1 | 0 | 0 | 0 | 0 | 0 |
| 6 | Vincent Iorio | 1 | 0 | 0 | 0 | 0 | -2 |
| 5 | Lucas Johansen | 1 | 0 | 0 | 0 | 0 | -1 |
| 29 | Hendrix Lapierre | 1 | 0 | 0 | 0 | 0 | -2 |
| 13 | Beck Malenstyn | 1 | 0 | 0 | 0 | 0 | -2 |
| 42 | Dylan McIlrath | 1 | 0 | 0 | 0 | 4 | -1 |
| 14 | Connor McMichael | 1 | 0 | 0 | 0 | 0 | 0 |
| 11 | Mason Morelli | 1 | 0 | 0 | 0 | 2 | -2 |
| 18 | Garrett Pilon | 1 | 0 | 0 | 0 | 0 | -2 |
| 40 | Aliaksei Protas | 1 | 0 | 0 | 0 | 0 | -1 |
| 30 | Hunter Shepard | 1 | 0 | 0 | 0 | 0 | 0 |
| 24 | Riley Sutter | 1 | 0 | 0 | 0 | 0 | -1 |
| 19 | Mike Vecchione | 1 | 0 | 0 | 0 | 0 | -1 |
| # | Player | GP | W | L | SL | MIN | GA | GAA | SV% |
| --- | --- | --- | --- | --- | --- | --- | --- | --- | --- |
| 35 | Zach Fucale | 1 | 0 | 0 | 0 | 30:33 | 0 | 0.00 | 1.000 |
| 30 | Hunter Shepard | 1 | 0 | 1 | 0 | 26:33 | 4 | 9.04 | 0.750 |

Rochester Americans
| # | Player | GP | G | A | PTS | PIM | +/- |
| --- | --- | --- | --- | --- | --- | --- | --- |
| 81 | Brett Murray | 1 | 1 | 1 | 2 | 0 | 3 |
| 4 | Jeremy Davies | 1 | 0 | 2 | 2 | 2 | 2 |
| 28 | Michael Mersch | 1 | 0 | 2 | 2 | 0 | 2 |
| 43 | Matt Bartkowski | 1 | 1 | 0 | 1 | 0 | 1 |
| 3 | Joseph Cecconi | 1 | 1 | 0 | 1 | 2 | 3 |
| 26 | Mason Jobst | 1 | 1 | 0 | 1 | 0 | 3 |
| 11 | Lukas Rousek | 1 | 1 | 0 | 1 | 0 | 2 |
| 44 | Tyson Kozak | 1 | 0 | 1 | 1 | 0 | 0 |
| 25 | Jiri Kulich | 1 | 0 | 1 | 1 | 2 | 1 |
| 7 | Ethan Prow | 1 | 0 | 1 | 1 | 0 | 1 |
| 13 | Linus Weissbach | 1 | 0 | 1 | 1 | 0 | 1 |
| 71 | Filip Cederqvist | 1 | 0 | 0 | 0 | 0 | 0 |
| 17 | Sean Malone | 1 | 0 | 0 | 0 | 0 | -1 |
| 48 | Zach Metsa | 1 | 0 | 0 | 0 | 0 | 0 |
| 21 | Kohen Olischefski | 1 | 0 | 0 | 0 | 2 | 2 |
| 20 | Lawrence Pilut | 1 | 0 | 0 | 0 | 0 | 1 |
| 18 | Isak Rosen | 1 | 0 | 0 | 0 | 0 | 0 |
| 47 | Malcolm Subban | 1 | 0 | 0 | 0 | 0 | 0 |
| 45 | Brendan Warren | 1 | 0 | 0 | 0 | 0 | 0 |
| # | Player | GP | W | L | SL | MIN | GA | GAA | SV% |
| --- | --- | --- | --- | --- | --- | --- | --- | --- | --- |
| 47 | Malcolm Subban | 1 | 1 | 0 | 0 | 60:00 | 1 | 1.00 | 0.955 |
Back to All