APPERT: 'WE NEED TO CATCH THEM OUT OF STRUCTURE'
Amerks head coach Seth Appert previews tonight's game against Providence
Nov 23, 2022
By Suzie Cool
The Rochester Americans are back in action tonight and, for the first time all season, they're taking on an opponent that's not in the North Division.
In their first of three games over the next four days, the Amerks are facing off against arguably the top team in the American Hockey League in the Providence Bruins. The Bruins not only sit atop the Atlantic Division with a 10-2-2-2 overall record, they also make their only trip to Rochester carrying a perfect 5-0-0-0 mark on the road this season.
While that may lead one to believe that their offensive game is their best asset, Amerks head coach Seth Appert and staff harped on how good the Bruins' defensive game was to their team heading into tonight's matchup.
"By not chasing offense," said Appert when asked how to combat Providence's defensive structure. "You have to be a patient strike team when the opportunities are there, try to catch them out of structure. They're a very structured organization. They have a very good defensive core and a really good American League defensive core. So, you need to play very smart against them. You need to make them spend time playing defense, put them in chaos and when you have them in chaos you have to take advantage because they don't stay in chaos very long."
Providence has allowed just 39 goals-against in its first 16 games of the season, while they're penalty kill is also among the best in the league. Of the Bruins' 65 penalties they've taken, they've killed off 55, giving them an 84.6% conversion that is tied for fourth-best in the AHL.
So, how do the Amerks prepare to penetrate one of the best defenses in the AHL? It's easy to make a game plan when Rochester's defensive structure is quite similar to that of Providence.
"They play a very similar style to the way we do," commented Amerks forward Brett Murray when asked what he knows about the Bruins blueline. "They're very physical, very in-your-face, very hard-working, so we're going to try to exploit them with our own hard work and compete, and hopefully we can bring a higher level of intensity than they do."
Additionally, the Bruins have three very good goaltenders, with two that are in the tops in the league in save percentage and goals-against average in Brandon Bussi and Kyle Keyser.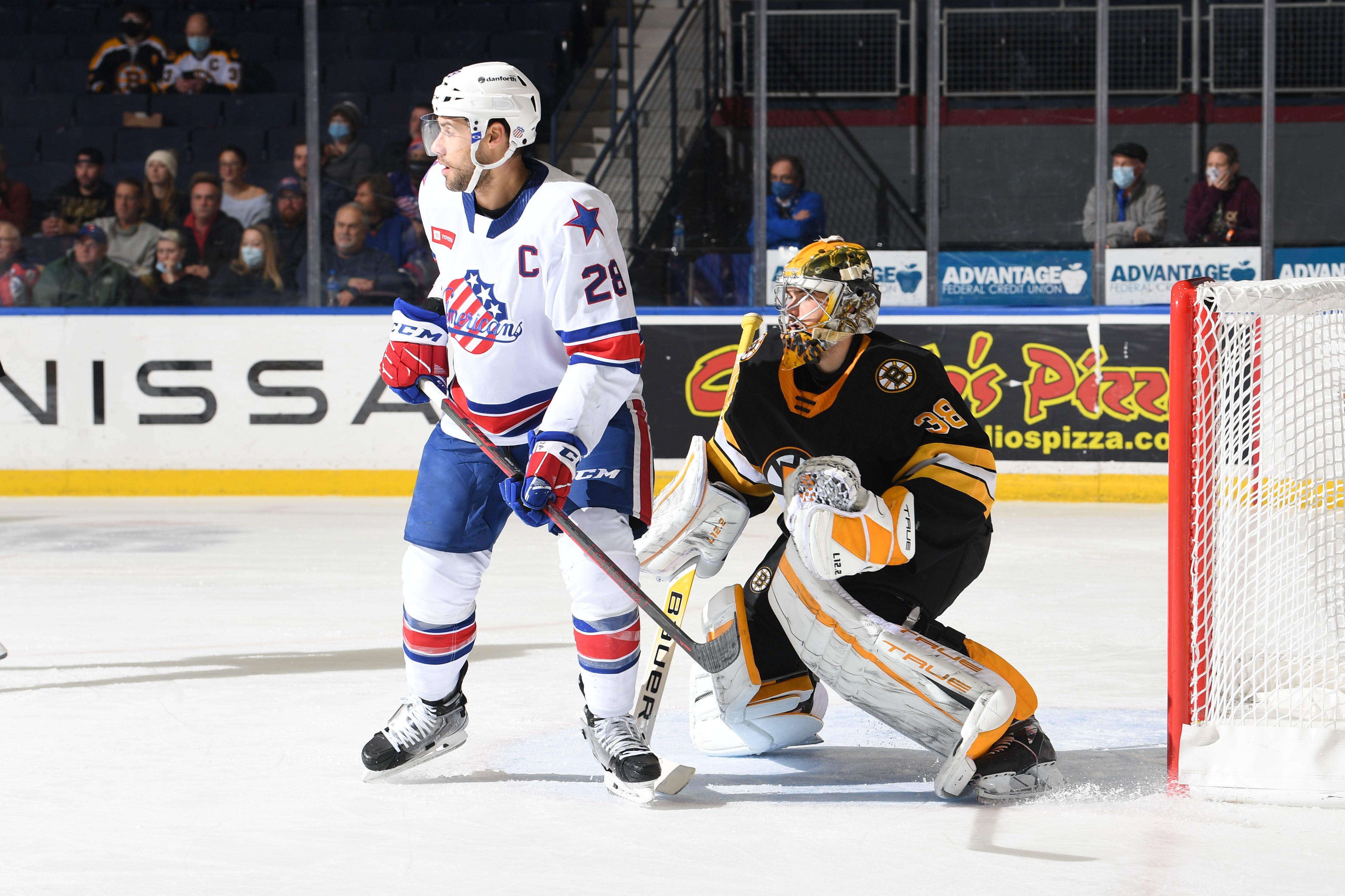 Bussi currently leads the league with his .949 save percentage and ranks second with a 1.84 goals-against average, while Keyser sports a 1.87 goals-against average and ranks third with his .931 save percentage. Providence netminder Keith Kinkaid still sits in the top 20 with his .916 save percentage.
This just means that the Amerks are going to have to rely heavily on net-front presence tonight.
"I'm a big believer in it," explained Appert when asked how important creating chaos in front of the crease was going to be tonight. "I played goalie, so I know how miserable it is when guys are standing around your blue paint all night long. All those things like screening the goalie, getting to the net, it might lead to a goal later, it might lead to a penalty later, whatever those things are. So, there's a price to be paid to score five-on-five goals, and I think going to the net is one of those prices."
Murray echoed the emphasis Appert put on net-front presence tonight.
"It's very important not only for just me, like yeah, it's in my job description, but it can't just be a one-man job. I'm only on the ice every four shifts. So, we're going to have a lot of players hopefully creating traffic and chaos in front of the net."
Tonight, the Amerks looks to continue to earn points within the comfy confines of The Blue Cross Arena as they've earned at least one point in six of their first seven home contests of the season so far while boasting a 5-1-1-0 mark at home. Rochester is one of only four teams to have just one regulation loss at home this season, joining the Charlotte Checkers, Hershey Bears and Cleveland Monsters in that regard.
Rochester's first matchup of the 2022-23 campaign against Providence is set for a 7:05 p.m. puck drop. The game will be carried on The Sports Leader 95.7 FM/950 AM The Fan Rochester as well as AHLTV.
Back to All