AMERKS PREPARE FOR THREE GAMES IN FOUR NIGHTS THIS WEEK
Mar 30, 2021
Last Friday night, the Rochester Americans suffered a 4-3 overtime loss to the Syracuse Crunch at The Blue Cross Arena. Yes, the Amerks earned a point, but it was a point some would argue that was seemingly impossible to get when considering the various situations surrounding the team.
The club was playing its first contest in 16 days after postponing a series of games due to COVID-19 protocols. The Amerks were without head coach Seth Appert as he was temporarily filling in for interim Buffalo Sabres head coach Don Granato, who along with former Amerk Matt Ellis, entered into NHL COVID-19 protocols. The team remained without its top three goaltenders in Dustin Tokarski, Michael Houser and Ukko-Pekka Luukkonen, as they all were with the Sabres or on the team's taxi squad. And finally, Rochester was without four of its top five scorers they were all out of the lineup.
Therefore, the Amerks played the game with 10 forwards, seven defensemen and one true goaltender. As a last resort, the team was forced to dress video coach Kris Young as the back-up.
Oh, nearly forgot, they were playing a Crunch team coming into Rochester winners of three straight and four of their previous five games while outscoring its opposition 14-5 over that span.
By erasing a two-goal deficit and forcing overtime, the Amerks pushed their point-streak to 3-0-1-0 record in their last four games on home ice and now show a 15-8-2-1 mark in the last 25 contests with the Crunch.
Appert returns after whirlwind few days in NHL
Following last Thursday's practice, Amerks head coach Seth Appert was meeting with his staff much like any other day, evaluating the players and making preparations for Friday's contest.
Within minutes, Appert received a phone call from Sabres general manager Kevyn Adams, suddenly Appert was on his way to Pittsburgh. Appert made the trip to PPG Paints Arena, and arrived in time for the game, but had to get a rapid test prior to joining the team on the bench.
WATCH: SETH APPERT AFTER MONDAY'S PRACTICE
"It was around 2:30 and Kevyn did not have a lot of information other than Don and Matt were in protocol," said Appert. "We were trying to figure out what the next steps would be, but we agreed why don't I just get in the car and start making the drive."
"I watched the first period inside the video room as I did not want to walk on the bench during the period, but then joined Kevyn and company for the rest of the contest."
Less than 24 hours later, Appert was running Buffalo's practice in Boston as they were preparing to face the Bruins Saturday afternoon.
"We knew Don and Matt were going to be alright late Thursday night, but I appreciate the trust that both they had in me to run the practice and meetings."
"It was a good experience for me."
Biro Big Time
With the Amerks missing 12 players from their roster, other players got a chance to step into roles they usual were not accustomed to.
Rookie forward Brandon Biro served on the first line with fellow first-year forward Jack Quinn and veteran Remi Elie. Biro not only stepped into that position, but he also posted a career-high three points (2+1), including his first two tallies as a professional.
BIRO'S FIRST GOAL OF THE GAME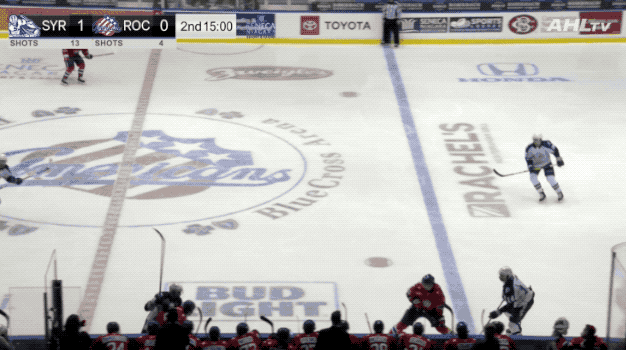 "That line was fantastic," Appert said. "I thought Remi showed great leadership and Brandon was rewarded for his play during the game. He was all over the puck, winning battles and playing the game the right way. When you do those things and you have two really good players, good things are going to happen."
"For most of the season, Brandon has been playing in the 13–14-minute range, but it was an opportunity for him to get to 20 minutes and it was a really, really strong performance for him," continued Appert.
BIRO'S SECOND GOAL OF THE GAME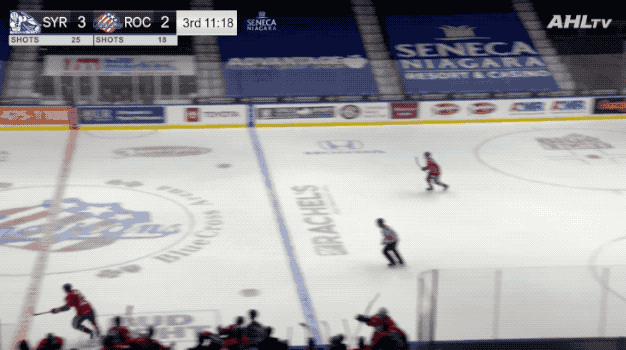 "The attitude that the team, including the young guys, brought was great," said alternate captain Dalton Smith. "They have the will to win, the extra work they put in, and the entire team has such high goals. Everyone pushes each other and is motivated. It all makes us a better team."
WATCH: DALTON SMITH AFTER MONDAY'S PRACTICE
The Culture Appert Brings
Despite being in his first season as professional head coach, Appert has instilled a culture on the team no matter who is behind the bench or who is missing.
"We were really clear on the culture that we wanted to create," Appert explained. "The work-ethic that we expect on a daily basis but also how we were going to treat them as humans. I want the workplace to be a fun place, the rink to be the most fun place, but fun is mixed with work."
While Friday's overtime loss, like any loss did not sit well, Appert said it is because of the standard he and his staff established.
"I talked with Kevyn during the trip with the Sabres when he asked how we were going to do," Appert said. "I said we are going to do great. This is the standard. No matter who is playing, we are going to play hard, make life miserable for our opponents, play for one another. It does not guarantee points or wins but it gives you a chance to win."
"The energy he brings, how passionate he is about being here and helping us develop, it is just contagious," Smith said. "He works his butt off everyday and it has been awesome."
Looking ahead
The Amerks begin a busy three-game week as they welcome the Cleveland Monsters to The Blue Cross Arena on Wednesday, Mar. 31. The 7:05 p.m. will be the first meeting of three inside the Flower City this season and second of six overall.
Following the contest, the Amerks will play in a home-and-home against the Syracuse Crunch on Friday, April 1 and Saturday April 2, respectively. All of the action will be carried live on The Sports Leader AM 950/95.7 FM ESPN Rochester as well as AHLTV. Friday's matchup will be tape-delayed on CW Rochester beginning at 10 p.m.
Back to All