AMERKS MOURN THE LOSS OF FRANCHISE ORGANIZER AND HALL OF FAMER SAM TOTH
Sep 10, 2021
The Rochester Americans are deeply saddened by the loss of Sam Toth, a franchise organizer and Amerks Hall of Famer. He was 95 years old.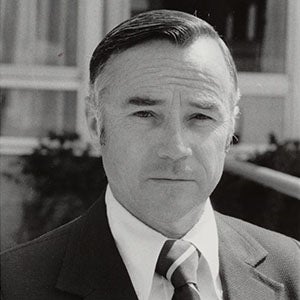 Inducted into the Amerks Hall of Fame in 1998, Toth, was one of the founding members of the organization in 1955, and he served in almost every capacity with the Amerks – owner, statesman, off-ice official and even a linesman during games. A Syracuse native, Toth was also instrumental in jumpstarting youth hockey in the Rochester area.

After the fall of the city's first professional hockey team, the Rochester Cardinals, in 1935, Toth and fellow Rochesterian and Hall of Famer Ed House combined efforts with Frank Selke and Conn Smythe of the Montreal Canadiens and Toronto Maple Leafs to bring the Amerks to the Flower City. Rochester was then granted an AHL franchise, using the "Americans" as a pseudonym, following the cease of operations of the Pittsburgh Hornets, who remained dormant until the 1961-62 season when the league announced plans for expansion.

In 2011, thirteen years following his enshrinement into the prestigious Amerks Hall of Fame, Toth was inducted into Frontier Field's Walk of Fame along with other iconic figures in Rochester sports history. The Walk of Fame is dedicated to those individuals whose endless contributions have shaped the landscape for Rochester's local sports scene, making it what it is today.

As part of the Class of 2011, Toth became the 16th member of the Amerks family to receive a brick in the Walk of Fame, joining past Amerk greats such as former team captain and Rochester native Rory Fitzpatrick (Class of 2010), the 1964-68 Amerk teams (Class of 2006); Jim Hofford, Don Stevens and Hans Tanner (Class of 2003); Dick Gamble (Class of 2000); Don Cherry (Class of 1999); Red Armstrong and Geordie Robertson (Class of 1998); and Joe Crozier and Jody Gage (Class of 1997).
Toth is survived by his eight children, 20 grandchildren and 36 great-grandchildren. The organization extends its heartfelt condolences to his friends and family during this difficult time.
Back to All