WEEK 13 ROUND-UP
Prow increasing offensive production, Amerks-Crunch rivalry heats up and a look at the week ahead
Jan 9, 2023
By Suzie Cool
Wow. Week 13 of the 2022-23 American Hockey League campaign ended in a bang for your Rochester Americans. Quite literally.
The Amerks were faced with three games over four days, the defense helped propel Rochester to a 4-3 win over the Syracuse Crunch on Saturday and there was a total of 15 penalties added to the scoresheet after the conclusion of Saturday night's contest. We cover it all, and more, with Amerks head coach Seth Appert in our Week 13 Roundup.
PROW PRODUCING OFFENSE
Someone who can tend to be overlooked on the Amerks roster is veteran blueliner Ethan Prow. Prow is the only defenseman to appear in all 31 games this season and has skated in 101 of the 107 games dating back to the start of the 2021-22 campaign with Rochester.
He's an elite offensive defenseman in the American League," Appert began when asked about Prow's two-goal effort against Syracuse. "To see him get a couple of goals was big. Our defense, we've been really promoting our D to be more active to get into the rush, so for those guys (Prow and Jeremy Davies) to get three goals for us on Saturday (against Syracuse) night was huge."
On Saturday against the Crunch, Prow put up his first multi-goal effort since Dec. 19, 2018 when he was with the Wilkes-Barre Scranton Penguins.
AMERKS-CRUNCH RIVALRY GETS HEATED
The Amerks did come out with the 4-3 win over the Crunch on Saturday but Syracuse didn't go down without a fight. Literally…
"We don't like each other very much, right? You take on Syracuse so many times and you certainly respect them, but you don't like them very much," Appert laughed when asked why the Amerks were awarded seven penalties after the game's end.
Rochester forward Brandon Biro tried to kill the last five seconds of the game by pinning the puck along the boards in the corner. In turn, Syracuse slashed him and Amerks veteran defenseman Matt Bartkowski took exception, leading to an altercation with Crunch forward Gemel Smith.
Goaltender Malcolm Subban then realized the scrum was at an uneven five-on-six in Syracuse's favor, prompting him to join the fracas.
And that's just what happened to be Appert's favorite part of the melee.
"Subban went in to defend his teammates and then their goaltender left the bench to then go fight with Subbie, so things got escalated a little bit," said Appert. "I think it does show why the guys love playing for Subban. He competes so hard. He's such a good person. He's got this great personality and the guys love playing in front of him, but that's another reason. He goes in there and fights for his teammates because they were getting outnumbered in a scrum and not a lot of goalies will do that."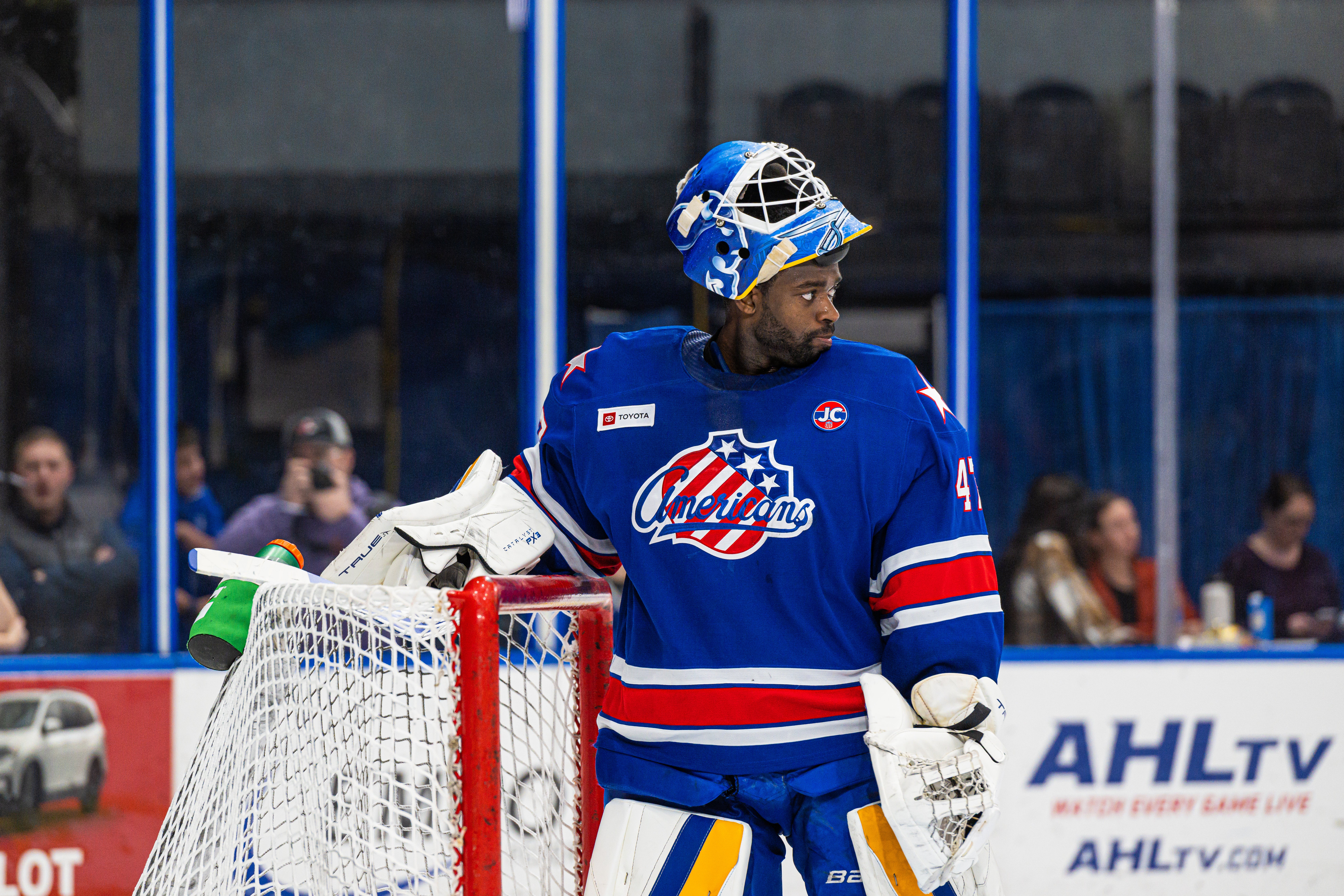 When the dust settled, there were a combined 74 penalty minutes tacked on to the final scoresheet between the Amerks and Crunch, including game misconducts for both goaltenders for their secondary altercation.
UNSCRIPTED MOMENTS FORGING A BOND
Now, the Amerks are one of the least penalized teams in the league, however, Appert feels that sometimes these big, unscripted moments in a season are really what can make a team closer. Even if that big, unexpected moment just happens to be a fight where the team's goaltender gets involved.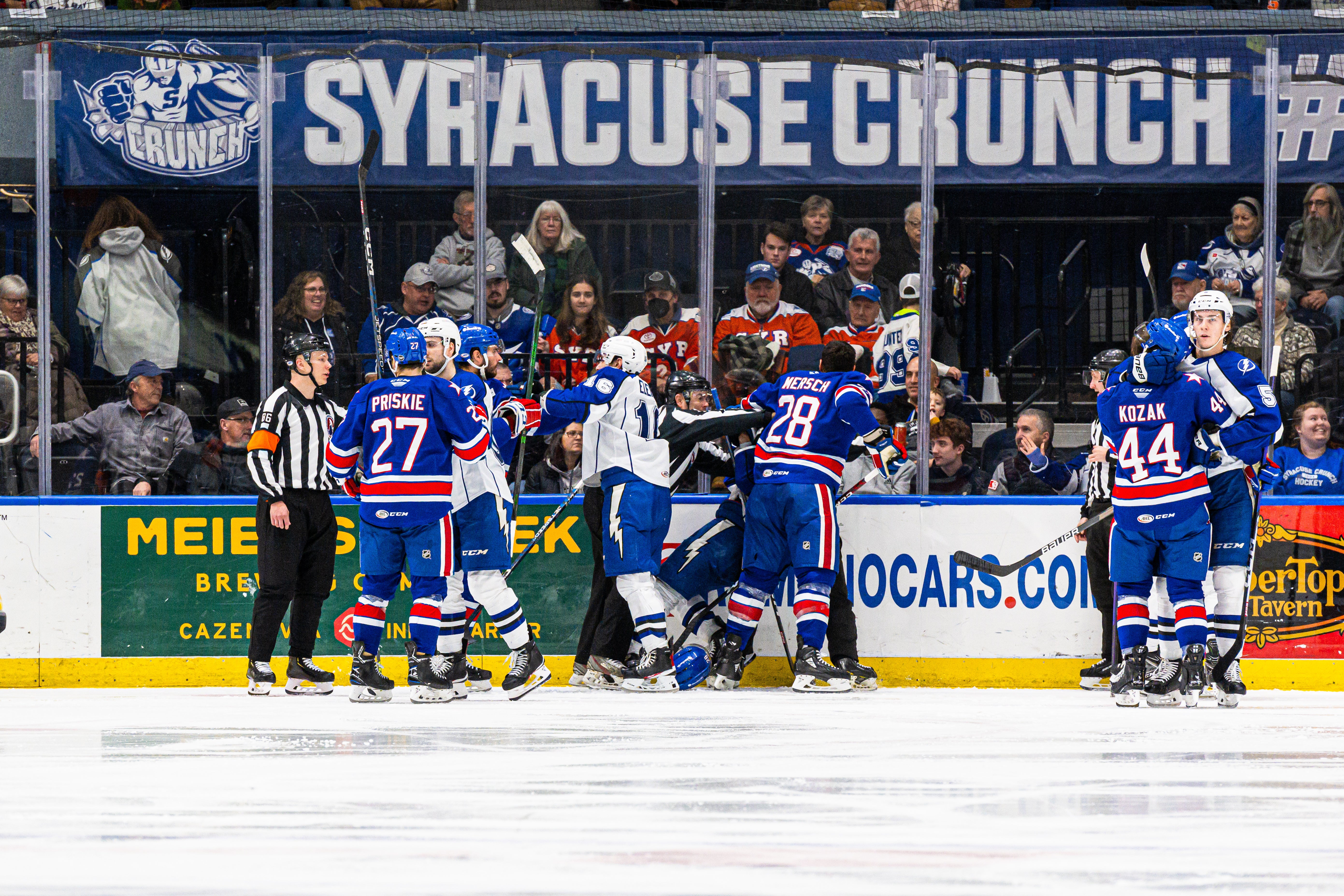 "You know, how do you bond a team? It's not through team meetings and it's nothing scripted. You can't just say like, 'Hey, let's have a meeting and talk about how to become close.' That's not how you bond," started Appert when describing how Subban's willingness to stand up for his teammates can in turn make them love the goaltender even more.
"You bond through things like this. You bond through shared adversity. You bond through these types of moments where you stick up for each other, you fight for each other. It's not something that we're advocating on a daily basis that we have to fight – we're one of the least penalized teams in the league – but these little moments are moments where you can really come together as a team."
LOOKING AHEAD TO THIS WEEK
This week is a little lighter when it comes to games for the Amerks as they're only in action on Wednesday and Saturday.
"We'll get to have three practices, three quality practices this week to work on our skill development and then it does allow you to really hone in on each game," said Appert when asked what a lighter week allows him to focus on with his team.
On Wednesday, the Amerks take on the Laval Rocket at 7:05 p.m. at The Blue Cross Arena. Currently, Laval is in sixth place in the North Division with a 13-16-4-1 overall record and are 6-3-1-0 through its last 10 games. However, Appert says that Laval's record is not indicative of how serious they need to take the Rocket.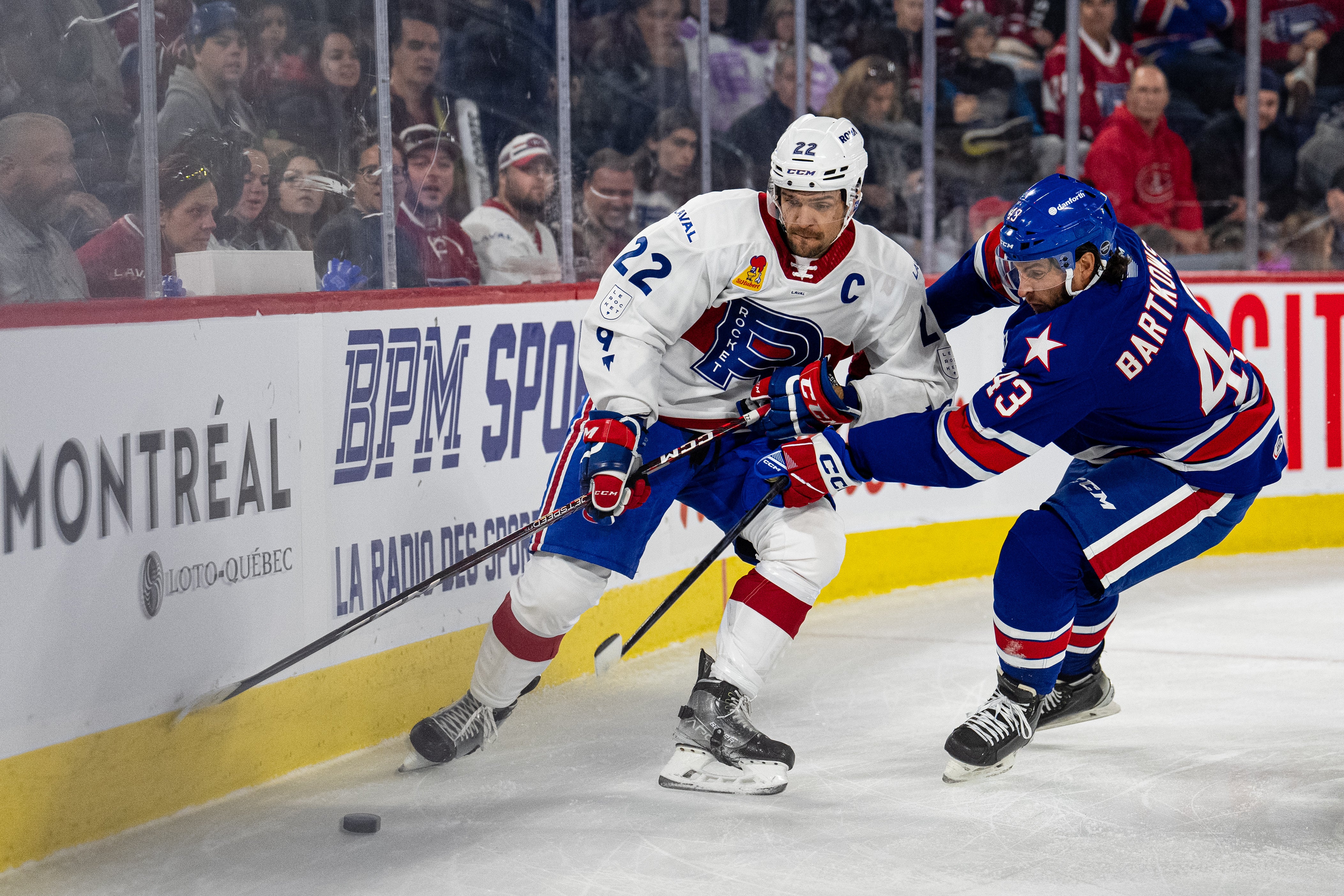 "We have a really good challenge on Wednesday with Laval," said Appert when talking about Wednesday's game. "Laval is playing excellent right now. Their record is not indicative. Their roster is good right now, so we will have our hands full on Wednesday."
On Saturday, the Amerks play a little earlier on home ice at 6:05 p.m. against the first-place Toronto Marlies. Appert is excited for this matchup because for the first time in the last two years the Amerks will go into Saturday rested against a Toronto team that is not.
"This will be the first time in the last two years that we've gotten a chance at Toronto when they've played more games in the week," commented Appert when discussing Saturday's matchup. "Usually, it's us driving up there. We play Friday, they (Toronto) don't play, and then you have to try to find a way to win a game where you're a little bit more fatigued than them. So, the script will be flipped this week and you have to try to take advantage when the schedule is in your favor on Saturday."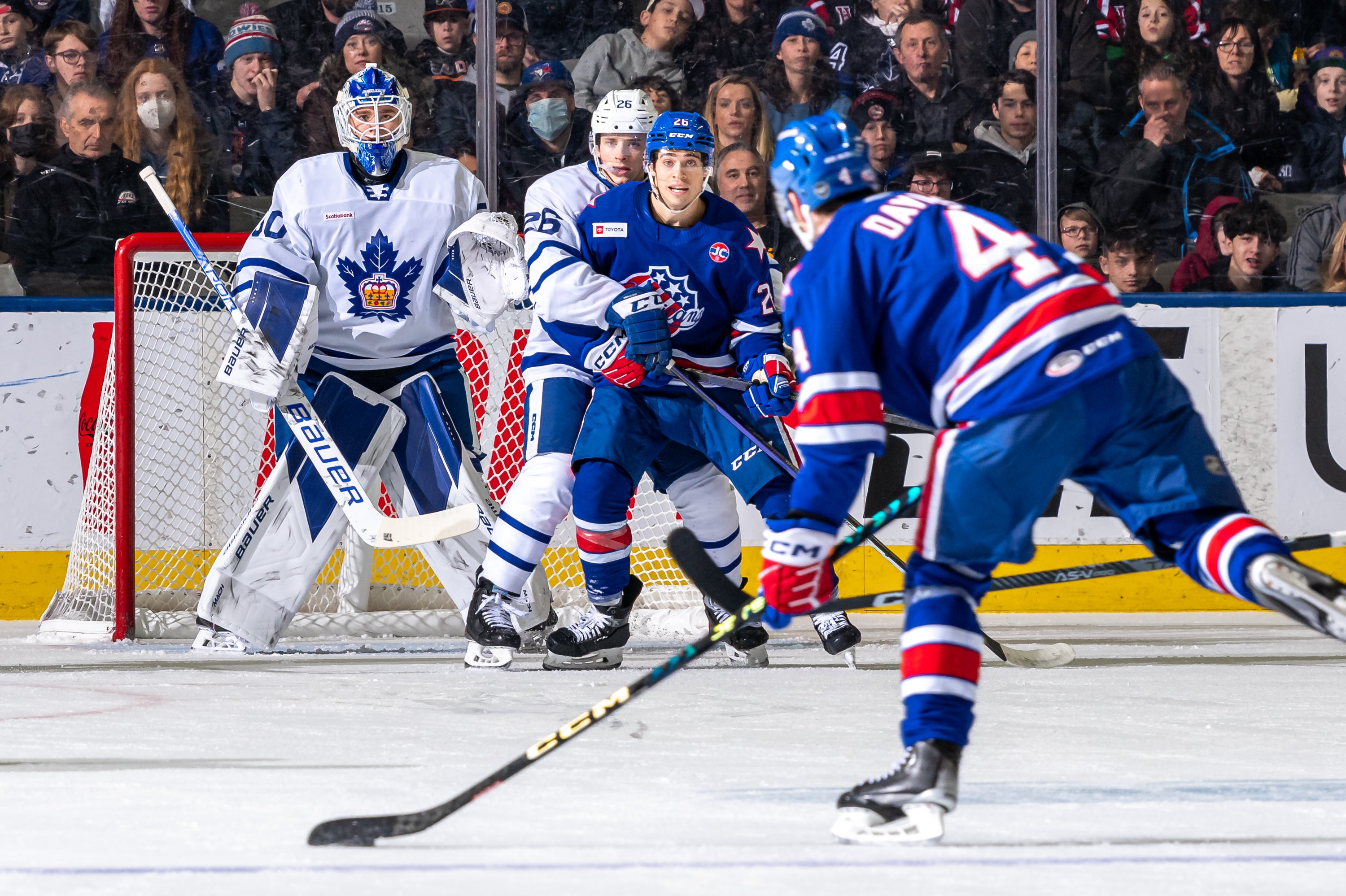 Additionally, Saturday marks the Amerks annual Military Salute game, presented by the Veterans Outreach Center. The game against the Marlies marks one of seven specialty jersey nights where the Amerks will be wearing unique Military-themed jerseys, which will be up for auction via Dash beginning this week.
All of the week's action will be carried on The Sports Leader 95.7 FM/950 AM The Fan Rochester as well as AHLTV.
Back to All