PETERKA POISED TO BRING HIS GAME TO THE NEXT LEVEL
Jan 4, 2022
By Suzie Cool
Last week we were all treated to quite the performance from Rochester Americans forward JJ Peterka and it just so happened to trickle into the start of this week as well.
After earning his first recall to the Buffalo Sabres last Tuesday morning, Peterka made his National Hockey League debut on Wednesday night against the New Jersey Devils before finishing up his week tallying five points in two games with Rochester. To top it off, Peterka was selected as the AHL Player of the Week for his efforts over the weekend.
"I think he had a great start to the weekend, which was impressive because nobody wants to get sent down and he's only 19-years-old. He had his first NHL game, his family was there and there was a lot to deal with emotionally," said Amerks head coach Seth Appert when asked about Peterka's bite he brought over the weekend's games.
Appert then went on to add, "We're proud of him getting Player of the Week, and it was earned, and it was a good response to being sent down, but there's still a lot of work to be done."
WATCH: PETERKA FOLLOWING TUESDAY'S PRACTICE
Currently, Peterka leads all AHL rookies with 19 assists and ranks second in rookie scoring with 25 points in just as many games. As Peterka started the 2021-22 campaign paired primarily on a line with fellow rookie Jack Quinn, all eyes seemed to be on the pair and how they fed off one another.
However, Peterka continued his success while Quinn's torrid start to the season was interrupted by a month-long bout with mononucleosis just as he was starting to heat up.
Appert discussed just how much Peterka has stepped up in the absence of his linemate.
"All great players have that sense about the moments and that you need to deliver for your teammates, and he was able to do that. So, it was a good growing up process to go through for him and to have that pressure, because pressure is a privilege."
Appert then continued by saying, "When you have pressure on you, it's because you're in a big moment. It's because you're doing something you care about, it's because the organization needs you. Whatever that is, you need to look at that pressure as a privilege, and if you can, it allows you to handle the moments well."
It seems that Peterka was made for the pressure.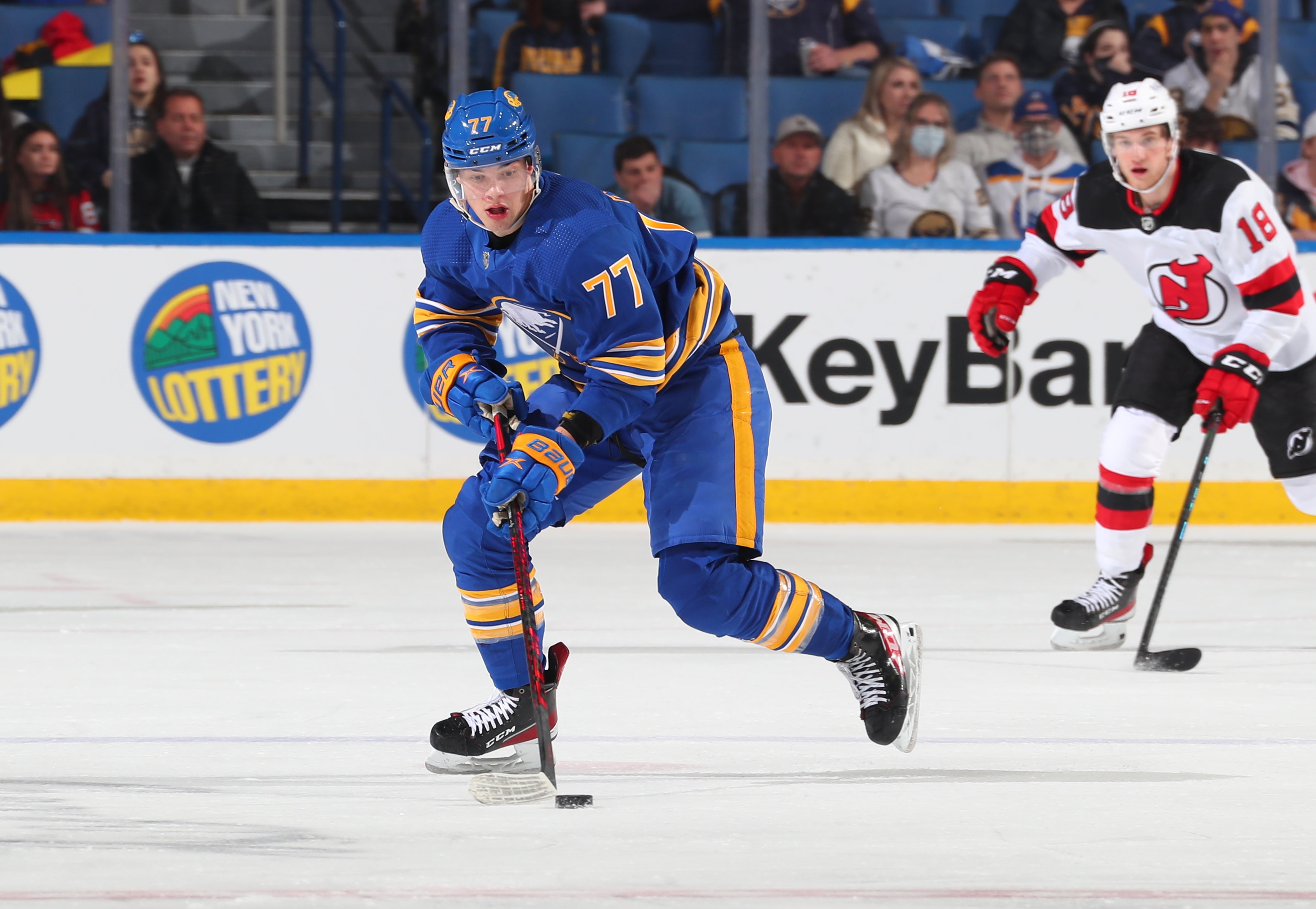 Originally a second-round choice by Buffalo in the 2020 NHL Draft, Peterka split last season between Salzburg of Austria's ICE Hockey League and his hometown Munich in Germany's Deutsche Eishockey Liga. Last season was Peterka's breakout year in the DEL with 36 points in 42 games between the two clubs, while in the season prior in 2019-20 he notched just 11 points in 42 games with Munich.
However, in 2019-20 he was just 17 years old and he learned and made the adjustments to be successful in his very next season in the DEL. Imagine just how much more he's taking in getting a little taste of the best league in the world two years later.
That's exactly what Peterka got to do last week as he was recalled by the Sabres last Tuesday and skated in his first two NHL games as Buffalo hosted New Jersey on Wednesday and visited the New York Islanders on Thursday in their final two games of the 2021 calendar year. A moment, or two, that Peterka's been waiting for since the beginning of the season.
"It was a crazy week from when I got the call to playing in my first game. It was a big moment for me and I really, really enjoyed it," said Peterka when asked what last week meant for him and his career.
The Amerks forward then followed up with what he feels he needs to work on in order to get back to Buffalo while with Rochester.
"I think the battles, especially, because they're usually stronger up there, and those wall pick-ups and just getting more open in the offensive zone."
WATCH: SETH APPERT FOLLOWING TUESDAY'S PRACTICE
Peterka returned to Rochester for their weekend trip to New England and posted a goal and two assists – all in the first period – during the Amerks' 5-3 loss at Springfield on Saturday. The Amerks rookie forward then finished his busy week by tallying a goal and an assist to help Rochester to a 4-3 win at Hartford on Sunday afternoon.
Kicking off the week as the AHL's Player of the Week, Peterka mentioned how he had a little bit of inkling that he'd receive the award when asked if he'd expected it after his weekend's efforts.
"Well, kind of. I was just coming back and trying to do my best. It's a nice reward to have."
Back to All