PATIENCE PAYS OFF IN MEMORABLE NHL DEBUT FOR HOUSER
May 3, 2021
By Suzie Cool
What is patience?
According to Google, it's a noun and it means having the quality of being patient, as the bearing of provocation, annoyance, misfortune, or pain, without complaint, loss of temper, and irritation or it's simply having the ability or willingness to suppress restlessness or annoyance when confronted with delay.
Now let's be honest, patience is something that we as human beings struggle to deal with.
It's really hard to be patient when you want something instantaneously. When you really want an ice cream cone on a hot day, you'll more than likely just go and get one. That Amazon order that you just clicked "place your order" on? Don't worry, that's what Prime is for and your package will be there the next day.
But what happens when it comes to things that we know we have to be patient on in life, those things that you can't quite put a price tag on?
It's simple, you just have to wait, and wait, and wait. Then maybe you're waiting turns into hope that one day it will happen but also maybe one day it won't. But there you are still waiting ever so patiently.
Now, what if it took nine years? Is that too long for you?
Well then, you're probably not cut out for the lifestyle of a professional athlete, but we still wholeheartedly support you in whatever you do.
On the other hand, for Buffalo Sabres goaltender Michael Houser, he didn't care how long it took.
He just wanted one day to finally get the nod.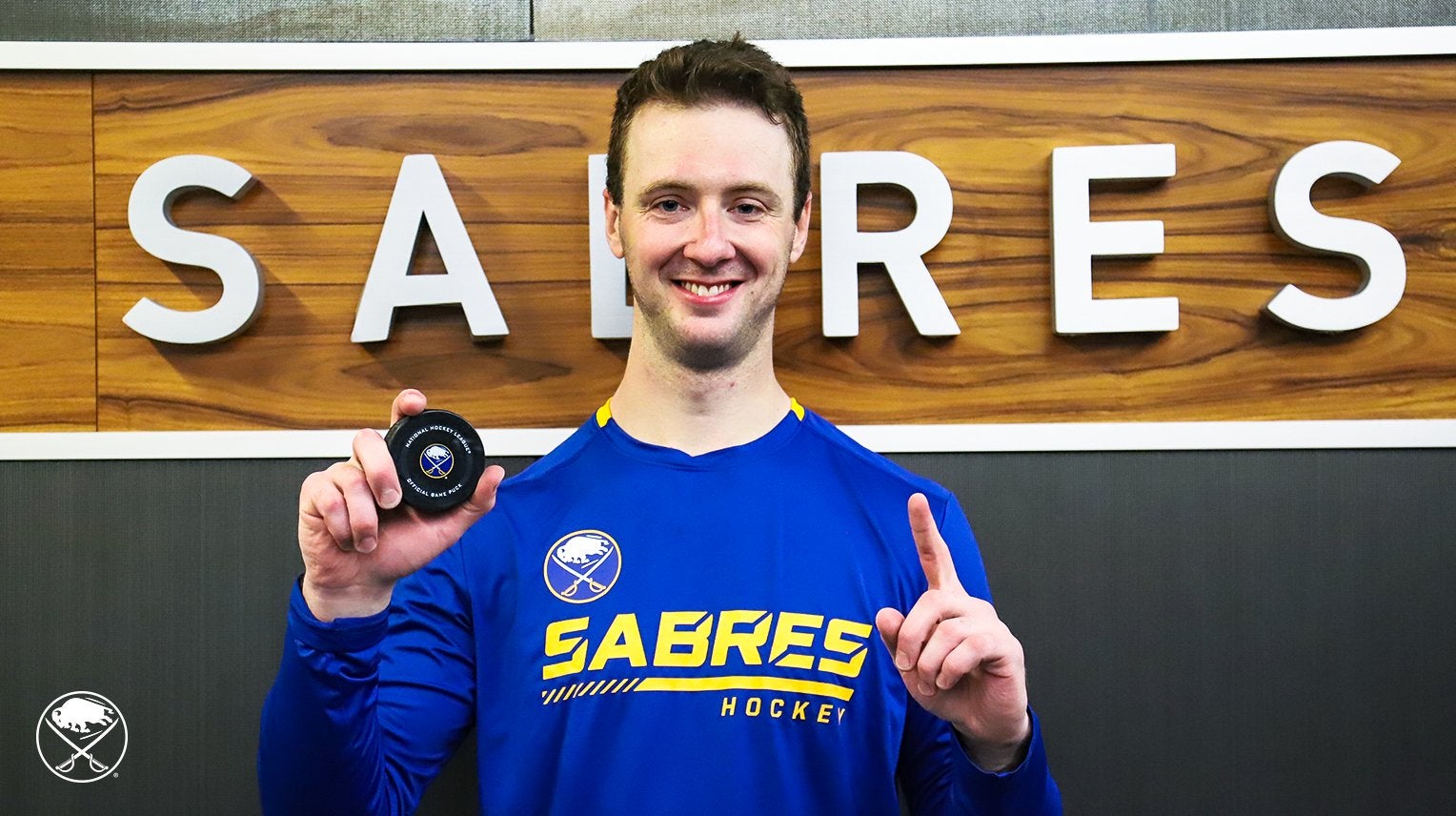 Here in Rochester, we love us a good underdog story, and to be honest, the 2020-21 season is made up of more than we can count. This season alone has presented some of the most difficult challenges, however, it's also given a lot of blessings to a lot of deserving individuals along the way.
When we all pause and take a look at the Sabres goaltending situation this season, it's been a wild ride that's made its way down I-90 to The Blue Cross Arena.
All three goaltenders that Rochester started off the year with – they're gone. Dustin Tokarski has been with Buffalo for almost the entirety of the Amerks season, Ukko-Pekk Luukkonen most recently just got his call up to the taxi squad on April 16 and made his NHL debut just a week later and Houser has patiently been sitting on the taxi squad since March 19, seeing no time in games, neither here nor there over the course of the 2020-21 campaign.
That's tough.
Although, it shouldn't go unnoticed that this season is unusual to begin with due to the COVID-19 protocols and procedures in place. The biggest hurdle that players have had to overcome this year is the new implementation of taxi squads in the NHL. These taxi squads must hold at least four to six players on them at a time, including one goaltender, in the event that a team needs to recall a player on short notice.
With these new rules in place, it's limited a number of individuals playing time and games that they would normally see throughout the course of a normal season. If a player doesn't get recalled to Buffalo or reassigned to Rochester, there's a chance they may not see a game for a number of weeks, or in the case of Houser, the possibility of an entire season.
That all changed on Monday, May 3.
WATCH: HOUSER AFTER EARNING FIRST NHL WIN
Beginning the 2020-21 season, Houser was originally signed to an American Hockey League contract with the Rochester Americans, where he spent a majority of his time working hard at practice every single day and serving as the team's primary backup goaltender.
Prior to the COVID-19 shutdown in 2019-20, the 28-year-old appeared in 26 games with the Cincinnati Cyclones (ECHL) last season, posting a 16-5-5 record with two shutouts. He ranked fifth among qualifying ECHL netminders with a 2.27 goals-against average and tied for 14th in wins (16). Houser ended his season on March 7, when he posted his second shutout in just as many games and capped off a five-game win streak.
Looking back at Houser's career, his best year came in 2018-19 when he boasted a 29-7-5 record in 41 appearances while backstopping Cincinnati to an ECHL-best 51-13-5-3 mark during the regular season. He finished the year ranked second in the ECHL with a 2.13 goals-against average and fourth with a .922 save percentage, while his 29 wins tied for most in the league. Following the conclusion of the 2018-19 season, Houser was named the ECHL Goaltender of the Year and was selected to the ECHL First All-Star Team.
A native of Youngstown, Ohio, the eight-year pro netminder owns a 127-57-22 record and 11 shutouts in 210 career ECHL games between the Cincinnati Cyclones, Manchester Monarchs and Fort Wayne Komets. Additionally, he boasts a 32-26-4 record in 73 AHL contests between the Tucson Roadrunners, Cleveland Monsters, Ontario Reign and San Antonio Rampage.
He's also a proven winner at the Ontario Hockey League level as well, leading the London Knights to an OHL championship in 2011-12 before falling in the Memorial Cup. For his efforts that year, he was named the OHL's Goaltender of the Year, a First All-Star Team selection, and to top it all off, was the recipient of the Red Tilson Trophy as the OHL's Most Outstanding Player.
Just a reminder that Houser was never drafted, he simply stuck with the teams that gave him an opportunity to try and succeed no matter the level.
Most importantly, Houser stuck with himself and he never gave up.
Amerks head coach Seth Appert said it best.
"Man that's a great story. You know, he's been grinding for nine years in the American League or in the East Coast League. He's won a lot of games and everywhere he's been he's won."
Appert then went on to add, "He's a great teammate, a great young man, a tremendous worker and that's a long time to be grinding in the minors still chasing your dream."
After 283 professional games, 159 wins, 7,099 saves, 12 shutouts, nine teams, three leagues and five times serving as the backup at the highest level and it was finally time.
On Monday, Houser got to take the ice at the KeyBank Center as the Sabres took on the New York Islanders, making 34 saves to earn his first win in his NHL debut. Making it even more special, it was his first game in over a year, and at age 28, he became the oldest player in league history to make his NHL debut as a goaltender, proving to all that you're never too old to make your dreams come true.
No matter the outcome, look at Houser now. It seems all of that patience finally paid off.
Back to All