MERSCH GRATEFUL FOR OPPORTUNITY WITH AMERKS
Mar 3, 2021
By Warren Kosel
For the first time in his seven-year pro career, forward Michael Mersch was at a crossroads with what direction his career was heading. The uncertainty of not knowing if he would have a job, especially in a season amid a global pandemic, and what the future had in store for him.
Then his phone rang. The Rochester Americans, who just opened their 65th season in the American Hockey League with only 10 forwards in the lineup, were in need of players and Mersch was in need of a new opportunity. Suddenly, the angst and worry were soon replaced by excitement and an appreciation for the opportunity that would lie ahead.
So, the trek to Rochester began, paving way for a fresh start with a new organization that is still in the process of forming a new identity and looking to build off the success from a year ago prior to the cancellation of the season.
At first, Mersch, admittedly, was a little apprehensive having not played a game in close to a year since March 11, 2020, when he earned an assist in what turned out to be his final appearance with the Texas Stars.
"Coming in and not having played a game in almost a year, I was just trying to get my feet under me and get acclimated. The systems are pretty straightforward here, and once you get those, you can just go out and play and think about the game. Everything we do has a lot of detail in it and I feel like that helps my game out because I feel like I'm a pretty detailed player."
Fast forward a few weeks later and Mersch has recorded four points (1+3) through his first six games with the Amerks while playing among Rochester's top six forwards and seeing steady time on the power-play. He also recently appeared in his 400th professional game.
According to Amerks head coach Seth Appert, the addition of Mersch has paid dividends and provided the team with another reliable veteran presence.
"I can't say enough positive things about 'Merschy'," said Appert. "We're obviously a younger team this year, so having guys like Mersch has been so massively important. When our scouting staff called me about him, I knew his background and I knew the character we were getting, the quality of human and leader that we were getting.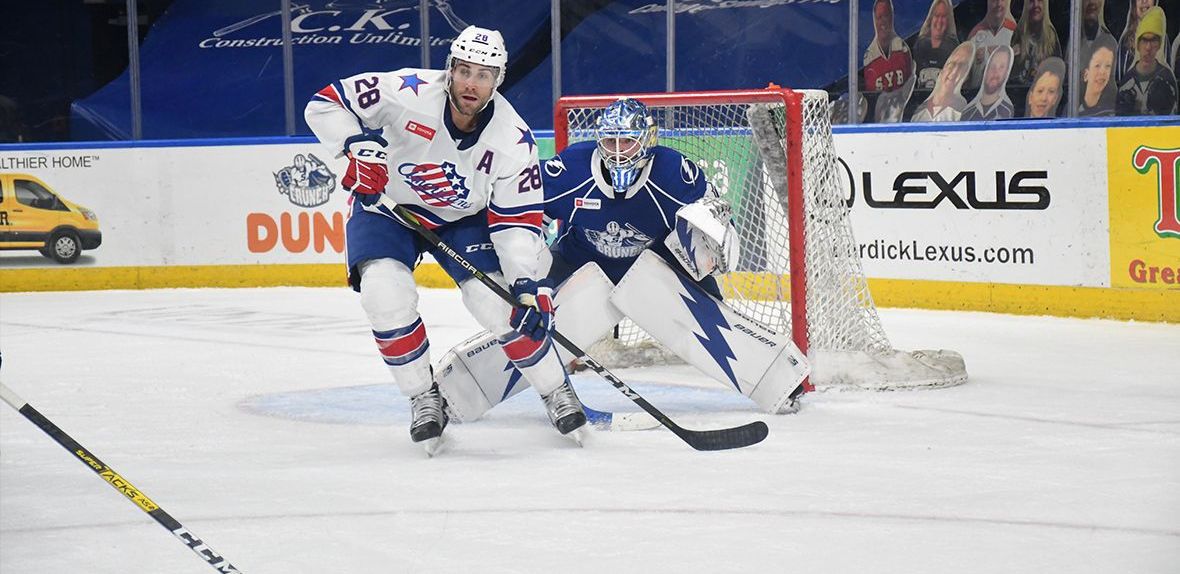 "He's so competitive and so detail-oriented," continued Appert. "His systematic execution is nearly perfect, and his competitiveness is elite. Everything about is game is world class and he cares about puck battles more than most people care about scoring goals. The identity that we want to create here, and we want to keep building here in Rochester and within our organization is that we want to be hard to play against, we want to be demanding to play against with a lot more toughness and grit. A guy like Mersch can deliver that in spades and infuse that down through the lineup and the younger guys see that and it's easier for our younger guys to buy in to playing that way."
When looking back on his journey that led him to Rochester, it is perplexing to see how Mersch was still available, especially when you consider the contents of his resume.
Originally a fourth-round selection (110th overall of the Los Angeles Kings in 2011, Mersch led the Manchester Monarchs to a Calder Cup championship in 2015 following four years at the University of Wisconsin, where he was a Second-Team All-American and a First-Team All-Big Ten selection as a senior.
It's at the American Hockey League level, however, where Mersch made a name for himself. He surpassed the 20-goal mark four times in five years while also topping the 40-point mark in each of those seasons.
So, again, it begs the question, how did Mersch go unnoticed for almost a full year?
"It was really tough," said Merch when asked what the process was like that ultimately led him to Western New York. "A lot of guys had gone overseas, and the job market was totally out of whack. It took a lot of patience. You think something is going to work out and then it falls through and the same thing happens again.
"I just kept telling myself that everything happens for a reason. My wife was really supportive, and my family has been very supportive. I'm not going to lie, there's been some tough days. You see guys in training camp in the NHL and AHL you're still at home training."
Mersch considered all of his options, including going overseas, but the opportunity to join the Amerks came at the right time and was one he couldn't pass up.
"I considered everything and looked at all my options. There weren't many opportunities in the job market with it being all over the place and things needed to really settle down before teams could look at players like myself and my situation.
"I just feel really fortunate to be here, to get the opportunity, because I know there's a lot of guys still trying to figure out what I was trying to figure out a few weeks ago."
Back to All