Mair, Weber Excited to be Pieces of the Puzzle
Jan 19, 2021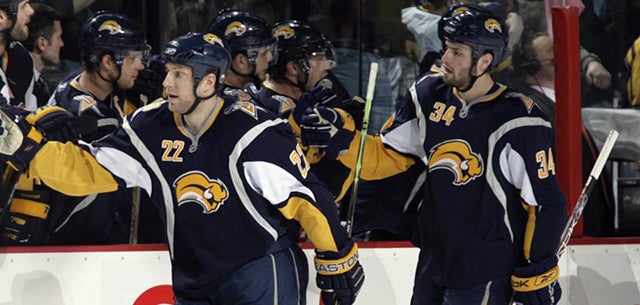 By Jourdon LaBarber for Sabres.com
Adam Mair and Mike Weber both worked to be small pieces to a greater puzzle during their playing days with the Buffalo Sabres. Mair, a physical forward, played in all 82 games for the Presidents' Trophy team of 2006-07. Weber only appeared in 58 contests during the playoff season of 2010-11, but he recorded a team-high 158 hits.
Both are living testaments to the fact that role development can be a crucial component to carving out NHL careers, knowledge they will seek to impart on the organization's young players after being named as assistant coaches for the Rochester Americans on Thursday.
"When I started this search, when you're talking and searching through this and going through the interview process, you're looking for people that are going to be able to mentor young men," Amerks head coach Seth Appert said.
"They're going to be role models to try to help get these guys to understand what it's going to take to be successful in Rochester, but also to move and have careers in the National Hockey League and make the Buffalo Sabres better."
Sabres general manager Kevyn Adams emphasized role specialization when he introduced Appert as coach of the Amerks back in August. He said that call-ups will be tailored to specific needs on the NHL roster as opposed to just offensive production.
It is a philosophy shared with Sabres coach Ralph Krueger, who bases lineup decisions based on achieving the mix he feels best prepares the team to match up with a given opponent. Together with Appert, Mair and Weber will work to develop players who fill various roles.
"One of the biggest things that I can bring and help them understand is: Yes, you might be a star, you were a star wherever you were before," Weber said. "But now, to fit into the mold, how can you make the team better? What do you do on a daily basis to, one, obviously continue improving yourself and your details and your habits, but what else can you do to really boost the next guy beside you?"
Mair said roles are initially based on a player's foundational attributes. As a player progresses, they can add to their toolbox while still having that foundation to fall back on.
"For me, the imperative and the one thing that's important when you think about players and you think about roles, a player has to understand their role not only on their team with Rochester, but their eventual role that they're going to play when they get to the National Hockey League," he said.
"It's certainly not a situation where you want to put somebody into a box, but I always look at it as you have a foundational skill set and that skill set is your bread and butter. That's what you really have to hone and that is what is going to get your foot through the door to become a National Hockey League player."
Mair and Weber have both had their eyes on coaching since retiring from their respective careers. Mair's path took him into player development, beginning with a two-year stint as director of player development at Canisius College. He's spent the past five seasons as a development coach with the Sabres, fostering relationships with prospects like Mattias Samuelsson and Oskari Laaksonen.
Weber ended his career as captain in AHL Iowa, where head coach Derek Lalonde took him under his wing and turned him into a sort of player coach. He continued to absorb information during his final season playing for Frolunda in Sweden, then spent three years as an assistant for OHL Windsor.
Both maintained love for the organization wherever they went.
"You put a lot of blood, sweat, and tears into trying to build something in Buffalo as a player," Weber said. "I'm extremely excited for the opportunity that Seth and Kevyn have given me here to be able to come back and be a small piece to the solution. That's all I ever wanted as a player here, to be part of a solution to getting us over the hump, to making this organization a great organization again."
Mair said his goal hasn't changed since first joining the organization in 2002.
"I've always wanted to win a Stanley Cup in this organization," he said. "I talked to Seth about this when I went through the interview process. The reason I wanted to take the step behind the bench this year is because I really feel like this gives me more of an opportunity to impact this organization to help them achieve that goal, but for me it's to be a part of that."
Back to All