Casey Fitzgerald
D
#5
DOB: 2/25/1997
Ht: 5-11
Wt: 181
Shoots: R
ACQUIRED
Buffalo Sabres' third-round selection (86th overall) in the 2016 NHL Draft. Signed a two-year, entry-level NHL contract with the Sabres on March 26, 2019. Re-Signed a one-year NHL contract with Buffalo on August 13, 2021.
LAST SEASON
2020-21: In his third season with Rochester Americans (AHL), posted a career-high nine assists and 11 points while tying a personal-best two goals in 22 games ... Named the winner of the Rob Zabelny Unsung Hero Award ... Missed the final six games of the season due to injury ... Had six assists in his last nine games ... Had a three-game point streak (2+2) from 3/01 to 3/06 ... Recorded the first multi-goal game of his career and the first by an Amerks defenseman since Nov. 1, 2019, with a two-goal effort, including one shorthanded, in a 4-2 win over Utica on 3/03 ... Racked up a team-high 17 PIM at Syracuse on 2/20
CAREER
2019-20: Recorded eight points (2+6) in 25 games with the Americans while splitting time at both defense and forward ... Finished third in rookie scoring among all first-year Amerks players ... Missed the last 18 games (2/01-3/11) of the season due to injury... Returned to the lineup against Belleville on 1/10 after missing 11 games (12/13-1/08) due to injury ... Scored a goal and added an assist while playing forward against Toronto on 12/04 ... Notched two assists in the 6-0 win at Utica on 11/02 ... Recorded the "Gordie Howe hat trick" with a goal, assist and fight in the 7-6 come-from-behind overtime win at Syracuse on 10/26
2018-19: Appeared in four games while on an amateur tryout with the Amerks following the completion of his collegiate career, recording three points (1+2) in four AHL games ... Scored his first pro goal in the 4-2 season-ending win at Belleville on 4/14 ... Recorded the first two points of his pro career with a pair of assists and was plus-three with one shot in his professional debut at Binghamton on 3/30 ... Completed his senior season at Boston College (H-East) with 14 points on two goals and 12 assists while serving as team captain ... Played in all 39 games for the Eagles and finished his career with 151 games played, becoming just the 46th Boston College player to reach 150 ... Received Hockey East All-Star Honorable Mention honors ... Closed the season ranked second among team defensemen in scoring and was tied for the team lead with eight power-play assists ... Ranked third on the squad with 98 shots on goal ... Collected his 80th collegiate point in the Hockey East Quarterfinals at Providence
2017-18: Posted 19 points (6+13) with three multi-point performances in 36 games with Boston College, while serving as team captain ... Led all Eagles with 102 shots and 43 blocked shots ... Honored as the William J. Flynn Coaches Award, Hockey East's Best Defensive Defenseman and was named a Hockey East Second Team All-Star
2016-17: Played in 37 games, recording 22 points on five goals and 17 assists in second season with the Eagles ... Accounted for five multi-point performances and netted a pair of game-winning goals ... Totaled his first-career multi-goal performance, which included a game-winning goal at Holy Cross on 10/22
2015-16: Topped all Boston College rookie defensemen with a career-high 23 assists and 27 points in 39 contests ... Tied for the team-lead with a plus-minus 27 on-ice rating ... Assisted on his brother Ryan's game-winning power-play goal against Minnesota Duluth to advance to the Frozen Four on 3/26 ... Tallied the fastest goal in the Beanpot (1:35) in 10 years of the tournament against Harvard on 2/01 ... Scored a power-play goal and added an assist in his Eagles debut on 10/09 at Army
2014-15: Collected eight points (3+5) in 22 games during his second stint with the USNTDP (USHL) U17 team ... Posted back-to-back points games on 12/19 and 1/17
2013-14: Totaled a pair of goals and one assist in his rookie season with the USNTDP ... Scored his first-career goal on 12/13 at Dubuque only to add his first-career assist the next night against Waterloo on 12/14 ... Made his USHL debut versus Muskegon on 9/27
INTERNATIONAL: Had three assists in seven games during Team USA's gold medal finish at the 2017 World Junior Championship ... In seven contests with his native country, registered a goal and three assists at the 2015 World Junior Championship ... Had two assists in six games while helping the USA U17 capture the gold medal at the 2014 World Under-17 Hockey Challenge
PERSONAL: Father, Tom Fitzgerald, is the current general manager of the New Jersey Devils. His brother, Ryan, is a forward in the Flyers organization. His uncle, Keith Tkachuk, is scout for the St. Louis Blues. He's also cousins with the late Jimmy Hayes, and current NHL players Kevin Hayes (Philadelphia), Brady Tkachuk (Ottawa) and Matthew Tkachuk (Calgary).
Read More
Image Gallery - Casey Fitzgerald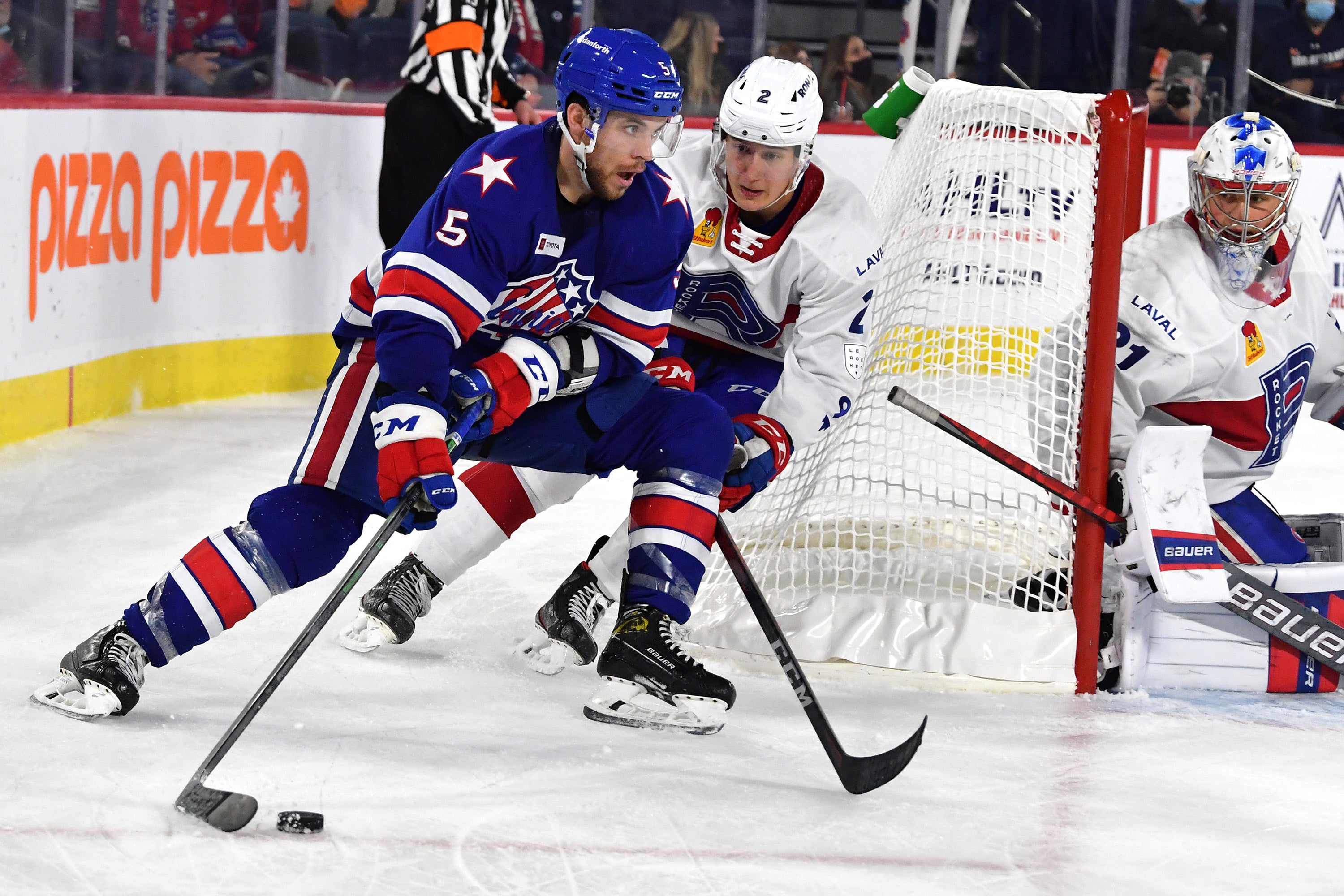 View Image Gallery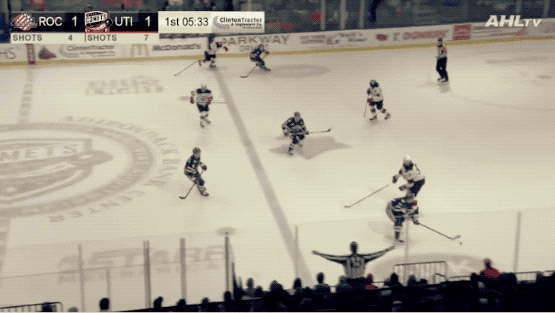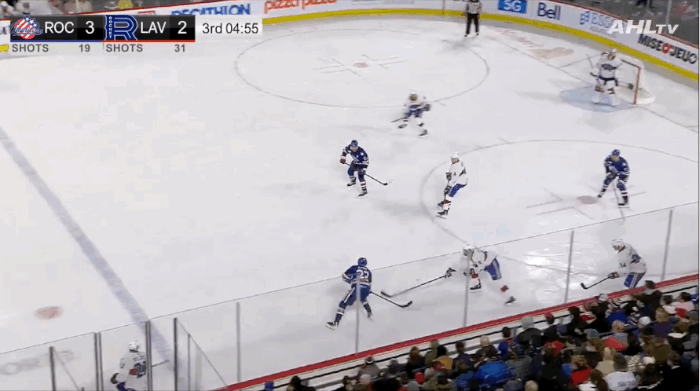 Player Stats
Regular Season
| Season | Team | GP | G | A | PTS | +/- | PIM | PPG | SHG | SOG | GWG | FOW | PTS/G |
| --- | --- | --- | --- | --- | --- | --- | --- | --- | --- | --- | --- | --- | --- |
| 2021-22 Regular Season | ROC | 28 | 4 | 8 | 12 | -1 | 43 | 0 | 0 | 45 | 1 | 0 | 0.43 |
| 2020-21 Regular Season | ROC | 22 | 2 | 9 | 11 | -10 | 34 | 0 | 1 | 39 | 0 | 0 | 0.50 |
| 2019-20 Regular Season | ROC | 25 | 2 | 6 | 8 | 3 | 30 | 0 | 0 | 35 | 0 | 0 | 0.32 |
| 2018-19 Regular Season | ROC | 4 | 1 | 2 | 3 | 1 | 0 | 0 | 0 | 4 | 0 | 0 | 0.75 |
| Total | | 79 | 9 | 25 | 34 | -7 | 107 | 0 | 1 | 123 | 1 | 0 | 0.43 |
Playoffs
| Season | Team | GP | G | A | PTS | +/- | PIM | PPG | SHG | SOG | GWG | FOW | PTS/G |
| --- | --- | --- | --- | --- | --- | --- | --- | --- | --- | --- | --- | --- | --- |
| 2022 Calder Cup Playoffs | ROC | 10 | 2 | 5 | 7 | -6 | 11 | 0 | 0 | 19 | 0 | 0 | 0.70 |
| Total | | 10 | 2 | 5 | 7 | -6 | 11 | 0 | 0 | 19 | 0 | 0 | 0.70 |